REWIND
REVIEW

"
Something Different, Something Daring... Something Dangerous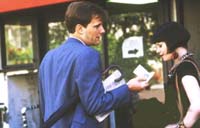 Starring
Jeff Daniels, Melanie Griffith, Ray Liotta, Tracey Walter
Cameos
Look for John Waters making a cameo appearance!
Review
Before Jonathan Demme became bogged down in the Studio system he made some crackin' little movies. This is by far and away the best.

Mild-mannered, 'happily married' businessman, Charlie Driggs (Jeff Daniels), meets the wild, sexy and recently-divorced Lulu (Melanie Griffiths) in a diner.

Foolishly accepting her offer to drive him back to the office Lulu takes him on the ride of his life. Dining for free, ripping off Liquor stores, a little light-bondage and Charlie finds a side of himself that he never knew existed.

Using the proceeds of Lulu's divorce they buy a car and visit her mother whilst posing as married couple Charles and Audrey (which is Lulu's real name). Then they go to Audrey's high-school reunion. It's here that they meet Audrey's violent ex-husband Ray (Ray Liotta) who's just been released from jail.

Coincidentally, some work colleagues of Charlie's are attending the reunion and it turns out Audrey isn't the only one with secrets. However, Ray makes it clear that he wants Audrey back, that's when the real trouble begins.

Populated with quirky characters, there's an edge to this whole caper which constantly keeps you entertained. Who is Lulu/Audrey? What exactly does she want? Why does Charlie insist on calling everybody who serves him on a first-name basis from their name-tags? (Do people really do this?)

It's a hybrid road-movie/drama which dramatically shifts tone in the last quarter, but it's the incidental stuff which makes it such a joy and it's got some eminently quotable lines. Witness, Mom and Dad's restaurant, the Liquor store Proprietor, the Motel Philosopher, the cross-country acoustic version of 'Wild Thing' and Nelson ("Charlie, endeavour to be cool!").

Featuring career-best performances from Ray Liotta, Melanie Griffiths and Jeff Daniels and also peopled with Jonathan Demme regulars Something Wild is a movie to be watched not once but many times. And I have to say it keeps getting better every time.

A classic.
Author:
Phil Martyn
Update This Review
Verdict
Although Jonathan Demme would go on to do "Silence of the Lambs" and "Philadelphia", this is almost the last of his 'quirky little' movies (Citizens Band etc.) and the world of film is a poorer place for it.

"Something Wild" is a great movie. Excellently acted, directed and featuring a killer soundtrack. And what appears to be a meandering storyline is absolutely necessary. (Still not to sure about the very end though)
Direction, acting are all top-notch.

The tonal shift towards the end could probably have been handled better.
Rewind Rating
The Movie Data
Jump To: Music & Soundtrack Vibes
Or use the menu to navigate
1986 Orion Pictures
1999-2020 fast-rewind.com
V4_27 Powered by Rewind C21 CMS