REWIND
REVIEW

"
Whenever the moon is full... It comes back!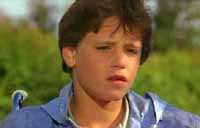 Starring
Corey Haim, Megan Follows, Gary Busey, Everett McGill
Tovah Feldshuh, Terry O'Quinn, Bill Smitrovich, Kent Broadhurst, Robin Groves, Leon Russom, Joe Wright, Heather Simmons, James A. Baffico, Rebecca Fleming, Lawrence Tierney, William Newman, Sam Stoneburner Update Cast
Review
The year is 1976.

The place is Tarker's Mills, a small Maine town. The kind of place where everyone knows everyone and about the only crime is the occasional speeder.

This changes, however, in the spring of '76, when brutal murders begin occuring night after night. On one such occasion, the killer breaks into a woman's home and kills her while she's inside her own house.

The town sheriff Joe Haller and his deputy get to work trying to identify the killer, but some townsfolk, in particular shotgun salesman Andy Fairton, believe the sheriff's not fit for the task. After the fourth murder, in which a young boy is the latest victim, with still no killer found, Andy rounds up a posse of vigilantes with rifles to search the woods. They indeed find the killer... And not only do they fail to kill him, most (if not all) of the posse don't survive the encounter.

At the center of things are the two children of a family, and their uncle. The children are 15-year-old Jane Coslaw (Megan Follows) and her 13-year-old brother Marty (Corey Haim), who was born paralized from the waist down. They have an uncle known simply as Red (Garey Busey) who is an alchloholic and has a tendency to go through wives like kleenex. He doesn't get along so well with Marty and Jane's parents, but is still loving and well meaning, regardless.

When Marty's best friend, Brady Kincaid, is killed, and then the annual nighttime Fourth Of July fireworks festival, a favorite of Marty's, is cancelled because of the murders, Red tries to cheer him up by building a high-speed motorized wheelchair/motorcyle for him, which is called the Silver Bullet.

That night, while his family's asleep, Marty takes some fireworks from home and heads out in the Silver Bullet (probably not the wisest move) to light some fireworks. Then, Marty meets the killer ...and makes the shocking discovery that the killer isn't even human, but a werewolf! Terrified, Marty takes an already lit rocket and shoots the wolf in the eye with it, then drives the Silver Bullet back home at full speed. He calls his uncle Red, but of course Red just thinks Marty had a bad dream.

The next morning Marty tells Jane about it. Somehow, despite the absurdity of it, Jane believes enough of it to go around town and look for a person with a missing eye. What happens when they find out who the werewolf is? And what will they do when no adults, not even Red, will believe them?

A horror movie with heart is how I describe this film.

I really cared a great deal about the central characters and about what happened to them, and the acting if wonderful. If you've ever wondered why Corey Haim was ever popular, just watch this movie. Red is the kind of uncle I believe most people would like to have, even with his flaws, and Garey Busey does some of his best work here. That's the film's strongest point. However, the whole film works very well. The attack scenes are exciting and chilling. If you like werewolf movies, this one's a must-see.
Author:
petekrug
Update This Review
Verdict
The characters of Marty, Jane and Red are very well-written and well acted. You really care a great deal about them. The scenes with the werewolf, like when it attacks the vigilante mob, are frightning and suspenseful. There are also a few other heart-wrenching scenes, like when the father of Marty's friend Brady finds out his son's been murdered.

The werewolf suit seems to draw different opinions. I for one felt it looked completely real and convincing, at least for a ficticious creature. I mean the wolf stands on it's hind legs and can do things like pull out power cables and grab a vigilante's baseball bat and use it against him, but a lot of werewolf films have wolf men that are more human-like. I've heard some say the werewolf looks really fake, so I can't say what you'd think. I for one bought it as an actual monster.

Really about the only complaint I have is the narration that is done by the older Jane during the movie. The film is set in 1976, but came out in 1985, which then would be the present moment when Jane is narrating. Jane is 15 during the time of the werewolf murders, so that means she'd be 24 in 1985 but Tovah Feldsmith, who was 33 at the time, sounds way too old to pass for 24! I mean what did Jane do, chainsmoke three packs of cigarettes a day during the years inbetween?
Great acting, well-written characters and great scary scenes with the wolf. The wolf itself and the way it looks may be a plus or minus, depending on whether it looks real to you or not.

The woman narrating as older Jane sounds WAY too old. Otherwise, no problems here.
Rewind Rating
The Movie Data
Jump To: Music & Soundtrack Vibes
Or use the menu to navigate
1985 Paramount Pictures
1999-2020 fast-rewind.com
V4_27 Powered by Rewind C21 CMS