REWIND
REVIEW

"
A romantic adventure for the dangerous at heart.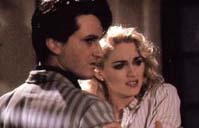 Starring
Madonna, Sean Penn, Paul Freeman, Sonserai Lee
Cameos
Look for George Harrison making a cameo appearance!
Review
Based on the novel "Faraday's Flowers" by Tony Kenrick and in the tradition of such 80's classics as "The Golden Child" and "Big Trouble In Little China", Shanghai Surprise features adventure, humor, mystery and one of the hottest 80's star couples: Madonna and Sean Penn.

The film begins in 1937's Shanghai, The Year of the Japanese Occupation.

Walter Faraday (Paul Freeman), the Opium King, is after what he's nicknamed "Faraday's Flowers", which are in actuality sources of opium and are supposedly half the weight of gold and twice the value. Unfortunately, the opium belongs to Mei Gan (Kay Tong Lim) and he seems highly possessive of his illegal stash.

In fact, he is so reluctant to sell the opium that he even falls into Faraday's trap which involves a bomb and causes Mei Gan's hands to be blown away. Faraday almost escapes, until he's gunned down in the ocean trying to swim to safety...

One Year Later...

Gloria Tatlock (Madonna) is a missionary on a serious mission. Gloria and fellow Preacher, Mr. Burns, must find the legendary Faraday's Flowers which will provide enough opium to ease the pain of many injured soldiers.

The two need somebody tough, street-wise and handsome to help them on their adventure; that person ends up being Glendon Wasey (Sean Penn). Glendon is a vulgar fortune hunter who is much in need of a shower, but he's exactly what the two missionaries are looking for and before he's realized what has happened he is in the middle of one of the most dangerous adventures in Shanghai.

Glendon's risky jobs for Gloria include a seduction by the sensuous China Doll (Sonserai Lee), meeting up with the crafty gangster Jo Go (Clyde Kusatsu) and almost getting his throat slit by the now handless Mei Gan, who is now eqipped with frigid porcelin-like hands.

Of course, being that Gloria Tatlock is played by the ever beautiful Madonna, she is not the most pious missionary you are likely to meet. She is a very determined "Christian" young woman who chain smokes, knows how to pick locks and will do anything in her power to get Faraday's Flowers, including sleep with Glendon. But it's more than just bribery and the two are actually falling in love.

Plenty of action and suspence continue, until Glendon and Gloria find out that Faraday is in fact still alive and in possession of the opium which, thanks to Glendon, becomes the rightful property of the gorgeous Gloria.

Original and unpredictable this film is, in my opinion, an 80's success and "When the hottest star couple in America hit the menacing streets of seaport China, you're in for a SHANGHAI SURPRISE!"
Author:
Bridgette Marie
Update This Review
Verdict
This film was notorious for being a flop and everyone made fun of it, but when I watch it, I can't really see why. I think it's a great movie with that very 80's China inspired theme. Madonna is at her most beautiful. Also, being that Madonna and Sean Penn were married at the time, there is a real chemistry between them and they're real comfortable with each other which really helps the film a lot.

Once again, being that this is a Madonna film, I have researched a lot to find only the best trivia! However, instead of just researching "Madonna" trivia or "Sean Penn" trivia, I have researched the two as a "married couple" trivia, so ya get some info about the two as a couple and their married life; of course I provide the specific "Shanghai Surprise" movie trivia first.

Hope ya have as much fun reading this page as I've had writing it! Enjoy!
Great romance, mystery, great China-theme, the wonderful Madonna-Sean Penn duo (they look so great together, I wish they were still married).

Panned by a lot of critics, which might make some viewers hesitant to watch this film.
Rewind Rating
The Movie Data
Jump To: Music & Soundtrack Vibes
Or use the menu to navigate
1986 Hand Made Films
1999-2020 fast-rewind.com
V4_27 Powered by Rewind C21 CMS