REWIND
REVIEW

Big Trouble In Little China
"
It's all in the reflexes...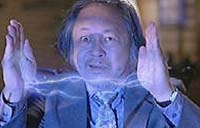 Starring
Kurt Russell, Kim Cattrall, Dennis Dun, James Hong
Victor Wong (III), Kate Burton, Chao Li Chi, Jade Go, Jerry Hardin, Jeff Imada, Peter Kwong, Donald Li, June Kyoto Lu, Rummel Mor, Craig Ng, Suzee Pai, James Pax, Noel Toy, Carter Wong Update Cast
Cameos
Look for John Carpenter making a cameo appearance!
Big Trouble in Little China was to be originally set as a western, circa late 19th century. It's true! Jack Burton was to be a cowboy, who rode in to San Fransisco only to get his horse stolen. Similar to 'Big Trouble's' Jack Burton getting his truck stolen. While trying to get the horse back, he stumbles in to the Ancient Chinese Underground.
More Trivia from Big Trouble In Little China
Review
A classic kung-fu action / fantasy film by Escape from New York director John Carpenter, starring Kurt Russell as the ineffable Jack Burton, a John Wayne-esque truck driver with an affinity for big trouble in San Francisco Chinatown.

Where to begin... Jack Burton (Russell) is "a reasonable guy" who will experience "some very unreasonable things." The film opens with Jack as he drives through the pelting rain to to Chinatown in "The Pork Chop Express," his beloved Freightliner Truck, spouting some of the most memorable CB lines since Smokey and the Bandit.

After delivering his payload, Jack meets up with his old buddy Wang Chi (Dunn). Following a gambling frenzy, Jack wins a bet against Wang, and offers to accompany him to the airport to pick up Wang's Chinese girlfriend, Miao Yin, before collecting his winnings. At the airport, Jack encounters a mysterious lawyer (Cattrall) and witnesses Wang's girlfriend get kidnapped by vicious street thugs with funky 80's goggles.

Soon, Jack and Wang are in pursuit, leading up to an amazing fight sequence in an alley reminiscent of Akira Kirosawa's Ran. Then the mystical "Three Storms" arrive (Think Mortal Kombat), followed by the Ultimate Evil Spirit, Mr. David Lo Pan (Hong). This "Ten foot tall roadblock" with light coming out of his mouth is more than Jack and Wang can handle, and are forced to flee, abandoning both Wang's girlfriend and Jack's truck.

Jack and Wang employ the help of a sorcerer and tour bus driver, Egg Shen (Wong), along with others in an effort to conquer the forces of evil, rescue Miao Yin, retrieve the Pork Chop Express, and put an end to all that trouble.
Author:
Josh Horowitz
Update This Review
Verdict
An excellent 80's movie for its kung fu action, memorable tongue in cheek lines, weird monsters, inflating people, and a 2000 year old man who cackles "Indeed!" Best to see it with lots of friends, at parties, while heavily inebriated, or all of the above!
Great humor and kung fu action.

Some say a bit too "campy"
Rewind Rating
The Movie Data
Jump To: Music & Soundtrack Vibes
Or use the menu to navigate
1986 20th Century Fox
1999-2020 fast-rewind.com
V4_27 Powered by Rewind C21 CMS