REWIND
REVIEW

"
When Fear Rules The Night, She Brings Justice...Her Way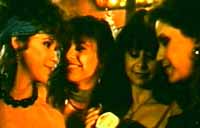 Starring
Linda Blair, John Vernon, Robert Dryer, Johnny Venocur
When "Savage Streets" opened in New York City on October 5, 1984, Linda Blair was on hand at The RKO Warner and The Loews Orpheum to meet fans and give away soundtrack albums and photos.
More Trivia from Savage Streets
Review
The leader of a Hollywood high-school girl gang takes on a group of vicious thugs in SAVAGE STREETS, a violent exploitation cult classic.

Brenda (Linda Blair) is the leader of 'The Satins,' a gaggle of giggling co-eds who all look at least ten years out of senior high. The other members are Francine (Lisa Freeman), who is pregnant and engaged to her boyfriend Richie (Richard DeHaven); Maria (Luisa Leschin), Stevie (Marcia Karr), Stella (Ina Romeo) and Rachel (Debra Blee). The Satins don't get into much trouble. When they do, it's usually because of snobby blonde cheerleader Cindy (Rebecca Perle), who is convinced that Brenda is after her boyfriend Wes (Brian Mann). Of course, it's Wes who has the hots for Brenda, but Cindy won't believe it. These young ladies use some harsh language in their verbal spats, but that pales in comparison to their hair-pulling brawl in the locker room showers! If it's not Cindy, Brenda must deal with the lecherous principal, Mr. Underwood (John Vernon). He lets Cindy go with just a warning but he suspends Brenda when she doesn't give in to his advances.

Outside of school, Brenda takes care of her deaf, mute sister Heather (Linnea Quigley), of whom all of The Satins are fond of. One evening while walking down Hollywood Boulevard, Heather is almost hit by a car driven by 'The Scars,' a gang of sadistic punks. Jake (Robert Dryer) is their deranged leader and the other members are Fargo (Sal Landi), Red (Scott Mayer) and Vince (Johnny Venocur). Brenda later finds Jake's car while he and The Scars are harassing a young couple and she and the gals take it for a joyride before filling it with garbage. Jake is not a happy camper.

At the local hot spot, a bar where being underage obviously is no big deal, The Satins are dancing and drinking the night away. Francine is so excited about her wedding, she can't help but bring up her dress that Maria's mother Rita (Perla Walter) has made for her. The fun night turns ugly when The Scars enter and manhandle Francine. Richie and his friends try to break it up but a brawl ensues and Francine grabs a switchblade and slashes Jake's cheek. Again, Jake is not pleased. As a matter of fact, he vows revenge on The Satins.

Unfortunately, the pawn in Jake's revenge plan is innocent Heather. Heather is waiting for Brenda in the deserted gymnasium when she is approached by Red. When he tries to kiss her, the girl attempts to run away, but finds she is surrounded by Jake, Fargo and Vince. The Scars drag a trembling Heather into a rest room where they viciously beat her and take turns raping her. In a bizarre moment, Fargo is so excited by this, he grabs Jake and they share a liplock! The gang leaves Heather bruised, bloodied and unconscious as The Satins arrive looking for the girl. Maria finds her and Heather is taken to the hospital in critical condition. Brenda is hysterical when the doctors tell her that they aren't sure if Heather will be able to pull through from her ordeal.

Back at school, things only get worse when in health class, Cindy makes an insulting remark about Brenda: "People should not try to be something they're not, especially when they have retards in their family!" Yet another catfight breaks out and this time Brenda tears off Cindy's blouse and the half-naked girl runs off shrieking. After class, Francine tells the gang she'll meet them out later after she picks up her wedding dress. While walking home from Rita's shop, The Scars surprise Francine and chase her. Francine runs up to a bridge hoping that a motorist will stop and help her, but the only car she sees is Jake's. Terrified and with no escape, Francine begs for her life when Jake lifts her off the ground and holds her up. But Jake is out of control and he throws Francine off the bridge to her death. Fargo tosses her wedding gown off the bridge as well, remarking: "Here comes the bride, all drenched in blood."

First Heather and then Francine. Brenda has had enough. After an odd sequence where she takes a long steamy bath and puffs on a cigarette, Brenda suits up in a skin-tight leather outfit. Armed with a crossbow, she sets out into the L.A. night to make sure The Scars never hurt or kill anybody again.

While SAVAGE STREETS may be a little too graphic for some viewers, one can't help but cheer Brenda on when she wages her campaign of vengeance on the scumbag Scars. Linda Blair is fun to watch as bad-ass Brenda, a change of pace for her after playing wholesome heroines in HELL NIGHT (1981) and ROLLER BOOGIE (1979).
Author:
Dave Grubka
Update This Review
Verdict
A brutal revenge thriller for fans of Linda Blair or those who like their high-school melodramas laced with generous helpings of violence and nudity.
Good performances from Blair and Quigley, and when Blair starts to systematically wipe out The Scars, you'll be cheering her on.

The rape sequence involving Heather is frighteningly realistic and quite hard to watch.
Rewind Rating
The Movie Data
Jump To: Music & Soundtrack Vibes
Or use the menu to navigate
1984 Motion Picture Marketing
1999-2020 fast-rewind.com
V4_27 Powered by Rewind C21 CMS