REWIND
REVIEW

"
It's the story of a man, a woman, and a rabbit in a triangle of trouble.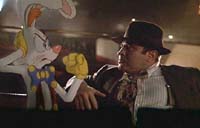 Starring
Bob Hoskins, Christopher Lloyd, Charles Fleischer, Joanna Cassidy
Cameos
Look for Joel Silver, Tony Anselmo, Wayne Allwine, Mel Blanc, Mae Questel making a cameo appearance!
Review
What can you not love about an existence where humans and cartoons live side by side and where playing pattycake is synonomous with making love?

Based on the novel "Who Censored Roger Rabbit?" by Gary K. Wolf, this film directed by Robert Zemeckis is a four-time Academy Award winner which has become a contemporary classic of our time.

...And why is it a classic?

All you have to do is consider the facts that no other "good" film has been made since, which incorporates Disney, Warner Bros; and many other new cartoons alongside human beings and the fact that this film has an entire land dedicated to it called Toontown in Disneyland.

When push comes to shove, the main character of this film, which is set in Hollywood 1947, is Judge Doom played by Christopher Lloyd. It's because of Doom that Roger Rabbit gets framed for murdering Mr. Acme (the owner of Toontown) in the first place. He's also the reason Detective Eddie Valiant is a drunk. Since the death of his brother, Valiant has become a bit of a lush and has lost his credibility. Doom was the person, or rather the toon, who murdered Valiant's brother. He also murdered R.K. Maroon, owner of the Maroon's Cartoons Corporation.


All of these murders tie into the main premise of this film. Mr. Acme has written his will, in which he decides who gets to own Toontown after his death. Toontown is wanted by a lot of people, including Judge Doom. Dooms intentions for Toontown, however, don't look so great for the toons. He wants to destroy Toontown by coating the whole land and all of its inhabitants with a potion he's invented called "The Dip" (a mixture of Turpentine, Acetone, and Bincene) He then plans to put up freeways, which of course didn't exist yet in 1947, and become rich making a name for himself.

The end of Toontown would mean the end of many zany but lovable toons. Roger Rabbit is one of the most hip, but flawed, of these toons. Charles Fleischer provides the voice of this gregarious rabbit, who is married to the voluptuous Jessica Rabbit, who's a singer at "The Ink & Paint Club" and is played by the sultry voice of Kathleen Turner. There is even a "50 year old in a 3 year olds body" named Baby Herman and a talking cab named Benny. These are just a few of the toons whose lives are at risk, including Mickey, Daffy and Betty Boop, to name a few more.

The main "human" character is this film is Detective Valiant played by Bob Hoskins. Although he sounds like a 1940's wiseguy, in true life he is British but does an excellent job at impersonating an American accent. Valiant gets talked into helping all the toons out, which he is very reluctant to do because of the murder of his brother by a toon. However, the Detective steps up to the plate and becomes something of a hero to Toontown.

This film paved the way for other films like "Cool World" and "MonkeyBone" which were not nearly as successful or enjoyable to watch. "Who Framed Roger Rabbit" takes the world of make believe and puts it in an adult world of cussing, sex and booze (but in a tasteful, rated P.G. way). It was a prototpe of its kind and continues to be a favorite of both children and adults alike.

Think you're too old for cartoons?...Think again..!
Author:
Bridgette Marie
Update This Review
Verdict
I cannot forget how huge this film was when it was first released.

All of the guys in my second grade class at the time wanted to be Roger Rabbit for Halloween. We all thought he was "so cool".

It was a breakthrough for films and equated cartoons with human beings, showcasing them in a light we had never seen them in before.
Great animation, cute music, good acting. A genuine prototype.

Hmmm... maybe everybody's seen this movie too many times?
Rewind Rating
The Movie Data
Jump To: Music & Soundtrack Vibes
Or use the menu to navigate
1988 TouchStone Pictures
1999-2020 fast-rewind.com
V4_27 Powered by Rewind C21 CMS