REWIND
REVIEW

"
The Beauty... The Beast.... The Beat.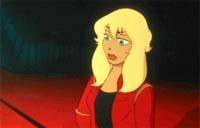 Starring
Don Francks, Susan Roman, Samantha Langevin, Paul Le Mat
Dan Hennessey, Chris Wiggins, Greg Duffell, Brent Titcomb, Donny Burns, Martin Lavut, Catherine Gallant, Iggy Pop, Lou Reed, Robin Zander, Deborah Harry Update Cast
The film had an official comic book adaption in 1983 which contains articles and information on the film and it's creation, it is still available to buy online.
More Trivia from Rock and Rule
Review
The war was over...

The only survivors were street animals; dogs, cats and rats. From them, a new race of mutants evolved.

That was a long time ago...

MOK, a legendary super-rocker, has retired to OHMTOWN. There his computers work at deciphering an ancient code which would unlock a doorway between this world and another dimension.

Obsessed with his dark experiment, MOK himself searches for the crucial component-

A very special voice...

The film starts off displaying the above words in a style similar to "Blade Runner", with dark and forboding music and imagery of a post apocalyptic world. At first you don't see what Mok looks like, just his gravelly voice saying there's one last place he needs to go to see if he can find the special voice.

The club he ends up at in Ohmtown is owned by Mylar who appears to be the decendant of a rat, his voice and manner reflect this well. At the club is a small band trying to make it big at a talent night, the band consists of Omar on guitar and vocals, Angel on keyboard and vocals, backing them is Stretch on bass and Dizzy on drums.

Mok's computer created him a ring that will signal when it hears the specific voice he's searching for, the ring starts blinking brightly when Angel is singing, he's found the voice. Now to try and get it...

Later that night Omar & Angel are rudely interrupted by one of Mok's messengers with a calling card inviting the band to Mok's mansion, here we get to see him for the first time, he's what you'd get if you combined Iggy Pop, Mick Jagger, and David Bowie.

At Mok's place Omar & Stretch are given 'Edison Balls', they're a strange drug, a kind of energy ball which totally spaces them out and puts them in a trance, Dizzy manages to escape being given one while Mok takes Angel off to try and convince her to sing with him and forget the band.

Mok kidnaps Angel and takes her to Nuke York to make her sing to bring the demon from the other dimension, before Mok's airship leaves, the rest of the band is kicked out and arrested but steal the cop's car to escape to Nuke York and save Angel...

Bad luck seems to follow them wherever they go, the cop at the city border of Nuke York isn't fooled and arrests them. At Mok's place in Nuke York, a large someone called Cinderella (Cindy) drops in on Angel and after getting aquainted she shows Angel how to escape and they head off to a zero gravity night club, along the way Angel sees Mok talking to his computer who is telling him about the one true voice and the armageddon key.

Bailed out by the aunt of Dizzy, the band are told of Cindy who's the sister of the three goons working for Mok and how they may be able to find her at the zero g club. They get there and spot her but she eludes them and they're captured by Mok who tortures them in order to get Angel to sing for him at a concert. She agrees and they're let go but somehow drugged so they're in a happy state of mind and don't care they're leaving her with Mok.

The concert in Nuke York goes with a bang as the entire building where it's hosted is destroyed by the being from another dimension because there wasn't enough power to unlock the doorway between this and the other dimension, so Mok consults his computer who says there's enough power in Ohmtown.

Off Mok heads to Ohmtown for the concert to end all concerts...
Author:
Ridwan Hughes
Update This Review
Verdict
This is not your average cartoon. Despite having a PG rating it's really not for young'uns because of some of the language, imagery and themes used throughout the film.

Like "Starchaser: The Legend of Orin" the style of drawing and animation isn't like a Disney creation which is a good thing, it's another unique and well done cartoon film.

On the first viewing I wasn't sure what to make of it, but this is a film that grows on you, I've seen it over a dozen times now and it's one of my favourite films so am very much looking forward to the upcoming DVD release.

Despite it's age (over 20 years old) it still has a lot of appeal, if you're a fan of rock & roll or cartoons aimed at an older audience then check this gem of a film out.
Rock & Roll! the characters are strong and the story is good.

Hard to get hold of a non-bootleg copy.
Rewind Rating
The Movie Data
Key Crew
Director: Clive A. Smith
Writer: John Halfpenny, Patrick Loubert, Peter Sauder
Producers: Michael Hirsh, Patrick Loubert
Locations Manager:
Update The Crew
Data
Release Date: 05 Aug 1985
MPAA Rating: PG
Studio: Nelvana
Production: Canada Trust, Canadian Film Development Corporation (CFDC), Dratsco, Famous Players, Nelvana Limited
Genre: Sci-Fi
Update The Data
The Movie Trailer
Jump To: Music & Soundtrack Vibes
Or use the menu to navigate
1983 Nelvana
1999-2020 fast-rewind.com
V4_27 Powered by Rewind C21 CMS