REWIND
REVIEW
Voyage Of The Rock Aliens
"
Is it a bird? Is it a plane? No, its a Rock Alien!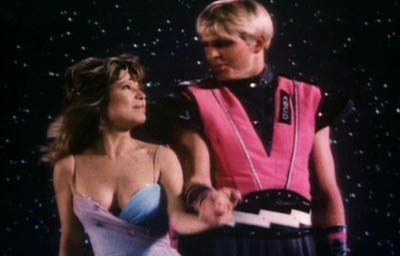 Starring
Pia Zadora, Craig Sheffer, Tom Nolan, Alison La Placa
Ruth Gordon, Michael Berryman, Gregory Bond, Craig Quiter, Patrick Byrnes, Marc Jackson, Jeffrey Casey, Jimmy Haddox, Marshall Rohner, Jeffrey Cranford, Troy Mack Update Cast
Cameos
Look for Jermaine Jackson making a cameo appearance!
Review
A group of aliens, who look a lot like 80's new wavers Devo, pick up a transmission of a rock video (Pia Zadora and Jermaine Jackson's 'When The Rain Begins To Fall'). They fly to Earth in their guitar shaped spaceship and take their shape-shifting robot down to the town of Speelberg in their phone booth. The movie is full of quirky homage's to old TV shows (Lost In Space and Doctor Who to name just two!).

On the beach a group of teenagers lead by tough guy Frankie (Craig Sheffer) and his cute, peace loving girlfriend Dee Dee (Pia Zadora). Frankie has a band that he likes to control and keep for himself but Dee Dee loves to sing and dance too.

Meanwhile, the aliens are wondering around and have been spotted by the crazy old lady sheriff. They attempt to blend in by stealing a few clothes and trying to hang out with the kids. This leads to many farcical situations and misunderstandings.

The alien commander Absid falls for Dee Dee and Dee Dee likes him back. She's fed up with Frankie's tough guy persona and when she sees the aliens perform, she falls in love. She decides to join Absid and the other aliens' group even though she now knows he is an alien.

Meanwhile, one of the aliens is investigating a mental hospital where two of the patients are busy escaping with chainsaws (another nod to a cult classic, The Texas Chainsaw Massacre, you may also remember one of the patients who is played by Michael Berryman from the 70's horror flick The Hills Have Eyes)

The aliens and Dee Dee put on a show and compete with another group The Pack. This bit is very reminiscent of Xanadu where the 80's music competes against the 40's. Instead this is 80's new wave synth rock/pop vs. 50's rockabilly.

The kids love Dee Dee and the aliens and this makes Frankie jealous. Dee Dee confronts Frankie with her plans to leave him for Absid.

After the show Absid and Dee Dee go to the alien ship. Absid tells Dee Dee that she will have to have her emotions removed when she arrives at his home planet. Dee Dee is horrified by the idea she is happy as she is but she does like Absid a lot and really wants to be in the alien's band.

Meanwhile, Frankie decides to give up his thuggish ways to get Dee Dee back. Dee Dee decides that's she simply must return to Speelberg and get back with Frankie. And they sing When The Rain Begins To Fall in a finale that's cheesier than 100lbs of goat's cheese!
Author:
Jamie Bee
Update This Review
Verdict
This isn't a very good movie. The plot was pretty hard to decipher and it's mainly a showcase for Pia Zadora and the two bands (Rhema, and Jimmy & The Mustangs) that feature in the movie.

The songs are of variable quality, but very amusing (gotta love "Little Bit of Heaven" though!), and the acting is even worse.

However, it is bizarrely compelling and enjoyable for fans of the 80's and trashy movies. It's bright, good-natured and just plain fun! And check out some of Pia Zadora's outfits!
It has some fun songs and dance routines!
Pia Zadora wears some great 80's outfits.
It's light hearted, good natured and it's great to laugh at.

Very bad acting.
The aliens are more than a little annoying.
This may be too much 80's for some people.
Rewind Rating
The Movie Data
Key Crew
Director: James Fargo
Writer: Edward Gold, James Guidotti, Charles Hairston
Producers: Tino Barzie, Mike Curb, Edward Gold, Charles Hairston, Max A. Keller, Micheline H. Keller, Brian Russell
Locations Manager: Elaine Smith
Update The Crew
Data
Release Date: Unknown
MPAA Rating: PG-13
Studio: KGA/Interplanetary-Curb
Production: KGA/Interplanetary-Curb Communications
Genre: Comedy
Update The Data
The Movie Trailer
Jump To: Music & Soundtrack Vibes
Or use the menu to navigate
1988 KGA/Interplanetary-Curb
1999-2020 fast-rewind.com
V4_27 Powered by Rewind C21 CMS