REWIND
REVIEW

"
A movie with a beat you can laugh to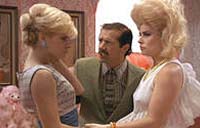 Starring
Sonny Bono, Ricki Lake, Ruth Brown, Divine
Debbie Harry, Jerry Stiller, Colleen Fitzpatrick, Josh Charles, Jason Downs, Holter Graham, Deborah Harry, Joann Havrilla, Ric Ocasek, Leslie Ann Powers, Clayton Prince, Michael St. Gerard, Mink Stole, Shawn Thompson, Alan J. Wendl, Pia Zadora Update Cast
Cameos
Look for John Waters, Toussaint McCall, Josh Charles making a cameo appearance!
Thanks to
John Edward Kilduff
As of July 2007, there will be a remake of "HairSpray" based on the Broadway musical of the movie. Reportedly, we'll see Queen Latifah as Motormouth Maybelle and John Travolta as Edna Turnblad. That should be interesting.
More Trivia from HairSpray
Review
"1962. Remember when... milk came in bottles, phones had dials, Cadillacs had fins... and girls really knew how to tease?"

This is the question asked on the soundtrack of this campy-but-classic film by John Waters. If you're not old enough to "remember", HairSpray will paint a wonderful picture for you of a time after the poodle skirt wearing 50's, but before the free love of the late 60's. A time of segregation, white lipstick, and wonderful music.

Tracy Turnblad, played by Ricki Lake, is an overweight teenager living in Baltimore, Maryland with her equally overweight but loving mother Edna Turnblad, played very convincingly by popular transvestite Divine, and her father Wilbur Turnblad, played by Ben Stillers father, Jerry Stiller. Tracy and her best friend Penny Pingleton race home after school everyday to turn on WZZT's The Corny Collins Show and dance along to its wild "Hairhopper" music, also known at the time as "Race" music.

Amber Von Tussle, played by Colleen Fitzpatrick, is the most popular dancer on The Corny Collins show and is everything Tracy is not. Blonde, thin, beautiful, and a supporter of black segregation. For anybody else it would be a struggle to compete with that, but not for Tracy. She turns on the charm and earns herself a job as one of the most popular dancers on the popular Baltimore teen dance show.

Tracy and her family are for black integration, and befriend Motormouth Mabel, a black dancehall leader who's popular even among whites. Penny even dates Motormouth Mabels son Seaweed, a very controversial act for the early 60's. Meanwhile, Tracy has stolen Ambers handsome boyfriend Link Larkin, who looks quite a bit like Elvis Presley and has become a model for Hefty Hideaway, a clothing store for "The big boned gal". as the owner Mr. Pinky puts it.

Things are not so perfect however because Amber has become very competitive with Tracy, and is running against her for Miss Teen Auto Show 1963. Not to mention Penny Pingletons mother has Penny locked up in her room for dating a black boy and Ambers parents are plotting to eliminate black integration and have their daughter win the auto show.

This movie is adorably kitsch and campy, but purposefully and wonderfully done. It is a very original film with characters everyone can relate to and adorable clothes and hairstyles. The director John Waters made sure to fill the movie with wonderful rare and out of print songs from the early 60's which make the soundtrack a definite must have. The music is, according to John Waters, "The only known remedy to today's hit parade of hell" and I agree! Watch this film and be taken away to 1988's version of 1962!
Author:
Bridgette Marie
Update This Review
Verdict
A great film that portrays the early 60's as not so perfect as the younger generations are led to believe. There was racism and prejudice against overweight women like there is today. The makers of this film did a great job with costumes, makeup, and hairstyles which automatically transport you back in time.
Great makeup, costumes, hair. An instant cult classic that you can watch over and over. It definitely gives you a whole other layer of respect for the awesome music of the 60's.

Perhaps a little campy, but John Waters did a great job at making this film enjoyable for people who might not ever like John Waters films.
Rewind Rating
The Movie Data
Jump To: Music & Soundtrack Vibes
Or use the menu to navigate
1988 New Line Cinema
1999-2020 fast-rewind.com
V4_27 Powered by Rewind C21 CMS