REWIND
REVIEW

"
It's Time for the Odd to Get Even. Their Time Has Come.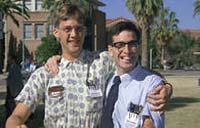 Starring
Robert Carradine, Anthony Edwards, Curtis Armstrong, Andrew Cassese
Cameos
Look for Ricky Henderson making a cameo appearance!
When Jeff Kanew was interviewed by the producers, they asked what kind of movie he thought he could make given the material. He responded, "One I would be embarrassed to have my name on." They hired him immediately.
More Trivia from Revenge of the Nerds
Review
Revenge of the Nerds was the "Animal House" for the 1980's, a time when the jocks ruled the school, nerds were nobodies, and girls were very hard to get, but now history is about to be written.

It's the first day at Adams University for longtime friends Lewis and Gilbert (Robert Carradine and Anthony Edwards). They have looked forward to becoming smarter than ever and getting chicks. They manage to find a place to stay, but they are soon to discover that girls are hard work and that they are about to face their biggest challenge: fitting in.

Just in case you were wondering, they are nerds.

Enter the Alpha-Beta jocks. They have all the chicks, they have their own fraternity and they have a popular quarterback named Stan Gable (Ted McGinley), who is the current president of Greek Council. They also have a tendency to humiliate nerdy boys like Lewis and Gilbert. After a cool trick accidentally backfires and causes their frathouse to burn down, the ever-popular Alpha-Betas decide a new plantation: the nerds' house.

Immediately following the fire, Lewis, Gilbert and other nerds are evicted from the house by the jocks and forced to live in the gym. Everything seems dim for the nerds when they are repeatedly rejected by the Alpha-Betas. But luck seems to shine on the nerds when they find a new place to live. After some redecoration, the nerds feel they can now feel at home.

What can I say? They are nerds.

However, this is easier said than done when they are informed that they cannot be accepted unless they can find a fraternity system. Things keep getting worse for the nerds as fraternities continue to turn them down…and then along comes the Lamda Lamda Lamda fraternity, better known as Tri-Lam, run by U.N. Jefferson (Bernie Casey), who offers them a deal that if they can party like the other fraternities, they will be very much in.

However, humiliation comes knocking once again when the Alpha-Betas send pigs to crash the party. This begins an all-out war between the nerds and the jocks and the nerds' will to fight back finally gets them accepted by the Tri-Lam.

I cannot tell a lie. They are nerds.

But it's bad news again for the newly formed Tri-Lams when they discover that they will never get fairness "as long as Stan Gable is president."

Of course, the only way to become president of Greek Council is to win the upcoming Homecoming Games. The Games include various contests such as a tricycle race, arm-wrestling matches and stage performances. There is even a belching contest which determines who can burp the longest.

Now, the Tri-Lams need everything they've got to win the Homecoming Games and end the college war so they can finally get their respect.

After all, they are nerds...
Author:
Philip Martin
Update This Review
Verdict
If "Animal House" is the winner of all college comedies, "Revenge of the Nerds" is the runner-up. It's a defining comedy for the 1980's and proves that you can fight back, even if you are a nerd.

Also, ROTN is highlighted by an infamous and always hilarious parody of the German, Industrial Techno act Kraftwerk that has to be seen to believed.
Great music, and Carradine and Edwards are hilarious as the leading nerds. An 80's Classic!

A sometimes predictable plot. -They are nerds, of course.
Rewind Rating
The Movie Data
Jump To: Music & Soundtrack Vibes
Or use the menu to navigate
1984 20th Century Fox
1999-2020 fast-rewind.com
V4_27 Powered by Rewind C21 CMS