REWIND
REVIEW

"
At Helltrack... The heat is on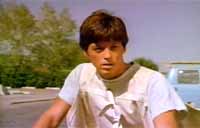 Starring
Bill Allen, Lori Loughlin, Talia Shire, Ray Walston
The classic BMX movie, Rad was released in 1986 to the theaters and promptly disappeared due to poor box office attendance. Like many cult movies, that hasn't stopped the flick from becoming a BMX classic. It was in the top ten video rentals for two years after it's release.
More Trivia from Rad
Review
Long before the mountain bike, throughout the 80's, the only pedal-powered transport to have was a BMX.

Inevitably, there was a rash of BMX movies released. Some supported the true spirit of BMX, some were just cash-ins. Rad was probably the best and has quite a following among BMXer's even to this day.

In true 80's style, Rad is based on a story of a small town BMXer that goes up and competes against nationally known BMXers who have big sponsers behind them (Mongoose, GT, etc.) and wins.

Rad! has many good points to it, including incredible stunts by BMX legends Eddie Fiola and RL Osborn, music and the normal 80's love story. As for the stunts, both the intro and credits to the movie are just about 4-5 minutes of freestyle riders showing off.

Rad has bike stunts/races throughout, starting with the intro, then Cru and his friends delivering papers to local businesses/residents, then the Cru/Christian show at the Helltrack Dance and the main race/credits with various other stunts thrown in here and there.

All in all, Rad is one of the best Bike/BMX/Freestyle movies ever made. It's a shame that both the movie and the soundtrack are out of print because Rad has suddenly made a comeback due to one thing: BMX is back! The mountainbike is fading.

Feb 2020 Update: Michael Putlack kindly updated to say: Yo! Rad has been restored and is getting a new 4k version premiering at this year's SXSW. There will be a national re-release beginning May 8th.
Author:
Nate Richardson
Update This Review
Verdict
Ranks up in a tie for first on my list of greatest movies ever made.
Great stunts and riding.

Nothing.
Rewind Rating
The Movie Data
Jump To: Music & Soundtrack Vibes
Or use the menu to navigate
1986 TriStar Pictures
1999-2020 fast-rewind.com
V4_27 Powered by Rewind C21 CMS