REWIND
REVIEW

"
This could be the beginning of a beautiful friendship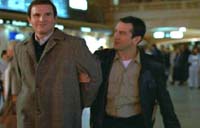 Starring
Robert De Niro, Charles Grodin, Yaphet Kotto, John Ashton
Cameos
Look for Martin Brest making a cameo appearance!
Review
If you've never seen Robert DeNiro in a comedic role, there's no better place to start than Midnight Run.

Midnight Run tells the story of Jack Walsh, former Chicago policeman-turned-bounty hunter, on the trail of a bail-jumping accountant, Jonathan Mardukas (Grodin), who embezzles $15 million and donates it all to charity after discovering the money's mob connections. According to Eddie Moscone (Joe Pantoliano), his bounty hunter boss, it's "just a Midnight Run"

But Walsh has his work cut out for him as he not only has to get 'The Duke' back to L.A. in order to earn a hundred grand (and retire into the restaurant business), but he also has to protect The Duke from capture by both the FBI and the Mafia.

Walsh, using his cop-savvy, quickly tracks The Duke down and gets him into custody. An extreme personality conflict between the hard-edged, dry witted, foul-mouthed, chain-smoking Walsh and the mild-mannered, health conscious, slippery Mardukas pervades the film, as the pair must make their way across country in three days. On their journey, Mardukas urges Walsh to open up and tell him about his past. Their hilarious bickering eventually develops into respect for one another and the two men begin to see that they are not really so different. In a touching scene, they briefly visit Jack's ex-wife and daughter and Mardukas begins to find some of the answers to the many probing personal questions he has hounded Jack with.

As a team, they waltz in the grey area between right and wrong, Walsh as the dishonoured bounty hunter, and Mardukas as the wanted criminal with the morality on his side. This odd dynamic is the platform for the incredible humor in the film and the ingenious way in which this sarcastic banter becomes the rapport of two men with a common bond.

The two slip past the FBI, headed by Agent Alonso Mosely (Kotto), as Walsh cleverly swipes Alonso's badge. Bail bondsman Eddie Moscone (Pantoliano) is beside himself with joy once Walsh informs him of capturing the Duke, but somehow, Walsh and The Duke miss their plane to L.A...

Enter Marvin Dorfler (John Ashton), rival bounty hunter sent in by Moscone once he learns Walsh and The Duke miss their flight. Dorfler's most redeeming characteristic is his drive to get the job done, as long as there's a buck at the other end.

Mafia Boss Jimmy Serrano (Farina) is thoroughly entertaining to watch in his flustered, angrily witty state throughout the film. Serrano sends two of his henchmen (Foronjy and Miranda) after Walsh, The Duke and whomever else might lead to the pair. The henchmen seem to have one brain between them and they add more of a 'bumbling factor' to the piece.

Walsh and The Duke continue to elude Dorfler, the FBI and the Mafia, sometimes working as a team, sometimes working against one another, always batting insults back at one another, providing 'laugh out loud' humor several times throughout the film, as they cross the country using any and every means possible. The viewer constantly wonders which one of these two opposites will drive each other insane first with their constant bickering. The viewers also get a glimpse of real feeling between the two characters of Walsh and The Duke, as Mardukas convinces Walsh to visit his ex-wife and daughter, whom Walsh hasn't seen in years. At the conclusion of the movie, Walsh returns the favor (you'll have to watch to find out how).

Midnight Run perfectly balances humor, sensitivity and action into a hilarious, action-packed 'buddy' movie of a totally original kind. Check it out!
Author:
Kimmie / Simon Barber
Update This Review
Verdict
Midnight Run is a legendary 80's action comedy. Expertly directed by Martin Brest ("Beverly Hills Cop", "Scent of a Woman") and perfectly penned by George Gallo, DeNiro and Grodin set the screen on fire with their complex and beautifully timed performances. Rarely has such an unlikely comedy pairing provided such onscreen chemistry.

Midnight Run is also very much an ensemble piece with terrific performances from bail bonds duo Jack Kehoe ("I'll go get the doughnuts") and Joe Pantoliano "Jack I love ya!"), and fellow road warrior John Ashton, the likeable rogue who suffers violent humiliations in his quest for the $$$.

The movie proved De Niro's undisputed comic ability beyond a shadow of a doubt, making him the most versatile actor working in cinema at the time. Scenes such as the 'Litmus Configuration,' - "Oh I'm sure we're completely safe" or the "How much is coffee? How much is tea?" exchange, make this film a non-stop laugh riot.

Alongside ("Beverly Hills Cop" (which also saw John Ashton teaming up with Eddie Murphy) and "Lethal Weapon", - Midnight Run is an 80's buddy movie par-excellance!

Now make your own Midnight Run to the video store and rent this puppy!
DeNiro and Grodin are hysterical together; Farina is wonderful as the flustered mob boss, and Kotto is excellent as the FBI Agent constantly made a fool of.

Can't think of any... maybe I should have given this a 10/10 rating!
Rewind Rating
The Movie Data
Jump To: Music & Soundtrack Vibes
Or use the menu to navigate
1988 Universal Pictures
1999-2020 fast-rewind.com
V4_27 Powered by Rewind C21 CMS