REWIND
REVIEW

"
A Battle Fought In The Stars. Now... Comes To Earth.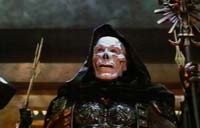 Starring
Dolph Lundgren, Frank Langella, James Tolkan, Billy Barty
Courteney Cox, Robert Duncan McNeill, Pons Maar, Anthony De Longis, Meg Foster, Jon Cypher, Chelsea Field, Christina Pickles, Tony Carroll, Robert Towers, Barry Livingston, Jessica Nelson, Gwynne Gilford, Walter Scott, Walter Robles (II), Cindi Eyman Update Cast
Review
Aided by thong-wearing Teela (Chelsea Field), her father Duncan (Jon Cypher) and the dwarven locksmith-inventor Gwildor (Billy Barty), He-Man is all set to battle Skeletor (Frank Langella) for posession of the Castle Grayskull, the universe's nerve center of operations and the freedom of the Sorceress (Christina Pickles).

However, when an emergency escape lands them on Earth and separates them from the Cosmic Key, Gwildor's crucial invention, they find themselves involved in the lives of two "natives" - orphaned high school girl Julie Winston (Courteney Cox, of "Friends") and her boyfriend, Kevin Corrigan (Robert Duncan McNeill, of "Star Trek: Voyager") - and at the mercy of Skeletor and his group of ruthless mercenaries.

The mercenaries are, of course, the coolest part of the movie. Celebrated stuntman/swordsman Anthony DeLongis stars as the devastatingly handsome Blade, the bald, armored, sword-swinging warrior and the only one of the mercenaries who is even remotely human. The lizard-man Saurod, complete with pulsating lizard-throat, yellow lizard-eyes and silly hat, is played by an unrecognizable Pons Maar (Return to Oz, American Scream).

Then there's the massive, snarling, hairy Beast Man and Karg, a slimy gray-skinned creature with a white bouffant hairdo, who minces around in a white fur stole and some kind of catsuit.

However, these fearsome warriors are no match for the grunting, speedo-clad He-Man and their unsuccessful return to Skeletor's castle results in Saurod being vaporized - the poor guy didn't even get to have any lines!

Now Skeletor is royally pi**ed off and he sends throngs of troops back to Earth, escorted by his toadie Evil-Lyn (Meg Foster), who looks like a Robert Palmer dancer with a cage on her head. The troops ride around on flying surfboards, looking menacing and zapping things with lasers.

Like all great battles, the final showdown on Earth takes place in a music store, with lots of exploding amps and swinging guitars. Now it's time to return to Skeletor's place to do battle with Skeletor himself - except that the cosmic key has been rewired and the tones to return to Grayskull have been erased!

Not a problem. Our normal, healthy, all-American Earth boy, Kevin Corrigan - who previously thought the Cosmic Key was some kind of Japanese synthesizer - is a musician and has memorized the tune it plays (which is something similar to the opening chords of Tears of Fears' "Head Over Heels"). A regular Mozart, Kevin has a jam session on the Cosmic Key, transporting the gang back to Grayskull. Now see, if it weren't for high school bands, the universe would be in the control of evil forces!

So, in a spectacular array of flexing, cape-fluttering and grunting, He-Man boots Skeletor's bony arse out of Grayskull and releases the nearly-dead Sorceress from her sparkly force-field prison. Kevin and Julie are zapped back to planet Earth, with a blue marble as a souvenir - it's supposed to provide a window into Eternia, or something.

At the ending, Julie wakes up in her own bed, to find that her parents are still alive and that she has returned to this point in her life. She persuades them not to go on the plane trip they had scheduled, then runs out into the street in her nightie and meets Kevin, who's carrying the blue marble. Apparently he's had the same strange dream that she did - perhaps proof that the two were made for each other...

It ends with the defeated Skeletor saying "I'll be back!", hinting at a sequel; unfortunately the He-Man craze had blown over by the time the sequel was written and it was reformatted as a Van Damme action flick.
Author:
ratt
Update This Review
Verdict
Certainly a must-see for everyone who grew up on He-Man, this film borrows from a host of sci-fi classics to create an unusually entertaining Good vs. Evil fantasy tale.
An 80s fantasy classic.

More than a tad predictable, with a confusing ending. Plus, most of He-Man's lines consist of inarticulate grunts.
Rewind Rating
The Movie Data
Jump To: Music & Soundtrack Vibes
Or use the menu to navigate
1987 Cannon Films
1999-2020 fast-rewind.com
V4_27 Powered by Rewind C21 CMS