REWIND
REVIEW

"
Steve Martin Is A World Famous Surgeon. He Invented Screw Top, Zip Lock Brain Surgery. Trust Him.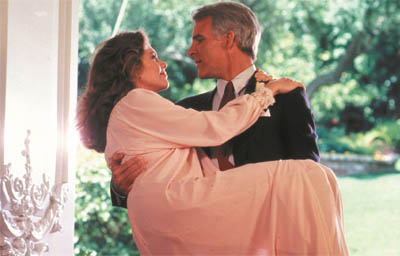 Starring
Steve Martin, Kathleen Turner, David Warner, Paul Benedict
Richard Brestoff, James Cromwell, George Furth, Peter Hobbs, Earl Boen, Bernie Hern, Francis X. McCarthy, William Traylor, Randi Brooks, Bernard Behrens, Russell Orozco, Natividad Vacío, David Byrd (II), Adrian Ricard, Sparky Marcus, Perla Walter Update Cast
Cameos
Look for Estelle Reiner, Merv Griffin making a cameo appearance!
Carl Reiner is the son of a watchmaker, Reiner was born in The Bronx, New York. He started work as a machinist's helper when he was 16. About the same time he began studying drama and soon landed the role of a second tenor in a jazz version of "The Merry Widow." These early experiences later provided the basis for his novel Enter Laughin'.
More Trivia from The Man With Two Brains
Review
I like Steve Martin. I really do. He is one of my favorite comedic actors. But this movie has to be the weirdest that I've ever seen!

It stars Martin as Dr. Michael Hfuhruhurr (weird name, huh?), the inventor of zip lock, screw top, brain surgery. Besides not having much of a life and being very rich, he has one other thing that gnaws at him, the death of his wife, whom he loved very much.

Then, one day, Kathleen Turner, who plays gorgeous blonde Delores Benedict, runs in front of his car. Michael takes her into surgery, and falls in love with her while poking at her brain. When she recovers, he marries her. But the truth of the "mater" is, she is really a money-grabbing woman who pleads headaches whenever he is in the mood. But, that doesn't stop her from having trysts with other men.

On a trip to Vienna, he finally divorces Delores and makes a trip to the laboratory of his rival, Dr. Necessiter (David Warner). There, an unusual thing happens, a woman's brain telepathically communicates with him. Numerous visits solidifies his love with... the brain?!? He then becomes obsessed with finding the right body to match his lady love's brain.

Meanwhile, the Elevator Killer is on the loose in Vienna and he just happens to be... Merv Griffin?

Yes, it's Merv Griffin, and he just happens to kill Michael's ex-wife, Delores, with a syringe full of window cleaner inside of the hotel Michael is staying at. Michael sees Delores's body inside the elevator. He takes it for immediate transplantation of the brain.

After that, they live happily ever after, or so it seems...
Author:
Brandy
Update This Review
Verdict
Although funny, this movie is not really one of my favorites. The kind of Steve Martin humor I like most is to be found in his other movies like "The Jerk", "Parenthood," and "Housesitter".
At some instances, the movie was funny. Merv Griffin being the Elevator Killer was an odd twist.

This is advertised as a comedy, but don't expect it to be all funny. It's not. If you're not a big fan of "semi-dark" comedy, I wouldn't recommend this movie.
Rewind Rating
The Movie Data
Jump To: Music & Soundtrack Vibes
Or use the menu to navigate
1983 Warner Brothers
1999-2020 fast-rewind.com
V4_27 Powered by Rewind C21 CMS