FILMFACTS
PRODUCTION

"
This time is gonna be the best time of all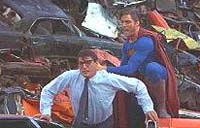 Production
Go behind the scenes on the 1983 Sci-Fi movie starring Christopher Reeve, Richard Pryor, Annette O'Toole, Jackie Cooper
We believe the following info is all legit. If it's bogus or you have additional info, please update us.
On-location Metropolis footage was, for the first time, shot not primarily in New York City, but in Calgary, Alberta, Canada. As drunk Superman flies off, look at the Canadian train go by below him.
The Superman "video game" screen that Webster used to shoot missiles at Superman was based on an Atari Superman game. (Unfortunately, by 1983, Atari was beginning to lose its early grip on the video game industry and neither the Superman game nor the upgrade Atari system it was created for, were great successes.)
According to the writers, the original choice to play Ross Webster was Alan Alda. They wanted an actor who could be ruthless without losing any charm.
The sound effects playing during the video game display when Superman is attacked by the computer's missile defense system are from the Atari 2600 home video game version of Pac-Man.
Next Section: Deleted Scenes
Deleted Scenes
There are often scenes cut from the final version of a movie. Sometimes these will have been seen by preview audiences, or be included in Blu-ray or DVD extras etc.
Shucks.. We don't know of
any
cut scenes from "Superman III".
Can you help?
Please
add one
for others to enjoy.
It's quick & easy
Next Section: Alternate Versions
Alternate Versions
Sometimes, there will be several versions of a movie floating about on cable, tv or video etc. Other times, a Director may release a special cut of the movie on Blu-ray or DVD.
The following versions of Superman III are apparently real. If you disagree or have additional info, please update us.
As with "Superman" and "Superman II, the initial TV broadcast of Superman III contained footage not seen in theaters. On television, the film opens with the credits IN OUTER SPACE where they belong and the unemployment office scene follows those credits. But, when the long line of mishaps begins, the scenes often remain blurry at the top and bottom of the screen where the credits used to be.
The additional TV footage did not add much to the story. Superman rescues a little boy stuck in a tree after saving the drowning man at the beginning of the film (the boy was catapulted by the see-saw he was sitting on when the bank robber's bag of money accidentally fell on the other side of the teeter totter). One assumes the scene was cut mainly due to the obvious English accent that the boy's mother had when she thanked Superman.
Another piece of added footage that was quite disturbing involved Vera Webster sitting in bed reading while trying to drown out the moans and groans of Lorelai doing the dirty deed done dirt cheap with evil Superman.
Jump To: Filming Locations
Or use the menu to navigate
1983 Warner Brothers
1999-2020 fast-rewind.com
V4_27 Powered by Rewind C21 CMS