FILMFACTS
PRODUCTION

"
40 Stories Of Sheer Adventure!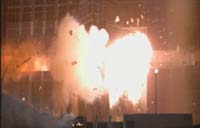 Production
Go behind the scenes on the 1988 Action / Adventure movie starring Bruce Willis, Alan Rickman, Alexander Godunov, Bonnie Bedelia
Reginald VelJohnson, Paul Gleason, William Atherton, De'voreaux White, Hart Bochner, Dennis Hayden, Clarence Gilyard Jr., Bruno Doyon, Andreas Wisniewski, James Shigeta, Robert Davi, Grand L. Bush, Matt Landers, Anthony Peck, Lorenzo Caccialanza, Joey Plewa Update Cast
We believe the following info is all legit. If it's bogus or you have additional info, please update us.
The same weapons handlers and trainers that were used for "Predator" were brought in to train the cast on the safe use of the many authentic weapons. Willis uses a Baretta 92, Alan Rickman uses a H & K P-7 M13 and Alexander Gudanov uses a Steyr Aug assault rifle. All were chosen as representatives of the kinds of weapons then in use by real terrorists.
The filmmakers built the office building sets on the Fox lot, with a complete 350ft painted cyclorama authentically depicting the west LA skyline. It was complete with moving lights on all the major roads and could accommodate the lighting for any time of day.
The scenes where the helicopters skimmed through the streets at 75mph were really shot on location. The L.A.P.D. had to close off all the nearby streets while 12 cameras shot the action.
Producer Jan de Bont got trapped in an elevator in the Fox Building (which served as the Nakatomi Building) during filming when the power was cut. He escaped out the trap door and climbed onto another elevator. He later said that experience inspired a scene in "Speed", the first film he directed.
Director John McTiernan found it necessary to smash cut away from Hans Gruber's face whenever he fired a gun, because of Alan Rickman's uncontrollable habit of flinching from the noise and muzzle flash.
Where Bruce is trying to climb down the ventilation shaft, but falls and then catches himself, it was actually his stunt double who, in the script, was supposed to climb down safely but accidently slipped and fell. The director decided to keep that shot instead.
Thanks to
Kasey McLaughlin
At the end of the movie, when Hans Gruber (Alan Rickman) falls to his death, a 20 foot high model was built for the shot and a stuntman was supposed to drop him at the count of three... However, he was dropped at the count of two so the surprised look on his face is 100 percent genuine!
Thanks to
John Edward Kilduff
Not only was Charles Bronson up for the role of John McClane at one point, but so was Burt Reynolds. Things came up and he wasn't able to do it, though. It's a shame, really. Burt's a talented guy, but he missed out on some MAJOR 80s classics.
Thanks to
Kevin Allustiarti
Near the release of this movie, Bruce Willis's picture and name was apparently removed from the posters, because a few weeks previously, the movie he was in was a major flop and they didn't want audiences to expect that of this movie too.
Next Section: Deleted Scenes
Deleted Scenes
There are often scenes cut from the final version of a movie. Sometimes these will have been seen by preview audiences, or be included in Blu-ray or DVD extras etc.
Shucks.. We don't know of
any
cut scenes from "Die Hard".
Can you help?
Please
add one
for others to enjoy.
It's quick & easy
Next Section: Alternate Versions
Alternate Versions
Sometimes, there will be several versions of a movie floating about on cable, tv or video etc. Other times, a Director may release a special cut of the movie on Blu-ray or DVD.
The following versions of Die Hard are apparently real. If you disagree or have additional info, please update us.
The German that the terrorists speak is sometimes grammatically incorrect and meaningless. In the German version of the film, the terrorists are not from Germany but from "Europe". This has been fixed for the Special Edition VHS and later home video releases. The only instances of incorrect use of German are Alan Rickman's (Hans Gruber) lines.
Jump To: Filming Locations
Or use the menu to navigate
1988 20th Century Fox
1999-2020 fast-rewind.com
V4_27 Powered by Rewind C21 CMS