REWIND
REVIEW

"
40 Stories Of Sheer Adventure!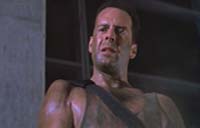 Starring
Bruce Willis, Alan Rickman, Alexander Godunov, Bonnie Bedelia
Reginald VelJohnson, Paul Gleason, William Atherton, De'voreaux White, Hart Bochner, Dennis Hayden, Clarence Gilyard Jr., Bruno Doyon, Andreas Wisniewski, James Shigeta, Robert Davi, Grand L. Bush, Matt Landers, Anthony Peck, Lorenzo Caccialanza, Joey Plewa Update Cast
Review
In 1988, Die Hard helped turn the star of the TV show "Moonlighting" into one of the most bankable stars ever...

Bruce Willis may, prior to that time, have seemed an unlikely action star, but that was probably one of the keys to his success.

Bruce plays New York policeman John McClane who, facing christmas alone, flies to Los Angeles to see his estranged wife and children in an attempt to patch things up. he arrives at "Nakatomi Plaza" his wife's far-eastern employers high tech office building in the middle of their office Christmas party... just before it is gatecrashed by Hanz Gruber and a dozen fellow terrorists intent on relieving the Nakatomi Corporation of six hundred million in negotiable bonds.

What follows, may, in retrospect, be called by movie critics "yet another action hero" type of movie, but in fact was a quantum leap for the genre.

Bruce Willis brought a new kind of action hero to the screen. One that bleeds. One that was vunerable and got frightened. One that made mistakes. One with humility.

In short, Willis's John McClane was essentially one of the first "more ordinary" action heroes. "Real" heroic people that rise above the odds and seem never more than an inch away from disaster.

The baddies are a colorful and engaging group, led by Alan Rickman, (who would later steal the show as the Sheriff of Nottingham in "Robin Hood") and including the always intense Alexander Godunov (also seen in "Witness" and "The Money Pit").

Other supporting roles include Paul Gleason, famous for playing Dean Vernon in "The Breakfast Club", as Police Chief "Dwayne T. Robinson".

During the next 80 minutes or so of pure torture, McClane is tested and tested. Both by the terrorists and by the FBI and L.A.P.D. who don't want him involved.

Victory is not easy... for one of the first times, the action hero really has to work for it.

Previously, action heroes had largely been indestructible one-man armies, whom the audience never needed to doubt.

Was John McClane the blue collar hero for an age that was becoming disallusioned with capitalism and greed?

Whether deliberate or not, the movie seemed to be making some veiled social comments about Reaganomics. The smug terrorist villain was a reader of Forbes and admirer of designer suits, who was only interested in money rather than lofty ideals, while the even more smug corporate wheeler-dealer who tries to negotiate a quick solution meets a hasty end.

All of them were surpassed by a hard working blue collar policeman who wasn't afraid to get his hands dirty.
Author:
Nick
Update This Review
Verdict
Die Hard was a watershed in action movies and a well deserved success for the filmmakers and Bruce Willis.

The script is exceptionally well written and Willis plays his character perfectly, not only appealing to the action genre fans, but the mainstream audience.

Although not one of the first "action-comedy" movies, Die Hard is, along with "Beverly Hills Cop", one of the benchmarks for the genre.
Its all good!

None.
Rewind Rating
The Movie Data
Jump To: Music & Soundtrack Vibes
Or use the menu to navigate
1988 20th Century Fox
1999-2020 fast-rewind.com
V4_27 Powered by Rewind C21 CMS