FILMFACTS
PRODUCTION

"
The Name In Laughter From The Hereafter.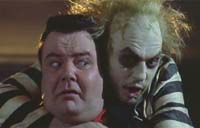 Production
Go behind the scenes on the 1988 Comedy movie starring Geena Davis, Alec Baldwin, Michael Keaton, Winona Ryder
Catherine O'Hara, Jeffrey Jones, Glenn Shadix, Robert Goulet, Annie McEnroe, Maurice Page, Hugo Stanger, Rachel Mittelman, J. Jay Saunders, Mark Ettlinger, Patrice Martinez, Cindy Daly, Douglas Turner, Carmen Filpi, Simmy Bow, Sylvia Sidney Update Cast
We believe the following info is all legit. If it's bogus or you have additional info, please update us.
Winona Ryder used her own clothing for her costumes.
In the movie they use stop motion animation. This is where they take an object and move it a tiny bit at a time, taking two takes per move. (The sculptures and the beetlesnake are stop motion animations.)
It is rumoured that Sammy Davis Jr. was originally considered for the role of Beetlejuice.
The movie was originally planned to be a more 'traditional' horror movie which was to be directed by Wes Craven. However, when the decision to take more of a black comedy approach was made, Tim Burton was brought in and he had the script re-written. Wes Craven instead went on to write Nightmare On Elm Street 3: Dream Warriors.
Beetlejuice was originally planned as a supernatural drama entitled "The Maitlands" about a deceased couple dealing with the troubles of the afterlife. The scenes were scripted much more morbidly than they appear (most notably the waiting room scenes, which were supposed to be particularily ghoulish), and most of the characters were much darker. Only when Keaton began filming his scenes and asked for creative freedom did Burton realize the potential of a dark comedy.
Michael Keaton spent only two weeks filming his part in the film. He only appears in 17.5 minutes of the films entire 92 minute running time.
The hardware store/hobbyshop which is the reason they go into town in the first place was really a grocery store with the windows made over for the movie - I bought an ice cream on-a-stick in it while the movie was being filmed - I was about 8 or 9 years old :)

Also, the bridge that they drive off of was a real bridge, but it was made to be a "covered bridge" for the movie.
Thanks to
Rebecca Provencal
The house that the family lived in was built for the movie and torn down afterwards. The school that Lydia went to was actually an old church.
Next Section: Deleted Scenes
Deleted Scenes
There are often scenes cut from the final version of a movie. Sometimes these will have been seen by preview audiences, or be included in Blu-ray or DVD extras etc.
Shucks.. We don't know of
any
cut scenes from "Beetlejuice".
Can you help?
Please
add one
for others to enjoy.
It's quick & easy
Next Section: Alternate Versions
Alternate Versions
Sometimes, there will be several versions of a movie floating about on cable, tv or video etc. Other times, a Director may release a special cut of the movie on Blu-ray or DVD.
Aw, man.. We don't know of
any
alternate versions of "Beetlejuice". If
you know
better, please
add one
for others to enjoy.
It's quick & easy
Jump To: Filming Locations
Or use the menu to navigate
1988 Warner Bros.
1999-2020 fast-rewind.com
V4_27 Powered by Rewind C21 CMS