| | |
| --- | --- |
| | Revised: 2nd June 2000 |

Very memorable music was one of the key ingredients in the Karate Kid success story. In this section we will take the most comprehensive look at the soundtrack and score anywhere on the net.
---
Karate Kid Music

The music used in the movie consists of:

The soundtrack score [the instrumental music], written by Bill Conti With Pan Pipe music by Gheorghe Zamfir
The 'pop' soundtrack music [which was released on the elusive Karate Kid Soundtrack album]

The Soundtrack Score by Bill Conti_____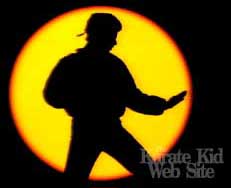 Conti, a distinguished and experienced film music writer was born on 13 April 1942 at Providence, Rhode Island and majored in piano and composition at Louisiana State University and earned a master's degree at the Juilliard School of Music in New York (The same school that John Williams attended). Certainly his output is prodigous, having scored over 110 films and numerous TV Shows, in 1995, Conti was awarded the Golden Soundtrack Award for his lifetime achievements by ASCAP. Conti has been involved with several projects with Karate Kid director John G. Avildsen. As is common in hollywood, the director and composer have enjoyed working together and have 'bonded', with the director often using the same composer for many different projects. -A good example of this is Steven Spielberg and John Williams who have collaborated on virtually all of Spielberg's projects for over 20 years. Unfortunately Conti is known to have stated in interviews that he believes that movie music is better left in the movies rather than isolated on a soundtrack CD and in his case, this has borne true, with very little of his amazing reportoire available on CD... Read more about Bill Conti in the Crew section.



Read here Bill Conti's attitude towards his scores being released on CD from an interview, gratefully reproduced with the permission of Film Score Monthly.

-With so many scores behind you, don't you think you should be better-represented on CD?

I get lots of requests for The Big Blue, Gloria and The Karate Kid. And I think, "what a bore." The only time I've put out CDs were for these three IMAX pictures, The Grand Canyon, Yellowstone and Niagara Falls. They sell at the parks, and I retained the rights for the music. So that means I went into the CD business. Somebody prints them up, stamps them, and mails them out. I hate every inch of the thought of doing that, because I don't want to be a businessman. So why did I do that? I did it as an experiment. Forget money. If 10, or 100 thousand people want The Big Blue, it don't mean a thing. It needs to be a hit. Maybe your little composer ego goes "Wow!" But I can't tell you how many Yellowstone CDs have even been sold. It's just irrelevant. So when people ask for a tape of Gloria, I tell them that I'm sorry, but I'm not in the business of making tapes. They should just consider the music as not being released. I only wish there was a hit. I don't want to know Gloria. Who cares? -Bill Conti

-A lot of your fans do. Shouldn't it feel good that people want your music?

You're right. It should feel good, but it's always been cumbersome to put out CDs of my scores. I don't even have any tapes of mine. I don't have a clue of where they are, or records of where they went to. But knowing that there are people out there who do care, the thought has crossed my mind to hire someone to start a label. But then there are those sleazy boutique labels that put out bootlegs. I don't want to be a shopkeeper. Even if I hired someone, wouldn't I still be the shopkeeper? -Bill Conti


Pan Pipe Music by Gheorghe Zamfir______

In England in the summer of 1976 an anusual piece of music spent nine weeks in the pop music charts, reaching its peak at number 4. The piece, a traditional Romanian funeral song called "Doina De Jale" which means "sad song of lamentation" had reached this level of poularity after being used as the title theme for a BBC TV religious series called "Light Of Experience". Suprisingly, respected British DJ's started playing the piece on their shows and the song was released as a single which went on to sell well throughout Europe.

The lingering melody was played by Gheorghe Zamfir (pronounced Yorgy), a Romanian musician, at that point unknown outside of Eastern Europe. The unusual, instrument used, people quickly learnt, was a 'pan flute' or 'nai' also known as pan-pipes -- a traditional Romanian instrument made of hollow bamboo of different lengths bound together which are blown accross, in much the same way as children learn to blow upon bottles filled with different amounts of liquid to make notes. This traditional instrument had been very popular since the 1800's but towards the end of the secon world war had all but died out. The pan flute revival came about after the war, caused by Fanica Luca, the famous pan flute player who had performed at the world exhibitions of 1937 (Paris) and 1939 (New York). He did many concert tours in France, England, Poland, Egypt, China, Russia and the United States. In 1949, aided by the Institute of Folklore Research in Bucharest, he started a pan flute class, which in 1953 moved to the Music Lyceum. This training remained in his hands until his death in 1968.

Gheorghe Zamfir was born in a small town in Romania called Gasti, which is about 40 miles from Bucharest. He was found to be very able at school and progressed to Bucharest University where he studied music. Whilst he learned various instruments, he increasingly became fascinated with the traditional Romanian pan flute. As he progressed in his learning of the instruments he was tutored by Fanica Luca. It quickly became apparant that he was fond of improvisation and was able to do things with the instrument that had not been demonstrated within living memory, including bending the pitch of notes whilst playing.

Gheorghe went on to tour Europe and many parts of the world with his own orchestra the "florian Econonu Orchestra" and in doing so attracted the backing of Swiss producer Marcel Cellier who released Zamfir's work on his own label.

In 1975, his music reached a worlwide high with his contribution of the music to Peter Wier's Australian movie "Picnic At Hanging Rock". With this boost, he hooked up with prolific arranger James Last for a highly successful European tour.

This success provoked a kind of pan-pipe fad in Europe in the 70's which oddly didnt make Gheorge a household name partly because his inablility to speak English limited the kind of publicity that he could partake in, but mostly becuase of his intense shyness and dislike of publicity outside his first love of live performance.

The water was further muddied by other imitators who lacked Gheorghe's connsumate skill with the instrument but who were able to appear on various TV shows to promote their work.

Later on Gheorghe expanded his repertoire into pan flute versions of pop and classical music and found himself in demand for further film music.

Little else is known about this talented performer's life other than his acheivements with this unique traditional instrument. He has released literally dozens of albums, but none to my knowledge have ever included his performances of Bill Conti's music for the Karate Kid. This is a shame becuase it is my opinion that his passionate and honest performances of Bill Conti's music was definitely a factor in the magic that went together to elevate the film above its humble expectations. You can read more about the pan flute or pan pipe at www.pan-flute.com.

More information comes to us of a bootleg of Conti's Score which contains the following tracks (as well as Conti's other works for The Right Stuff, F.I.S.T. and Gotcha.

This music appears to have originated from a cassette promo of the music done by the studio and has recently been released as a bootleg CD that is available from some specialist soundtrack retailers on the net or is regularly auctioned at ebay for outrageous prices. Rumour has it that only 500 were <illegally> pressed.

Below is the track listing (for the KK tracks):-


| | | |
| --- | --- | --- |
| # | Track Title | Time |
| 1 | Main Title | 3:30 |
| 2 | Fight Night | 1:57 |
| 3 | A Bumpy Ride | 1:47 |
| 4 | Miyagi Rattles The Bones | 2:36 |
| 5 | Miyagi Intercedes | 1:25 |
| 6 | On To Miyagi's | 1:29 |
| 7 | The Pact | 1:00 |
| 8 | Japanese Sander | 1:23 |
| 9 | Daniel Sees The Bird | 2:32 |
| 10 | Fish And Train | 2:23 |
| 11 | Training Hard | 2:24 |
| 12 | The Kiss | 1:00 |
| 13 | Daniel's Courage | 0:42 |
| 14 | The Moment Of Truth | 3:34 |
Quality is OK for a bootleg but poor by 1999 commercial CD standards. However, it still represents a major find for fans of Bill Conti's music. Many thanks to
Vanished Son
and
Jared Keller
for e-mailing in this info to us...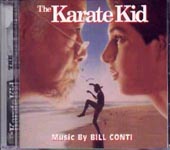 It has been brought to our attention that it is missing several important cues from the movie including: "Daniel Watches Ali From Afar" (heard as everyone in school prepares for Halloween), "Miyagi Observes Bike Aftermath" (heard when Miyagi peeks out of his workroom following Daniel's outburst about buses and bikes), "Daniel's Repaired Bike" As Daniel notices his shiny fixed bike, "End of Date" (heard when Daniel and Ali get into Mrs. LaRusso's guzzler after the first date), and most dissapointingly there seems to be NO music from the tournament sequence. -Many thanks to
Jon Hertzberg
for pointing that out.
NEW!
Fans of Bill Conti's scores will be pleased to learn that there is a spectacular quality bootleg of his complete score to Karate Kid part II floating about. Mastered in full CD quality, it is the kind of thing that would have to be traded with other rare soundtrack collectors.
Please don't write in asking where to get CD copies as we don't know
-Its not publicised (and, of course, completely illegal). You'll have to track down a collector of rare soundtracks who is prepared to do you a copy (normally in exchange for something they want themselves).
However, if you read to the bottom of the page, you may just find out where you can download a CD quality copy of all of the above.. (in fact everything mentioned on this page).
Its a great shame that things have to be this way with music that people would happily pay money for, but I'm afraid that the big record companies just aren't interested in the relatively low numbers of CD's that they would sell if they made the effort to release this material. --This coupled with Bill Conti's apparent complete lack of interest in releasing the music.
The 'POP' Soundtrack Music__________
The pop music soundtrack album is 'elusive' because it was originally published on vinyl record in 1984 on the Casablanca label and discontinued a couple of years later. It was unfortunate timing because CD was only just starting out and later on, when the Casablanca record label moved over to Polygram and their catalogue was examined for possible CD releases, the Karate Kid soundtrack was passed over for a CD release for commercial reasons
[-ie: there was not expected to be sufficient interest to justify mastering on to CD]
.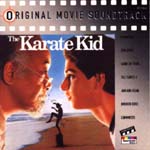 It took until 1996 for KARUSSELL (a Polygram budget label) to release the soundtrack on CD [pictured left], but sadly Bill Conti's classical score was not added. To my knowledge his score for this movie is not officially available in any form [* see
above
]. This means that the soundtrack album was not available for approximately 10 years. Even now the CD seems to have gone out of print.
The good news, if you manage to find a copy, is that the CD is mastered to a high standard and the good sounding vinyl record has translated to a great sounding CD. Mastered by Precision Laquers in LA, the CD contains exactly the same music in the same order as the original vinyl. Many of the memorable tracks from the movie are present on the CD and the full album or CD listing is shown below with the scenes that the music was used for:
| | | | |
| --- | --- | --- | --- |
| Song Title | Artist(s) | Time | Scene in Movie -Updated 15th Feb 2000 |
| Moment of Truth | Survivor | | End Titles |
| (Bop Bop) On The Beach | The Flirts &Jan+Dean | | Beach Soccer Scene |
| No Shelter | Broken Edge | | Halloween Chase |
| Young Hearts | Commuter | | Golf N' Stuff Reconciliation (2nd visit) |
| (It Takes) Two To Tango | Paul Davis | | Beach Flirting at Sunset |
| Tough Love | Shandi | | Johnny's Walkman -Halloween Dance Bathroom Scene |
| Rhythm Man | St. Regis | | At School |
| Feel The Night | Baxter Robertson | | Golf N' Stuff Montage |
| Desire | Gang Of Four | | Background |
| You're The Best | Joe "Bean" Esposito | | Tournament Fights |

The following tracks were used in the movie but are *not* present on the soundtrack CD:

| | | | |
| --- | --- | --- | --- |
| Song Title | Artist(s) | Time | Scene in Movie -Updated 15th Feb 2000 |
| Please Answer Me | Broken Edge | | Halloween Dance -- Band actually is in scene. |
| The Ride | Matches | | Motorcycles Descend To The Beach |
| Cruel Summer | Bananarama | | Ride To first day at School |
Brooks Arthur, the prolific record producer, served as Music Supervisor for the Karate Kid movies. Having recently served under the same capacity for the Tom Cruise vehicle All The Right Moves (1983), Brooks assembled an interesting list of artists for the Karate Kid project. The artists were cleverly chosen for their talent rather than their bankability [they didn't cost much!]. Some of the artists would never be famous, others' fame had faded at that time. Most of the artists seem to have been signed to Polygram or its subsiduary labels at the time. Many of the tracks were supervised or produced by Brooks himself and, interestingly, none of the tracks on the soundtrack CD ever seem to have appeared on albums released by the individual artists. The only real omissions from the album were Bill Conti's great works and Bananarama's "Cruel Summer" which was a hit for them in the UK and US at that time. I suspect that "Cruel Summer" was omitted from the soundtrack album for purely commercial reasons [ie: Bananarama would have cost too much to include and "Cruel Summer" was not considered enough of a draw to warrant the expense or there were licensing problems].

Artist Biographical Information
In this section, for those who are interested, we will give some background info on the various artists that were chosen by Brooks Arthur, the music supervisor on the movie to appear on the soundtrack.

Survivor -"Moment Of Truth"
Obviously chosen for their sucessful formula with Karate Kid director John G Avildsen on "Rocky III" Survivor were the only real 'name' act (who were current in 1984) included on the soundtrack CD. Survivor was founded in 1978 by guitarist/keyboardist Jim Peterik, formerly the lead singer of the Ides of March, and guitarist Frankie Sullivan; the two recruited lead singer Dave Bickler and recorded a self-titled debut album as a trio with studio musicians Dennis Johnson on bass and Gary Smith on drums. Their places were taken by permanent members Stephen Ellis and Marc Doubray, respectively. The group's big break came in 1982 when Sylvester Stallone commissioned them to write the theme to Rocky III; the result, "Eye of the Tiger," was an instant hit with its bombastic opening riff and anthemic chorus. It spent six weeks at number one on the Billboard charts and pushed the accompanying album of the same name over the one million sales mark. Bickler quit in 1983 due to medical reasons and was replaced by former Cobra singer Jimi Jamison. The shakeup gave the band a kickstart, and as well as recording one of the most memorable tracks from the Karate Kid soundtrack, they went on to have two Top Ten hits in 1985 with "High On You" and "The Search Is Over." The band's theme from Rocky IV, "Burning Heart," provided their second biggest hit in 1986, but their fortunes slid downhill from there; by the end of the year, Jamison, Peterik, and Sullivan were the only remaining members, and Survivor finally disbanded in 1989. Bickler,Sullivan, Ellis and Doubray returned to the studio as Survivor in 1997.

The Flirts & Jan+Dean -"(Bop Bop) On The Beach"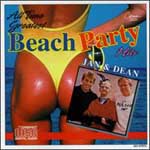 Besides the Beach Boys, no other vocal group captured the sound of California surf music with as much success, both commercial and artistic, as Jan & Dean. The duo actually began as a doo wop-soaked harmony act in the late '50s, reaching the Top Ten with the goofy "Baby Talk" and scoring minor hits with doo wop updates of standards like "A Sunday Kind of Love" and "Heart and Soul." When the Beach Boys began their climb to superstardom, Jan & Dean changed gears and followed suit with a series of surf and hot rod hits that featured falsetto harmonies, chugging guitars, and Jan Berry's clean production. Brian Wilson himself sang backup vocals on their biggest hit (which he co-wrote with Jan), "Surf City," in 1963. While they lacked the Beach Boys' depth and capacity for artistic growth, Jan & Dean's hits from 1963 and 1964 -- which also included "The Little Old Lady (From Pasadena)," "Drag City," "Honolulu Lulu," and the mini-soap opera "Dead Man's Curve" -- are in the same class as the Beach Boys' early work in their infectious, energetic invocation of good times and California sunshine. They added an irresistibly reckless humor to the genre, and were well cast as the fun-loving hosts of the classic 1964 rock & roll hootenanny film "The T.A.M.I. Show" (for which they performed the rip-roaring theme, "(Here They Come) From All over the World"). The duo's success, already on the wane a bit, was tragically cut short by Jan Berry's near-fatal auto accident in April 1966, which had been eerily foreshadowed by the lyrics of "Dead Man's Curve." In this way they offered an inexpensive way of getting that "Beach Boys" sound for the Beach scene.

NEW! Broken Edge -"No Shelter + Please Answer Me"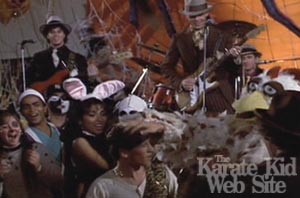 Broken Edge actually appeared in the halloween dance scene
A big thanks to Joshua Lober, who was the bass player of this rock group (Broken Edge), who wrote in to give us new information not only on them but also some of the other bands that were featured on the Soundtrack.

"Broken Edge is the band playing at the [halloween] dance (dressed as gangsters). This was filmed in the gym at Hughes Jr. High, which is where I went to Jr. High!"

The members were Joshua Lober who sang and played bass, Jon Mark who sang and played guitar and Richie Fenton who played drums as well as singing. They had one album, released with Polydor in 1984 called "Time for a Change".
More to follow soon!

Paul Davis -"(It Takes) Two To Tango"
Country singer Paul Davis seems an unlikely choice for the romantic tune heard briefly as the two teenagers eye each other up at the beach at dusk, but Davis, who had, at the time, just had a hit with "'65 Love Affair" in 1982 does a nice job of creating what amounts to the "love theme" from Karate Kid. Davis also had a hit in 1977with "I Go Crazy".

Shandi Tough Love"
Shandi, who released a self-named album "Shandi" in 1980, perform a song that I'm not sure is even noticeable in the film. As point of interest, Shandi also contibuted "He's A Dream" to the "Flashdance" soundtrack -- a soundtrack also featuring Joe Esposito [below]. Shandi's band members, who also sang were: Bass: James Rolleston, Guitar: Tim Pierce ,Steve Zykes Drums: Pat Mastelotto, Keyboards: Paul Hertzog. Vocals were all the above as well as lead singer Shandi.

NEW! St. Regis -"Rhythm Man"
Thanks to Joshus Lober of Borken Edge, we now know that early electro/Techno sounding St. Regis was comprised of two brothers (Greg and Mark) St. Regis. Greg St. Regis added some synthesizers on the three songs of the Broken Edge Album "Time For A Change", but Joshua hadn't heard from him since. If you know of the whereabouts of the St. Regis brothers, please contact me...

Baxter Robertson -"Feel The Night"
According to my research, Baxter published 3 albums including "Vanishing Point Two" in 1984 and "Panorama View". Baxter who played lead guitar and keyboards as well as lead vocals, had to produce two versions of "Feel the night" for Karate Kid. One for the soundtrack album and one, with extra female vocals, for the movie itself.

Gang Of Four -"Desire" [Check out the Gang Of Four Website]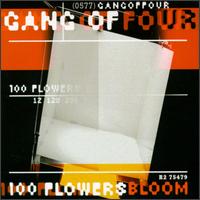 Gang Of Four was formed in 1977 in Leeds, England, by Andy Gill, Jon King and Hugo Burnham, all graduates of Leeds University, and Dave Allen, who answered an advert for a 'bass player wanted'. After their first single in 1978, they were snapped up by EMI and released their debut album Entertainment! in 1979. Their second single, At Home He's A Tourist, actually made the UK Top 40, and Gang Of Four had been due to appear on Top Of The Pops, but were dropped at the last minute when they refused to remove the word 'rubbers' from the lyrics. Having retained their artistic integrity but missed their chance of wider fame, they were destined to remain a cult band, and they never again reached the singles chart. The second album Solid Gold was released in 1981, but shortly afterwards Dave Allen left to form Shriekback, and was replaced on bass by Sara Lee. A third album, Songs Of The Free followed in 1982, but by this point much of the original hard edge had been lost from the music. Hugo Burnham left after this album, and the fourth album, Hard (1983), featured Andy Gill programming the Linndrum, with Jo Galdo, Ron Albert and Howard Albert also heavily involved. Steve Goulding provided live drums until 1984, when the band broke up. A live album, At The Palace, features one of their last gigs. For a while, that was it, but in 1990 Gang Of Four was re-formed, on a part-time basis, by Andy Gill and Jon King, with various people filling in on bass and drums. The first single from the reformed band was Money Talks, released by independent record label Scarlett Recordings, and an album Mall followed in 1991, on Polydor. The sound was rather more electronic than Gang Of Four's earlier work, and later they admitted to only being happy with about half of it. Andy and Jon kept themselves busy with film soundtrack work, and one such film, Delinquent, provided much of the music for the sixth Gang Of Four studio album, Shrinkwrapped. The album was released by When! (part of Castle Communications) in 1995, to widespread acclaim but (presumably) the usual dismal sales. A couple of rare but triumphant gigs followed, in London and America, but Jon King has since left the music business, meaning the end of Gang Of Four. In 1998 Andy, Hugo and Dave worked together in compiling a 2-CD compilation, 100 Flowers Bloom [pictured above], which was released in the USA including a number of new remixes and previously unreleased live and demo versions of earlier songs. It is still available. For the future, a live album and even a live video have been rumoured. Bio ©1998-99 Phil Hetherington - phil@emdac.demon.co.uk

Joe "Bean" Esposito-"You're The Best"
Joe "Bean" Esposito, having played guitar with Elvis, was the lead singer of "Brooklyn Dreams", a disco vocal group from New York in the late 70's. Other members were Bruce Sudano(married to Donna Summer in 1980), and Eddie Hokenson. They Just missed the Top 40 with their first and second hits, "Music, Harmony & Rhythm" (1977) and "Make it last" (1978), but got there with their third(thanks to Donna Summer): "Heaven knows" also in 1978. Esposito, who also contibuted the track "Lady, Lady, Lady" to the "Flashdance" soundtrack and sung background vocals for "What A Feeling" from the same film. Joe Esposito, whose last album "Treated & Released" was released in 1996 [and is still available] contributed the high octane music to the tournament at the end of the movie.

Banarama-"Cruel Summer" [Not On The Movie Soundtracka album]
The most successful British girl-group in pop history, Bananarama formed in London in late 1981. Drawing equal inspiration for their name from the children's television program "The Banana Splits" and the Roxy Music song "Pyjamarama," the trio comprised lifelong friends Keren Woodward and Sarah Dallin along with Siobhan Fahey, whom Dallin befriended at the London College of Fashion. After getting their start singing at friends' parties and at nightclubs (where they performed accompanied by backing tapes -- none of the women played their own instruments), they came to the attention of ex-Sex Pistols drummer Paul Cook, who produced Bananarama's first single, a cover of Swahili Black Blood's "Aie A Mwana." After the group backed Fun Boy Three on the single "It Ain't What You Do, It's the Way You Do It," the Three returned the favor for 1982's "He Was Really Sayin' Somethin'," a cover of the 1965 Velvelettes song that was the first of Bananarama's 26 U.K. chart smashes. While their initial hits, including "Shy Boy," "Na Na Hey Hey Kiss Him Goodbye" and "Cruel Summer" (their first U.S. smash) were roundly dismissed as fluffy pop fare, the success of 1984's rape-themed release "Robert DeNiro's Waiting" convinced the group to tackle more serious topics; however, the follow-up single, "Rough Justice" -- a song protesting political tensions in Northern Ireland -- bombed, and the trio's career stalled. In 1986, Bananarama's fortunes improved considerably when they joined forces with the production team of Stock/Aitken/Waterman, who produced the album "Wow!"; the group's most successful outing to date, the LP's cover of the Shocking Blue's "Venus" was an international chart-topper, and both "Love in the First Degree" and "I Heard a Rumour" were major hits as well. In 1987, Fahey left the group after marrying Eurythmics' Dave Stewart; she later resurfaced as one half of the duo Shakespear's Sister. Woodward and Dallin, meanwhile, enlisted pal Jacquie O'Sullivan, formerly of the Sheilagh Sisters, to fill the void. After a long layoff, the revamped group teamed with new producer Youth to issue the 1991 album "Pop Life", which featured a cover of the Doobie Brothers' "Long Train Running." Shortly after the album's release, O'Sullivan too exited, and Woodward and Dallin forged on as a duo for 1992's "Please Yourself" and 1995's "Ultra Violet".

Matches -"The Ride"
I have been unable to find anything about this rock group. If you have any information, please contact me...
Important Note: We realise that some of you would have been hoping to download the music from this page and will be disappointed in some way that we haven't provided the means to do this. Here at the Karate Kid WebSite, our focus is on providing you with the very best information and behind-the-scenes details. The inclusion of this type of material would be illegal and would mean the end of the support that we have enjoyed from the nice folks at Columbia TriStar. The music used to be available at Morgan Johansson's excellent Karate Kid Dojo, but this site has sadly disappeared...
---
Movie & All Images ©1984 Columbia Pictures. Please see the
legal
section for details.
Link eXchange Banner
©1999 Fast Rewind WebSites. All Right Reserved.