Filmmakers & Crew of Karate Kid Updated 17th July 2001
---
Learn about the talented filmmakers who created The Karate Kid. As you will see, many of their histories are intertwined, with many of them working together many times before (and after) Karate Kid...

Learn:-

* Who came up with the idea in the first place and why
* Why the characters of the bullied boy (Daniel) and the teacher are so realistic
* Who taught the actors karate and how long it took
* Who really gave the bad guys a beating on film (you will be surprised)
* And much, much more...



---
The story of the Karate Kid starts with veteran independent producer, Jerry Weintraub, for it was he who came up with idea for the film. He was apparently inspired by a TV news report of a kid who learnt karate to deal with being persistently bullied at school. When he met the boy, Weintraub asked if the boy was as good in fights as he was in tournaments. "I don't fight" the boy answered matter-of-factly "There's no reason to".
"For me, 'The Karate Kid' was a very special and personal film. The people involved were special; the relationships in the story were special...''

This author has also been contacted by a then Karate champion who met Weintraub prior to the start of the project, who feels that he may have also played a part in the idea for the movie. It is possible that the producer was inspired by many different events other than the simple explanation commonly given in material about the movie.

He was also drawn to the Karate Kid project for its broad appeal to youth. The press kit for the movie states that, at that time, roughly half of all martial arts students were under 18.

"As we've told the story, 'The Karate Kid' is much more than wish-fulfillment on an elementary level. The affection that grows between the fatherless boy and the older man is a beautiful thing. Many young people, even with natural parents, would like to have the understanding that Daniel receives from Miyagi.

This story is very rich in character and relationships''

Weintraub's 30-year career spans music, motion pictures and television. His feature-film producing credits include Robert Altman's seminal ensemble piece Nashville; Barry Levinson's Diner, which helped launch such young talents as Kevin Bacon, Paul Reiser, Mickey Rourke, Tim Daly, Ellen Barkin and Steve Guttenberg; the smash comedy Oh, God, starring the legendary George Burns; Pure Country; the entire Karate Kid series; and the recent Sylvester Stallone/Sharon Stone thriller The Specialist. He appeared on the other side of the camera as an actor in Sydney Pollack's The Firm. Under his Jerry Weintraub Productions banner, he has recently completed a slate of films, including a personally disappointing remake of the stylish television spy series The Avengers and the science-fiction thriller Soldier, starring Kurt Russell.

"I believe it was the unique father-son relationship that the Karate master, Miyagi, and his student, Daniel, discovered which attracted people. Miyagi is a father that everyone wishes they had--somebody who understands, somebody who is a shoulder to cry on--but somebody who also gives you enough space to live your life the way you want to live it''

In addition, he has been involved in the production of more than 100 television specials, including the 1984 Olympic Gala, and ABC telecast which immediately preceded the opening of the Los Angeles Olympic Games.

In his youth, Weintraub wanted to be an actor. After a stint in the Air Force he enrolled for a while at New Yorks Neighborhood Playhouse, but soon landed work as an NBC-TV page. Moving to a mailroom job at the William Morris agency, he miraculously took only one month to obtain a fully fledged agents position at MCA.

In 1965, Weintraub founded 'Management III' with two partners, a meager investment and three clients. Over the years he has built that into a career as a leading concert promoter with such landmark successes as Elvis Presley's comeback concert. His reputation as an expert concert promoter led to the formation of Concerts West, the company that handled concerts for such artists as Presley, Frank Sinatra, Bob Dylan, Led Zeppelin and the Beach Boys and became one of the great success stories in the music promotion world.

His move into movies came with Robert Altmans Nashville, followed with such films as Oh God, Cruising and Diner. Weintraub later took over as production boss at United Artists for a brief time until he decided that he liked being an independent even more than running a studio.

Weintraub has also been actively involved in many philanthropic ventures, including the Los Angeles County Museum of Art, the Museum of Contemporary Art, the Music Center and the Children's Museum. In 1988, he and his wife, Jane, received the prestigious Scopus Award from the American Friends of the Hebrew University for their continual support. Weintraub was one of the first independent movie producers to receive a star on the Hollywood Walk of Fame. In 1986, he was named Producer of the Year by the National Association of Theatre Owners. In March, 1991, President George Bush appointed Weintraub to the Board of the John F. Kennedy Center for the Performing Arts, a position he will hold through the end of the decade.

---
John G. Avildsen: Director Born Chicago, 21st December 1935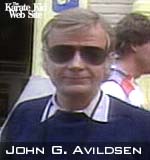 For a director with the credentials to turn such an idea into a successful move, Weintraub turned to veteran director John G Avildsen, who had previously directed the movie Rocky, which has a very similar structure - an underdog trains to overcome overwhelming odds. As it turns out, Avildsen has a strong affection for the underdog.

"I like stories with heroes. I'm a great Frank Capra Fan. In this case, though it is the relationship of the boy with his surrogate father and the sweetness of his romance with the girl that were especially attractive to me.''

Avildsens slightly gritty, no-nonsense style of filmmaking, no doubt learned from his early experiences working on industrial films and commercials. This, mixed with excellent cinematography by James crabe, allowed the characters to live and breathe and naturally focuses the viewer on to the performances of the actors. This coupled with an excellent script and memorable music formed the backbone of a winning production.

Avildsen knew nothing about boxing, prior to starting work on Rocky, and was in a similar condition vis-à-vis karate when he took on what he jokingly referred to as "the kaRocky kid" -admitting the genre similarity in the two projects.

Avildsen, born in Chicago in 1936, moved with his family to Chicago when he was 10. He attended New York University at night, while working at various advertising agencies.

"I think that Miyagi is the perfect fantasy- father figure. Everybody would like to have a Miyagi to take care of their problems, to give them good advice."
Following a stint in the armed services, Avildsen met up with his former ad agency boss, who was starting production on a film, The Greenwich Village Story, and hired the young filmmaker as his assistant director. Anxious to build more film production experience, Avildsen then seesawed between advertising work and various film assignments--boom man, assistant cameraman and production manager, a position he held on Arthur Penn's cult classic, Mickey One Avildsen, demonstrating unusual talent, soon jumped from directing industrial films for such clients as IBM, Clairol and Shell Oil to directing his first feature film.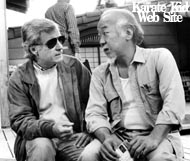 John G Avildsen and Pat Morita on the set of Karate Kid
His debut was with the low-budget Turn On to Love, quickly followed by Sweet Dreams and Guess What We Learned in School Today?

He is known as a director of films that are typical crowdpleasers. The turning point came in 1970 when he directed Joe, a film which launched a career for the film's star, Peter Boyle, as well as for Avildsen. Joe, about a despicable racist's blackmail of a killer, became a cult hit, which influenced films as different from one another as Death Wish and Drugstore Cowboy. This garnered the attention of the Hollywood film making industry.

It's noteworthy that his thorough apprenticiship has subsequently led him to continue to function on many projects as cameraman and film editor as well as director "I started in a low-budget, non-union filmmaking world," he comments, "and I found I was just more easily employable if I did it all. " So on Joe he functioned as his own director of photography.

Avildsen then directed Save the Tiger, which won Lemmon his first Oscar for best actor, and W.W. and the Dixie Dancekings, starring Burt Reynolds, before turning to directing the then-unknown Sylvester Stallone in the original Rocky.

Other important accomplishments which followed include Slow Dancing in the Big City, (director, editor, camera operator), The Formula (director and editor and Neighbors (director and supervising editor) before his huge success with The Karate Kid.

His biggest hits have included the boxing drama Rocky (1976), which won him the 'Best Director' Oscar and, of course Karate Kid. In recent years, Avildsen has had a few less successful productions ranging from the rodeo drama 8 Seconds (1994) (which attempted to copy the same Rocky/Karate Kid formula) to the aptly-titled children's film Bogus (1996), starring Gerard Depardieu in the most miscast role of his career as a child's imaginary playfriend.
---
Robert Mark Kamen: Writer

As mentioned above, arguably the most vital ingredient in the magical formula that became the Karate Kid was the script by Robert Mark Kamen. The knowledge that this was almost an autobiographical concept for Kamen, which he wrote based on his own 20-year study of oriental martial arts and customs, gives some insight into the care that went into the Karate Kid script and the depth and honesty of emotion that he was able to give the characters. Interestingly, being a 20 year veteran of karate, Kamen also helped Pat Johnson orchestrate the fight scenes in all of the Karate Kid movies.

"I know how the character Daniel felt, having been kicked around myself when I was young. I studied under an Okinawan master whom Miyagi resembles in many ways. He gave me a lot of things in my life, not just the ability to punch people around.

-Enlightenment comes from the strangest places...''
Kamen had earlier spent five years in Afghanistan and was an anthropologist before becoming a writer. He later collaborated again with Karate Kid Director John G. Avildsen on the South African drama The Power Of One (1992) -Incidentally, this is the film with the highest user rating of all Kamen's films on the Internet Movie Database. Kamen went on to write such films as Lethal weapon 3 (1992), The Fifth Element (1997) and Devils Advocate (1997).

"The Karate Kid is basically a story of relationships. Of growing and maturing. It's the story of a kid learning about alternatives.''

Unfairly nominated for a "Razzie" Award for Worst Screenplay for The Karate Kid III(1989), vineyard owner Kamen was recently hired by Director Alfonso Arau, to write the screenplay for Keanu Reeves' Napa vineyard epic A Walk In The Clouds. To ensure that the script had an authentic Mexican flavor, Arau invited Kamen to Mexico City to experience upper-class Mexican culture through the director's eyes. The 10-day tour included stops at the finest restaurants in Mexico City as well as visits to museums and the Aztec pyramids at Teotihuacan.
---
James Crabe A.S.C.: Director of Photography / Cinematographer Born 19th August 1931 Location Los Angeles, California. Sadly Died 2 May 1989.



Yet another vital piece in the winning jigsaw puzzle of Karate Kid filmmakers, James Crabe was the man who, in conjunction with the director, chose the 'what and how' of each shot in the movie. James was no stranger to Avildsen's productions, having worked on four of the directors most successful productions up to that point including Rocky.

He had worked with Director Avildsen ever since his first "big" production, "Save The Tiger" and went on to collaborate with Avildsen on about 12 further pictures including The Karate Kid I & II.

"Aiming for the same kind of truthful visual depiction he gave the action sequences in Rocky, James was aided by thorough advance story-boarding of the action sequences and the videotapes that director John Avildsen made during rehearsals.''
James started his lifelong career as cinematographer during the 1960's in TV excellent productions like the Sole Survivor, making the crossover into motion pictures with Agent for H.A.R.M (1965) a James-Bond-spoof where a secret agent tries to keep a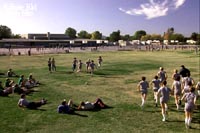 Excellent example of James's Brilliant Cinematography. Click To Enlarge
scientist from falling into the hands of the Russians. Starring Mark Richman as "Adam Chance", Agent for H.A.R.M was originally filmed as a TV-pilot, but instead was released theatrically. (Incidentally, H.A.R.M. stands for the Human Aetiological Relations Machine!)

Crabe was an Emmy Award Nominee for "Outstanding Achievement in Cinematography for Entertainment Programming for a Special" for the TV production The Entertainer (1976) and was later an Academy Award Nominee in 1981 for The Formula (1980). Notable projects were Rocky in 1976 with Avildsen as director, Thank God It's Friday (1978) and The China Syndrome (1979). He was also an ASC Award nominee in 1986 for The Karate Kid Part II, ASC "Mini-series or Special's" Award nominee in 1987 for When the Bough Breaks starring Ted Danson. He was again nominated for an Emmy in 1988 for the TV production Baby M in 1988. He also worked with director Avildsen for the last time in 1988 on the movie For Keeps starring Molly Ringwald. He sadly died on 2 May 1989, a victim of AIDS.
---
Bill Conti: Original Score Composer Born 13th April 1942 Location Providence, Rhode Island



Sadly missing from all available versions of the Karate Kid soundtrack (update: see music section), Bill Conti's haunting and perfectly judged music for the Karate Kid is another special ingredient that undoubtedly contributed to it's success. Although he has not scored a major film for a few years, American composer Bill Conti has nevertheless left an indelible mark on the Hollywood music scene with some excellent scores. He composed his first score in 1969 for the British film Juliette De Sade, directed by Warren Kiefer. He quickly became a popular composer, and he wrote some major scores during the 1970s and early 80s, most notably Harry and Tonto, An Unmarried Woman, Paradise Alley, F.I.S.T., Private Benjamin and of course, Karate Kid. He achieved worldwide fame for his classic songs "Gonna Fly Now" from Rocky and "All Time High" from the James Bond movie For Your Eyes Only, and was awarded an Oscar in 1983 for his score for the classic astronaut movie The Right Stuff. Recently, Conti's scores included Masters of the Universe, and the comedy Spy Hard, as well as all the Karate Kid and Rocky sequels, but he has not enjoyed the popularity or success of the previous decade. Instead, Conti has been keeping busy by becoming a well-respected conductor, and has carved out a second career for himself in TV being the musical director of the Oscars TV broadcast which earned him his third emmy in 1992.

Other notable TV work includes Dynasty, Falcon Crest, Cagney & Lacey, Lifestyles of the Rich and Famous and the music of the North and South (Book I & II) and Napoleon and Josephine mini-series.

In 1995 he was the recipient of ASCAP's Golden Soundtrack Award in recognition of his lifetime achievement in film and television music. It was befitting that he was chosen as this year's recipient as he is the only composer to have been honored at all ten previous ASCAP Film and Television Music Award ceremonies. Talia Shire, Gil Cates and composer David Raksin (1992 ASCAP Golden Soundtrack recipient), presented the Golden Soundtrack Award along with Bergman. Celebrating two of Conti's most famous themes (Rocky and Primetime Live) Sylvester Stallone and Diane Sawyer paid a special tribute via video.

Special link: Go To Eckhards Bill Conti Homepage
---
R.J. Louis: Executive Producer

R. J. Louis is a veteran filmmaker who had previously produced a number of TV series, pilots, features and movies of the week. Among them are Silent Victory: The Kittie O'Neil Story and When Hell Was in Session, starring Hal Holbrook. He has also gone on to work with Karate Kid producer Jerry Weintraub on numerous films including "The Specialist", "Vegas Vacation" and more recently "Soldier" starring Kurt Russell.
Karate Kid Martial Artists -Updated 3rd May 2000

---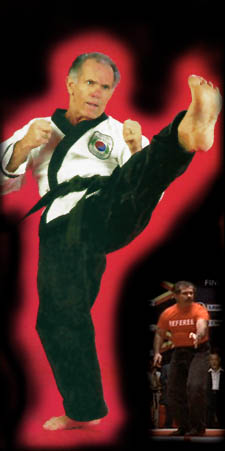 Pat E. Johnson: Fight Choreographer for the Karate Kid series and Referee in the "All Valley Tournament"
Affectionately known as "The Tree Trunk", Pat Johnson, a legendary American karate instructor and champion, is renowned as the top martial arts stunt coordinator and motion picture choreographer in the world. After doing such a great job on the authenticity of the fight scenes and the tournament in Karate Kid, Johnson went on to choreograph the action sequences in such films as Buffy the Vampire Slayer, and Teenage Mutant Ninja Turtles (both the original and sequels which together are the highest grossing martial arts movies having earned over 1/2 billion dollars).

"I believe in firm, hard-nosed karate"


He was also the stunt coordinator for Mortal Kombat - The Movie, released in 1995, and is the choreographer for Mortal Kombat - The Live Tour, which visited over 200 arenas around the USA in the fall of 1995.

Johnson has recently completed choreography for Batman and Robin and has been directing a new action/adventure television series, Quest for the Dragon Star, featuring some of the nation's top martial artists including Richard Branden, Ho Sung and Ho Young Pak.

Mirroring the on-screen 'history' of fictional Karate Kid sensei John Kreese, Pat Johnson began his Karate training in 1963 while stationed in Korea with the United States Army. He was trained by Kang Do Hee in tang soo do, the style he continues to practice today. When he returned to the United States, he opened his own school and eventually met Chuck Norris. Johnson taught at Norris' school in Los Angeles and later became Captain of his undefeated Black Belt Team, which won 33 consecutive National and International Titles (1968- 73).

Again mirroring fictional sensei Kreese: "I believe in firm, hard-nosed karate," says Johnson, who quickly established a set of rules students at the school had to follow. "If you wanted to speak during class, you raised your hand. All instructors were referred to as 'Mr.' And if you had dirty fingernails or your uniform wasn't ironed, you did push-ups." If parents of the students disrupted class by talking while they watched the training, Johnson would order them to leave. Despite the disciplined atmosphere, the school thrived under Johnson's direction. In six months, enrollment grew from less than 30 students to more than 350. "We were raking in a fortune," Johnson recalls. Success bred expansion, as Norris opened a chain of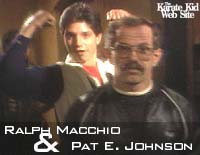 Southern California-based schools and founded the National Tang Soo Do Congress, naming Johnson the executive vice-president. The two eventually split up due to philosophical differences, and most of the organization's students followed Norris to his new United Fighting Arts Federation. A small number of students remained with Johnson and the National Tang Soo Do Congress, which today numbers 160 black belts and 11 schools over five states. "My organization is small, but it is close-knit and there is a lot of loyalty, which is everything to me," Johnson says. "I can forgive a lot of shortcomings if someone has loyalty. When the organization fell apart, a lot of people went with Chuck. Since that time, a lot of them have called and said they wanted to join my organization. But I say 'Sorry.' I want people around me who are loyal and who I can rely on. And I will be there for them when the bell sounds, by their side all the way."

In 1972, Johnson landed a featured role in the movie Enter the Dragon, which starred Bruce Lee. Appearing in front of the camera did not appeal to Johnson, but led to his career behind the scenes as a choreographer and stunt coordinator. Johnson holds a 9th Degree Black Belt Master and a Senior Black Belt of the National Tang Soo Do Congress (NTC). In 1968, he formulated the Penalty Point System of Karate Tournament Rules. In 1970, he was National Grand Champion. In 1975-76, he was Winner of the Golden Fist Award as the "Best Karate Referee in America." He has been inducted into NASKA Black Belt Hall of Fame (1990), and the AKKA Hall of Fame (1994).

At age 53, Pat Johnson retired from competition and has served as the personal fitness and martial arts trainer of many celebrities including Priscilla Presley, Bob Barker, William Friedkin and Steve McQueen. Johnson has discovered his own "fountain of youth" by leading a healthy, active lifestyle. He maintains the physique of a 25 year old through a cross-training fitness regime that includes martial arts training, running, the Stair Master, mountain biking, and Gray Bar, an adjustable portable training device he invented for strength training. Pat Johnson currently resides in Southern California with his wife Sue Ann and is the proud father of four children.

Nearly 30 years have passed since Johnson started teaching tang soo do, but he has changed little, if at all. "I'm still a rule-following, strict son of a gun when I teach," Johnson admits. "It's the only way I know."

Some information gathered from the excellent article on Pat at Black Belt Magazine's Web Site


---
Sensei Shihan Fumio Demura: Mr. Miyagi's Karate Stunt Double
Mr. Miyagi and Sensei Fumio Demura made up as his karate double during the filming of the 'skeleton fence fight sequence' of Karate Kid...
Sensei Shihan Fumio Demura is the chief instructor of the Japan Karate Federation Itosu-Kai in America. Besides teaching Karate, Mr. Demura is the stunt man for Pat Morita in the Karate Kid series of motion pictures, as well in the O'Hara television series.

His other film credits include, Island of Dr. Moreau, Bring 'Em back alive, and most recently Rising Sun and Mortal Kombat.

These are just a few of the numerous films in which Mr. Demura has performed. For years he was featured at the Japanese Village in Buena Park and in Las Vegas. Today, he spends the brief time away that he takes from his Dojo to demonstrate at Tournaments and Charity events.

Shihan Demura started studying kendo when he was 8 years old. The Sensei, also taught karate and Demura studied it a little bit too. Later, when the sensei moved away, he began training at another dojo that concentrated on karate. This was during 1952 and today, over 40 years later, sensei Demura is one of the leading instructors on the west coast of the USA.

The following extract is from an interview with Sensei Demura:

Q: How did you become Pat Morita's stunt double:

A: Chuck Norris introduced me to the production people for the Karate Kid film. I sat down and looked at the script and read...Miyagi, Miyagi, Miyagi...every page.

Q: Mr. Norris was thinking of you for the Miyagi role?

A: That's right. But I looked at that script and knew that I couldn't do that role. I know my limitations as an actor. My English is not that good. I said thank you but I can't do this. Later, Pat Johnson (the stunt coordinator) called me. I have to thank Mr. Johnson because he recommended me to the producers for Pat's stunt double. I've been doing it for over 12 years now.

Q: You did all four Karate Kid films, the Ohara television show?

A: Yes, basically almost anytime Pat needs a stunt double, he asks for me. We've done several other projects since the Karate Kid films.

---

Darryl Vidal: Semi Finalist and Mr. Miyagi's 'Crane' Stunt Double


Darryl Defeats one of the Cobra Kai heavyweights

Darryl Vidal is a modest, unassuming, highly respected martial arts instructor from southern California. He spends a lot of his time teaching kids the martial arts at Murrieta parks and recreation dept, but he recently kindly sat down late at night after a hard day's work to tell us about his involvement in the movie. Many of his students would probably be aware by word-of-mouth of the fact that he played a part in the original Karate Kid movie, but how startled they must be when he reveals some of his more startling, uncredited work in the film...

Darryl is a 6th degree black belt in Kenpo Karate. At the time of filming (1983) he was a 1st degree black belt. It was Darryl who we see as the unfortunate semi finalist who is beaten by Jonny (William Zabka).



"Myself, and Ron Thomas [Bobby], the guy who breaks Daniel's leg in the tournament, are the only real Black Belts in the film. (and of course Pat Johnson)."


In the montage of the fight sequence leading up to the semi finals, Darryl pops up now and again to perform some very flash moves, neatly despatching a few of the Cobra Kai [see pic on left] before finally meeting Johnny in the semi finals --where what is easily the most impressive demonstration of karate in the entire movie is shown. He even has the honor of being named after himself even in the final shooting script of the movie stated as being revised 22-12-83 (Darryl's Page has been used as the background image for this web page -- click here to see the page on its own)



In the semi-final with Johnny, Darryl Vidal provides the most spectacular Karate in the movie



But unbeknown to just about everyone, including us here at the Karate Kid Website, we had seen Darryl earlier in the movie without realising it, as he explains in his own words:-



"I am the stunt double for the scene where Mr. Miyagi is on the post on the beach. It isn't noted in the cast list at the end where I am just listed as the "semi-finalist." I am dressed in a body-suit, and bald-head wig."




We had always known that Sensei Fumio Demura was Mr Miyagi's stunt double in the fight scenes with the Cobra Kai, but this was a delightful bit of inside info. As Darryl notes, he was wearing a disguise to make him look like Mr Miyagi at a distance...

Darryl's involvement with the movie began after he was approached after a competition in Los Angeles as he recalls:-




"I was scouted for the movie by one of John Avildsen's Assistant Directors at a karate tournament in Los Angeles. He approached me after I had won a kata competition and asked me, "how would you like to be in a movie?""



But his biggest secret is the one that must leave his student's eyes wide with awe:-



"...the crane technique, as depicted in the movie, isn't a real move in any karate or kung-fu. Pat Johnson told me what he wanted, and I basically said, "you mean something like this?" It is widely recongized, and I still hesistate when I tell my karate students that I made it up. But as you might have guessed, there is very little practical application to the technique."


So there you have it! The man listed simply as "semi finalist" in the movie credits not only doubled for Mr Miyagi doing the crane at the beach, but actually invented the move himself! As he modestly says himself the 'crane' move is a part of the culture now, so it just goes to prove that in reality, you don't have to be a household name to have a seismic influence on the culture of the day, because in Hollywood...

...anything is possible!

We're very grateful to Darryl for sharing his memories with us and hope that he finds the time soon to give us some more interesting insights and memories of the Karate Kid filming...


---
Please Note: The original research for this section is taking longer than anticipated. More crew bio's will be added all the time. Please keep checking back with us



Movie & All Images ©1984 Columbia Pictures. Please see the

legal

section for details.

Link eXchange Banner



©1999 Fast Rewind WebSites. All Right Reserved.