REWIND
REVIEW

Irreconcilable Differences
"
They've got everything... Including a ten year old daughter who's suing them for divorce.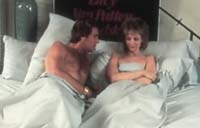 Starring
Drew Barrymore, Ryan O'Neal, Shelley Long, Sam Wanamaker
Allen Garfield, Kim Marriner, Wendy Gordon, Ken Gale, Deborah Cody, Steven K. Miller, Annie Meyers-Shyer, Lauren Hartman, David Paymer, Larry Marko, Lorinne Vozoff, David Graf Update Cast
Early Appearances
See Sharon Stone before they were famous!
On doing "Irreconcilable Differences", Drew Barrymore once said: "When my mom read that script to me, I identified with that little girl. Our situations weren't that different --emotionally, anyway. For a while I wondered if I shouldn't try divorcing my parents. At least my father. My mother was not having much luck divorcing him. I thought that if I did, it would make it easier for her. Maybe the pain both of us were feeling would subside."
More Trivia from Irreconcilable Differences
Review
The 80's, like all modern times, was a decade with an extremely high incidence of divorce.

It was everywhere. Both families on the big screen and in real life were drifting apart and it was a phenomena that was hard for a lot of the children in those families to accept. Irreconcilable Differences tells a story of a 1984 divorce-affected family and the toll it can take on the most innocent member: The child.



Albert Brodsky (Ryan O"Neal) and his wife Lucy (Shelley Long) are going through a tough time in their lives. Although they have a beautiful house and an adorable daughter, Casey Brodsky (Drew Barrymore), the two writers bicker over who gets more artistic credit for the screenplays that they co-write. Lucy is incessently frustrated that Albert seems to get more recognition and blames it on the fact that he's a man and she's a woman.

The married writers are working on a film and are having trouble casting a girl for the part of Gabriella... Until in walks the total distruction of their marriage: Blake Chandler (Sharon Stone). Amazingly gorgeous, but Bohemian-like and rather dumb, Blake attaches herself to Albert and it's not long until the two are having an affair and Albert kicks his wife and daughter out of the house.

Albert's career is flourishing, but Lucy is in a depressive slump that has left her haggard and unemployed. Determined to get her life back on track, Lucy begins to write a novel called "He Said It Would Be Forever", which turns into a New York Times #1 Bestseller and greatly boosts Lucy's spirits.

I haven't mentioned Casey much yet and there's a good reason for this. This whole seperation has left Casey ignored and alienated and it seems as if her parents have no room left in their lives for her. The beautiful 10 year old (In true life, Drew was 8 when she made this film) spends most of her time reading adult romance novels and learning spanish from her Mexican housekeeper Maria Hernandez.

In fact, she is spending so much time with Maria and her children that it has prompted her to make a very important decision: she wants to divorce her parents. The film is narrated by Casey, and the shortcomings of her parents are shown through her eyes. While on the witness stand in court, Casey gives a very honest and poignant speech:

CASEY: "I'm just a kid and I don't know what I'm doing sometimes. But I think you should know better when you're all grown up. I think you should know how to act and how to treat people and I think, if you once loved someone enough to marry them, you should at least be nice to them, even if you don't love 'em anymore. I think if you have a child, you should treat that child like a human being and not a pet. Not like you treat your dog or somethin'. You know, when you have a dog sometimes you remember him and you remember how cute he is and stuff and you kiss him a lot, but then the next day when you're busy again you don't notice him. That's how I've been treated for the past 4 years and you don't treat your kid like your dog. It's not right."

This film brings back a lot of memories of when my parents split up in '86 (I was only 5 at the time) and some of the things that happened to Casey happened to me. Divorce for a couple is hard, for a child it's harder. This film demonstrates that beautifully, realistically, and poignantly.
Author:
Bridgette Marie
Update This Review
Verdict
I highly recommend this film to fans of Drew Barrymore, or anyone who's parents divorced in the 80's like mine did.

It is also cool to see Sharon Stone before she was really famous.

This is a serious drama, but it has some comic parts too. It's very realistic and if you're parents went through a divorce when you were a kid, it will really remind you of how lousy it felt.
Great acting, comedy, drama, beautiful Drew Barrymore

No weaknesses, excellent 80's drama
Rewind Rating
The Movie Data
Jump To: Music & Soundtrack Vibes
Or use the menu to navigate
1984 Warner Bros.
1999-2020 fast-rewind.com
V4_27 Powered by Rewind C21 CMS