REWIND
REVIEW

"
The Brothers preached against vice, lust, and disrespect. But that never stopped these guys.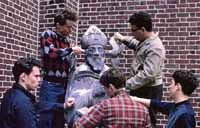 Starring
Andrew McCarthy, Donald Sutherland, Mary Stuart Masterson, Patrick Dempsey
Kevin Dillon, Matt Winkler, Malcolm Danare, Stephen Geoffreys, John Heard, Jennifer Dundas, Kate Reid, Wallace Shawn, Jay Patterson, George Anders, Dana Barron, John Bentley (II), Imogene Bliss, Philip Bosco, Donald Breitman, Nolan Carley, Al Cerullo, Calvert DeForest Update Cast
Review
Heaven Help Us is not simply one of the countless ďbuddy moviesĒ that pervaded the silver screen throughout the 80s; it is a hugely underrated and finely crafted film that has both the broad comedy and teen pathos that defined the era.

Set in an austere Catholic school in 1965, Heaven Help Us follows the stories of a group of school friends suffering under the heavy hands of love, the future, their parents and the teaching Brothers of St. Basilís School.

Starring is Andrew McCarthy as Michael Dunn, a quiet soul who only wants to dance with the soda shop girl, while his grandparents pressure him to become Pope. Mary Stuart Masterson is Danni, a hard-nosed soda jerk who cares for her depressed father by day and caters to St. Basilís students by night.

Rounding out the cast are Kevin Dillon and Malcolm Danare as Michaelís fellow students and hellraisers and Donald Sutherland as the Principal of St Basilís.

Finally, in a hysterically funny bit role, the ever manic Wallace Shawn as Brother Abruzzi; a monk with the recipe for eternal damnation: LUST!!!

The story follows Michael and his friends as they try to escape the suffocating morality of St. Basilís, avoid the violent attentions of Brother Constance, plan for their futures, and have some fun. The film has the fine ensemble cast chemistry of "Diner", and a lot of the outrageously ridiculous situational comedy of "Ferris Bueller's Day Off". However, the movie is not near as broad as many 80's comedies, and they are some somber moments, mostly delegated to Danni and her psychologically ill father.

With a terrific, time-appropriate soundtrack and excellent period filming, this is not kitsch or camp. It can be taken seriously as a relatively accurate depiction of Catholic school life in the 1960's and is also gut-splittingly funny.

I love this film and while it has been very difficult to find for home viewing, now that it's available on DVD, get a copy and watch it. It's two hours out of your life that won't have been wasted...
Author:
Jessica Francis
Update This Review
Verdict
This is an absolutely wonderful movie that has the both the crazy humor and the dramatic intensity to be put in the echelons of "Breakfast Club" and "Ferris Bueller's Day Off"
Fantastic acting (McCarthy's best work), wonderful characterizations, great soundtrack, an awesome story. Altogether fantastic!

This is not completely a light movie. If one can't handle strong corporal punishment, I'd give it a miss.
Rewind Rating
The Movie Data
Jump To: Music & Soundtrack Vibes
Or use the menu to navigate
1985 Tristar Pictures
1999-2020 fast-rewind.com
V4_27 Powered by Rewind C21 CMS