REWIND
REVIEW

"
Can two friends sleep together and still love each other in the morning?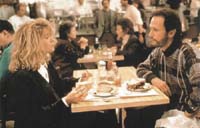 Starring
Billy Crystal, Meg Ryan, Carrie Fisher, Bruno Kirby
Cameos
Look for Tracy Reiner making a cameo appearance!
Thanks to
John Edward Kilduff
"When Harry Met Sally" has made it onto 4 of the American Film Institute's "100 Years, 100..." countdowns. In chronological order: It came in at #23 on AFI'S 100 Years...100 Laughs list in 2000. It came in at #25 on AFI's 100 Years...100 Passions list in 2002. It came in at #60 on AFI's 100 Years...100 Songs list for the song "It Had To Be You" in 2004 and it came in at #33 on AFI's 100 Years...100 Movie Quotes list for the immotral line "I'll Have What She's Having".
More Trivia from When Harry Met Sally
Review
Harry Burns (Crystal) is a normal American guy with a single, unbreakable rule he lives by:

He is totally convinced that men and women cannot be friends, because sex always gets in the way.

He shares this belief at length with anyone who will listen, including one day, Sally Allbright (Ryan) who gives Harry a ride into New York from the University of Chicago at the end of their respective stays there. Sally of course disagrees and they part in New York.

A few years later, they meet up again by accident in a bookstore (then an airport, then a.... you get the idea) and have the same discussions and once more, drift apart.

When this has happened a number of times over the years, each of them falling in and out of love, they form a strong friendship, calling each other in the middle of the night and trying to help the other find true love. They even attempt to set up their best friends (Fisher and Kirby) as a foursome, but when the pairings work out 'differently', Harry and Sally are stuck together again.

In Harry's mind, they are friends because they have talked about the subject so often, they would never, ever consider sleeping together. Until one day when Sally is dumped by a boyfriend and is feeling so low Harry goes round to cheer her up and one thing leads to another.....

Now what happens? Sally is really happy, but Harry is scared. Has he just ruined the best friendship of his life? Has he literally screwed things up? How will she react when he leaves? The answer is, very badly. They don't speak for ages, she refuses to return his calls and slowly, Harry realises that the one thing he hates most about this is not having her in his life.

And now it's New Years Eve...
Author:
Paul Shrimpton
Update This Review
Verdict
This movie set the standard for the light romantic comedies of the late eighties and early nineties. Billy Crystal plays Harry with a combination of angst, confidence, arrogance and friendliness, that means even if you really want to hate him, you can't, and even if you really want to love him, you can't! Meg Ryan is excellent as the not so ditzy blonde and the movie provided her with the chance to play the scene of her life in the restaurant ("I'll have what she's having"). Both leads handle the task of maturing from University graduates to full adulthood very well.

A good supporting cast and excellent dialogue make this a winner all the way.
This is the archetypal romantic comedy. The best of the best.

Not really any weak points, it's too much fun!
Rewind Rating
The Movie Data
Jump To: Music & Soundtrack Vibes
Or use the menu to navigate
1989 MGM
1999-2020 fast-rewind.com
V4_27 Powered by Rewind C21 CMS