MISTAKES
BLOOPERS

"
Someday, in the PAST ... he will find her!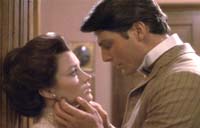 Oooopsy...
"Er, someone wasn't on top of their game that day..."
See the goofs, blunders and plain ole mistakes in the 1980 Fantasy movie starring Christopher Reeve, Jane Seymour, Christopher Plummer, Teresa Wright
We believe the following are all legit mistakes. If we've bungled it, or you have additional info, please update us.
The flags on the front of The Grand Hotel are fifty-star flags, as evidenced by the staggered placement of the stars. In 1912, the flag would have had only 48 stars, which would have been placed in straight rows.
When Richard is finished talking to Robinson in the Gazebo and goes to leave you can see the knees of his suit are muddy and wet from previous takes of the assault scene.
When Richard sits on the bench thinking he has lost Elise and, before she appears, a figure of a girl appears in modern day clothes.
Thanks to
Jasper Kujavsky
When Richard finds his name in the dusty 1912 guest register in the attic, the letter "r" in the last name "Collier" extends over the line into the section reserved for the place of residence, which was Chicago. Later in the film, when Richard, now in the past, signs the register, the entire name is clearly written within the section reserved for the signature.
When Rollo opens the door to Room 313 (the room he shares with Maude) and removes his top hat, the boom mic briefly dips into view from the top of the main room's doorway.
Bogus Blunders
Sometimes an apparent goof is not a real mistake
But, nothing bogus that we know yet for "Somewhere In Time".
Next: Some Extra Goodies
Or use the menu to navigate
1980 Universal
1999-2020 fast-rewind.com
V4_27 Powered by Rewind C21 CMS