MISTAKES
BLOOPERS

"
Rodney Dangerfield is going... Back to School!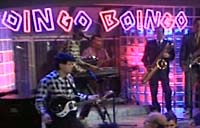 Oooopsy...
"Er, someone wasn't on top of their game that day..."
See the goofs, blunders and plain ole mistakes in the 1986 Comedy movie starring Rodney Dangerfield, Keith Gordon, Sally Kellerman, Adrienne Barbeau
Burt Young, M. Emmet Walsh, William Zabka, Robert Downey Jr., Paxton Whitehead, Terry Farrell, Ned Beatty, Severn Darden, Sam Kinison, Robert Picardo, Kurt Vonnegut Jr., Edie McClurg, Sarah Abrell, Dana Allison, Boris Aplon, Nora Boland Update Cast
We believe the following are all legit mistakes. If we've bungled it, or you have additional info, please update us.
At the last swim meet, Chaz is shown diving first before Jason Melon, however, after Jason dives, it shows Chaz "up next" and his hair is completely dry.
The movie takes place in january and through out the movie everyone is dressed in winter clothes, except the diving scenes, where its warm, sunny and perfect for getting a tan.
After his wife has the party at his house Thornton Melon (Dangerfield) decides to go for a swim in his pool.
The camera shows Melon as he is about to dive in from the edge of the pool, the camera then cuts away and a much thinner Melon is doing a flip into the water, watch carefully as the thinner man makes his dive, you can clearly see his hairpiece fly off the top of his head!
When Thornton Melon and Lou are making the Bruce Springsteen sign, the student at the table is supposed to be writing on a poster but you can see that the marker is not touching the paper.
When Philip and Diane are walking to the car disscusing their relationship, you can see the boom mic's reflection on the black car next to Philip's car.
When Rodney Dangerfield dives into the pool to show his son how to dive correctly, when he climbs out of the pool after his dive he is bone dry.
When they are dedicating the business building, at first there is no box of dirt in the screen. Then it appears when he throws a shovel into the car.
Bogus Blunders
Sometimes an apparent goof is not a real mistake
But, nothing bogus that we know yet for "Back To School".
Next: Some Extra Goodies
Or use the menu to navigate
1986 MGM/UA
1999-2020 fast-rewind.com
V4_27 Powered by Rewind C21 CMS