REWIND
REVIEW

"
Bond for action in For Your Eyes Only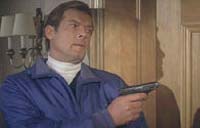 Starring
Roger Moore, Carole Bouquet, Topol, Lynn-Holly Johnson
Julian Glover, Cassandra Harris, Jill Bennett, Michael Gothard, John Wyman, Jack Hedley, Lois Maxwell, Desmond Llewelyn, Geoffrey Keen, Walter Gotell, James Villiers, John Moreno, Charles Dance, Paul Angelis, Toby Robins, Jack Klaff, Alkis Kritikos, Stag Theodore, Stefan Kalipha Update Cast
The pre-title sequence is a dig at Kevin McClory, who owns the rights to the character 'Ernst Stavro Blofeldt' and 'SPECTRE'. The unnamed man in a wheelchair is obviously meant to be Blofeldt and disposing of him so early was producer Albert R. 'Cubby' Broccoli's way of saying that the success of 007 did not depend on McClory.
More Trivia from For Your Eyes Only
Review
Despite suspected public consensus that 007 was merely a 'relic' to be discounted in this 'modern' era, the infamous James Bond series lambastes its way straight into the 80's with lethal determination in 'For Your Eyes Only', released in 1981 to critical and audience acclaim.

The British spy ship, St. Georges, accidentally hits a mine and sinks near a Warsaw Pact country. Gone down with the ship is the ATAC, a hi-tech encryption device that in the wrong hands could cause worldwide havoc, as the device could order Western submarines to attack anywhere. As the world government learns of this development, MI6 sends 007 to recover the ATAC, the Russians, similarly interested in acquiring the ATAC, send a message to their local contact, Marine Archaeologist Timothy Havelock, sailing with his wife off the coast of Greece. The race is on!

We soon meet Melina Havelock (Bouquet), as she returns to her parents' boat to visit, just in time for her to witness their murder, by the very pilot that flew her in. As the camera zooms in to focus on her beautifully bewildered green eyes, the resultant look in those eyes says simply...revenge.

Bond's investigating leads to Madrid as he trails the assassin, identified as Hector Gonzales and witnesses Gonzales being paid by a ruthless-looking man. A crossbow-fired arrow soon eliminates Gonzales, as Melina reveals herself to be Gonzales' assassin and Bond helps them both escape. The scenes are scored with a very new sound in the backing track, as the excitement (and humor) mounts during their escape. In a comedic nod to the rampant car theft in the early 80's, the audience gets a chance to cheer as one of Gonzales' henchmen attempts to steal 007's Lotus, and the 'security system' is no joke to the prospective thief.

With Q's gadgetry and assistance, 007 soon identifies the payoff man as Emile Leopold Locque, a reputably nasty Communist ally. The search for Locque leads to scenic Cortina, where 007 enlists the assistance of Italian agent Ferrara, who introduces Bond to Aristotle Kristatos (Glover), a Greek underworld contact. Kristatos' legitimate front is that of backing young Olympic ice-skating contender Bibi Dahl (Johnson), boy-crazy to the extreme, who falls for 007 like a ton of bricks. Kristatos points Bond to rival Greek underground leader Columbo (Topol), also known as 'The Dove', as the person responsible for heading up Locque's plans. Bond soon spots Melina, lured to Cortina by a fake telegram supposedly from him. 007 saves Melina from motorbike-riding thugs, and while she is set on revenge for the death of her parents, Bond tries to dissuade her, and fails. Bond returns to find Ferrara dead, clutching a pin of a white dove, Columbo's sign. Bond seeks out Columbo, but little does Bond know that Columbo is seeking him.

To find out more about 007, Colombo sends his mistress, Countess Lisle Von Schlef (Harris), to work her charms on the always-willing Bond. Countess Lisle, whose Liverpudlian accent slips as often as her nightgown, shares a romantic night and morning with James, but the next morning she is ruthlessly run down by Locque. Men shown wearing white dove insignia save Bond, and as he awakes in Colombo's headquarters, the smuggler persuades him that Kristatos is really the enemy and will prove it during a raid on a factory in Albania. The pistachio aficionado Columbo stands by his word, and at the climax of the exciting shoot out sequence, Bond kills Locque in a darkly (although appropriate) un-Roger Moore fashion.

Using the Havelock's mini-submarine, Bond and Melina find the wreck of the St. Georges and collect the ATAC, just in time for Kristatos' men, equipped with their own specially-equipped diving suits, to attack them. As the pair throttle the attackers and surface, they find Kristatos waiting to relieve them of the ATAC and head to St. Cyril where the Russians wait to take possession. To eliminate Bond and Melina, Kristatos binds them together and drags them from a speedboat, but they manage to cut themselves free and use a spare diving tank left on the sea floor to breathe. The Havelock's parrot, Max, repeats the clue 'ATAC to St Cyril' to Bond and Melina. Led by Colombo, Bond discovers that St. Cyril is a monastery at the top of a supposedly insurmountable mountain. Bond scales the rock, as tension rises in Kristatos' camp, and Kristatos informs Bibi and her trainer that they are going to Cuba. Not wanting to go, Bibi and her trainer assist Bond's party in thwarting Kristatos' guards, and they regain possession of the ATAC. General Gogol arrives to collect the ATAC, but before he can get it Bond throws it off the mountain. He stops Melina from killing Kristatos, but Colombo eliminates Kristatos nevertheless.
Author:
Kimberley A. Wren
Update This Review
Verdict
As with all Bond films, this film is packed with beautiful locations, drama and intense action. 'For Your Eyes Only' gives audiences in the early 80's a sneak preview of the ever-current James Bond, yet maintains the series continuity with such players as Desmond Llewelyn ('Q') and Lois Maxwell (Miss Moneypenny), who audiences have come to adore.

The combination of ever-modernized story lines and nostalgic fondness helps to explain why the 007 series is eternally popular, and this film is no exception.
Great locales, fast-paced exciting action, usual brand of dry humor

Carole Bouquet's dubbing a bit distracting and emotionless
Rewind Rating
The Movie Data
Jump To: Music & Soundtrack Vibes
Or use the menu to navigate
1981 MGM/United Artists
1999-2020 fast-rewind.com
V4_27 Powered by Rewind C21 CMS