REWIND
REVIEW

"
Meet the only guy who changes his identity more often than his underwear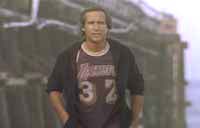 Starring
Chevy Chase, Tim Matheson, Dana Wheeler-Nicholson, Joe Don Baker
George Wendt, Richard Libertini, M. Emmet Walsh, Kenneth Mars, Geena Davis, Bill Henderson, William Traylor, George Wyner, Tony Longo, Larry Flash Jenkins, Ralph Seymour Update Cast
Cameos
Look for Kareem Abdul-Jabbar, Chick Hearn making a cameo appearance!
Review
Irwin 'Fletch' Fletcher (CHEVY CHASE) is a reporter writing about drugs on the city's beaches. Undercover as a bum, Fletch is getting close to 'Fat Sam' (GEORGE WENDT) - a suspected trafficker.

"My name's Irwin Fletcher. I'm an investigative reporter for a Los Angeles newspaper... I write a column under the by-line of Jane Doe. What the hey, it's better than Irwin. I don't shower much."

Assuming Fletch to be a low-life, an ex-pilot Alan Stanwyk (TIM MATHESON) approches Fletch with a unique proposition... he wants Fletch to kill him. Stanwyk claims to be dying of cancer and wants his family to legally cash in on his Insurance Policy whilst saving himself the suffering. With Fletch neglecting his main story at the beach, his Editor (RICHARD LIBERTINI) threatens to fire him. Fletch is under pressure but can't help but stick his many faces into this fishy situation!

The case leads him first to the Health Club and Gail Stanwyk (DANA WHEELER-NICHOLSON), Alan's beautiful wife. Fletch is hilarious as he morphs through different identities. His first exchange with Gail is as 'John Cocktosten' :-

Fletch: I saw Alan this morning..and you know what I can't figure out?

Gail: Alan is in Utah

Fletch: ..I can't figure out what I was doing in Utah this morning.

Back at the beach, Fletch runs into the ruthless Police Chief Karlin (JOE DON BAKER) who puts a gun to his head and warns him to get off the drug-trafficking story. Fletch is uncovering an entire network of people who are involved in this conspiracy to provide drugs to the addicts on the beaches, it seems even Stanwyk burns enough fuel in his plane to fly to South America and back :-)

The chameleon is at work again. Fletch researches the hospital files on Stanwyk as 'Dr. Rosenpenis' and then later as Harry S. Truman when interviewing Stanwyk's parents:

"You and your wife are currently alive, I take it?"

Fletch begins to suspect a link between Karlin's corrupt police force and Stanwyk's flight activities. He soon discovers that Stanwyk doesn't intend to die at all and that he himself might just be the pawn in this whole game.
Author:
Simon Barber
Update This Review
Verdict
Fletch is a mid-eighties classic. In a year that was truly remarkable for film, Fletch burst off the page with a deftly handled pacy script and belly laughs a plenty. The narration from Chevy Chase is prime material, bringing the wise-cracking page-turner to life. The key to watching this film is to listen closely as the mild, disinterested viewer will miss much of Chase's ingenious delivery. For example, when at the Health Club and Fletch begins to charge a $400 lunch tab to an unknowing customer called Mr Underhill:

'I'll have a Bloody Mary, a steak sandwich and a steak sandwich please'

Chock full of admirably quotable lines, there's a lot you'll spot only on the second viewing. The oft abused Chevy Chase shines here and shows the magic that made him one of the biggest stars in the world at the height of Saturday Night Live in the late 70's.

With that melts in the mouth.
Great comedy and action mix in the way they could only do it in the 80's.

No weaknesses if you take it at face value.
Rewind Rating
The Movie Data
Jump To: Music & Soundtrack Vibes
Or use the menu to navigate
1985 Universal Studios
1999-2020 fast-rewind.com
V4_27 Powered by Rewind C21 CMS