REWIND
REVIEW

"
Rocker, Rebel, Lover, Idol...Vanished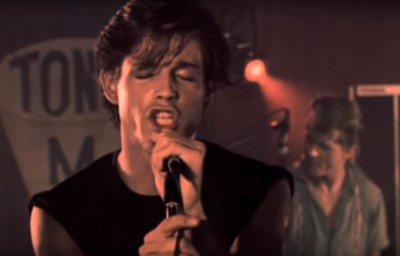 Starring
Michael Paré, Tom Berenger, Joe Pantoliano, Matthew Laurance
Helen Schneider, David Wilson, Michael 'Tunes' Antunes, Ellen Barkin, Kenny Vance, John Stockwell, Joe Cates, Barry Sand, Vebe Borge, Howard Johnson (II), Joey Balin, Bruce Brown (III), Robin Karfo, Rufus Harley, Louis D'Esposito, Michael Toland, Bob Garrett, Joanne Collins Update Cast
Review
Based upon the classic novel by P.F Kluge, Writer/Director Martin Davidson and his sister Arlene Davidson brought the legend of Eddie Wilson and the music of the early 1960's flooding to our screens.

Set in a period where the growth of new artists like Bill Haley, Little Richard, and Buddy Holly were causing an evolution in contemporary music, Kluge's tale tells of an innovative group from the South-Shore of New Jersey called 'Eddie and the Cruisers.' With Wilson (MICHAEL PARÉ) as their charismatic lead singer, and Frank 'Wordman' Ridgeway (TOM BERENGER) writing their lyrics, they had an explosive combination that landed them a number-one hit. Then before their second album was released, in the small hours before dawn, Eddie Wilson drove his convertible off a bridge. His body was never found. Without Eddie, there was no-one to complete Frank Ridgeway's creative unison of 'words & music' - the music stopped.

"If we can't be great then there's no sense in ever playin' music again" (Eddie Wilson)

In 1983, 20 years after the death of Eddie Wilson, DJ's around the country have rediscovered 'Eddie and the Cruisers' - their classics 'Tender Years' 'On the Dark Side' and 'Wild Summer Nights' have attracted a new generation of fans. Maggie Foley (ELLEN BARKIN) is a reporter who's writing a story about the rock-star's mysterious death. Why was his body never found? And what happened to the final master tapes of the ambitious unheard album 'Season in Hell'?

She probes the mystery behind their brief glory and as the mystery unravels, it becomes clear that someone else is looking for the lost tapes of 'Season in Hell' as well.........
Author:
Simon Barber
Update This Review
Verdict
Eddie and the Cruisers is a successful conversion of the novel and has to be considered a rock n' roll cult classic. It cleverly combines music, friendship and suspense across different time periods.

Enthralling clues to Eddie's disappearance by way of Arthur Rimbaud's poem 'Looking for Ghosts' is a nice touch and the relentless quest for musical perfection that Eddie is cursed with, makes for compelling viewing.

Paré, unlike in all subsequent film roles, is outstanding, making great technical accomplishments with the miming of John Cafferty's staggering vocals. Whilst Berenger is his perfect foil, tortured by the memory of what might have been. A music lovers mystery.
Great script, performances and music.

Weaknesses? Nah!
Rewind Rating
The Movie Data
Key Crew
Director: Martin Davidson
Writer: Arlene Davidson, Martin Davidson, P.F. Kluge novel
Producers: Joseph Brooks, Robert K. Lifton
Locations Manager:
Update The Crew
The Movie Trailer
Jump To: Music & Soundtrack Vibes
Or use the menu to navigate
1983 MGM Studios
1999-2020 fast-rewind.com
V4_27 Powered by Rewind C21 CMS