REWIND
REVIEW

"
In his mind, he has the power to see the future. In his hands, he has the power to change it.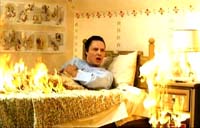 Starring
Christopher Walken, Brooke Adams, Tom Skerritt, Herbert Lom
Martin Sheen, Anthony Zerbe, Colleen Dewhurst, Nicholas Campbell, Sean Sullivan, Jackie Burroughs, Géza Kovács, Roberta Weiss, Simon Craig, Peter Dvorsky, Julie-Ann Heathwood, Barry Flatman, Raffi Tchalikian, Ken Pogue, Gordon Jocelyn, Bill Copeland Update Cast
Cameos
Look for Ramon Estevez making a cameo appearance!
To achieve the "freaked out" look Johnny has with the onset of his visions, director, Cronenberg fired a Magnum pistol; the same make of the firearm utilized by Clint Eastwood in the "Dirty Harry" films. The sound recording devices were shut off so the blast wouldn't be taped and Walken was surprised by the sound of the gun blast.
More Making Of The Dead Zone
Review
Based on the novel by Stephen King, this film proved to be a platform for Christopher Walken to create a career persona. For Cronenberg, it is seen as something of a departure from his usual "ultra bizarre".

When school teacher Johnny is witnessed having a strange mind warp whilst on a rollercoaster ride with sweetheart Brooke Adams, it connects the viewer to an imminent accident concerning the character.

The tragedy leaves him comatose for five years and in residence at a remote clinic doctored by Herbert Lom, wonderfully cast as Sam Wiezac. Here we witness the first signs of psychic power.

When he finally emerges from this trance, a nurse is warned of disaster with Walken being transported to future scenarios glimpsed at the touch of a hand... In this instance flames appear to deliver the character into the moment of horror as they light up round his restricting bed, the nurse acts to save her daughter from the inferno at her home and it becomes clear that these powers can be used for all the right reasons; yet as the film unfolds it is this 'gift' that eats away at the man, leaving his body weak and his mind altered, the dead zone, at the heart of his journey into darkness.

Leaving the clinic after regaining movement and back with parents, Johnny is paid a visit by Tom Skerrit's police chief intent on solving a string of sex crimes in Castle Rock's quiet area. First refused, he benefits eventually from the mans third eye in an eerie scene that duplicates the poster art. Here, Christopher Walken shows the first signs of the persona that has since become something of a trademark, controlled alienated intensity is served up to match the mans freaklike aura; a marriage that makes him watchable and mesmerising all at once.

This latest 'episode', forces him to move on and living alone in his controlled environment he finds solace in isolation, yet still continues to teach from these quarters. A chance meeting with Adams throws his world into emotional chaos on learning she has married another and meets his substitute along with child.

A young pupil desperately shy, visits for tuition, the consequences of the friendship formed between the two, forces another vision... This time the boys life is saved after he is witnessed falling through ice whilst playing ice hockey. The premonition of the accident is confirmed a reality and again the character is left still weaker, bemused and tired. He is discovering the gift is gradually wearing him down, but a further chapter awaits.

Greg Stillson (Sheen) is a man intent on heading for United States senate, his power hungry agendas are seen when he leans heavily on a journalist ready to expose a few home truths in an editorial.

When our anti-hero meets him whilst on an open air rally, he senses that his future is a dangerous one, not yet realised. The crippled psychic is then forced to understand his fate and act to save not only his lost love and her child but also the future of the human race which is threatened by another and more horrifying vision...
Author:
Nik Allen
Update This Review
Verdict
An effective and surprisingly moving supernatural thriller, performances are fine with much credit going to King for the perfect structure of his story, one that was seemingly bound for cinema, realised with understated ambition and detached flair by Cronenberg.
Exceptionally talented cast & great script.

Low budget effects.
Rewind Rating
The Movie Data
Jump To: Music & Soundtrack Vibes
Or use the menu to navigate
1983 Paramount Pictures
1999-2020 fast-rewind.com
V4_27 Powered by Rewind C21 CMS