REWIND
REVIEW

"
A night they'll never forget...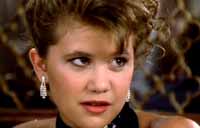 Starring
Christina Applegate, Alyssa Milano, Chris Young, Tracey Gold
Brian Bloom, Cliff De Young, Tempesst Bledsoe, Kelsey Grammer, Tempestt Bledsoe, Mary Frann, Edie McClurg, Matthew Perry, Alan Thicke, Molly Cheek, Graham Jarvis, Candice Azzara, Bradley Gregg, Billy Morrissette Update Cast
A very young (and suprisingly cardboard) Matthew Perry stars in one of his very first on screen roles - way, waaay before "Friends".
More Trivia from Dance 'til Dawn
Review
Little did NBC realise, when they first aired this little gem of a TV movie on 23rd October 1988, that a true cult classic was being born...

Unlike most of the latest movies released today with their storm of hype, this little movie is a genuine, honest-to-goodness legend in its own lifetime. More popular than last summer's megabucks overhyped event picture, this movie holds it's own nearly two decades later - and it never even got shown in theaters!

Why? Coz it's great, that's why!

Despite it's formula teen movie premise and blatant use of the era's favorite TV SitCom faces, there was real magic made under those studio lights in 1988 and "Dance 'til Dawn" warmly deserves it's deep cult success.

"
Before tonight I felt... kind of out of it...

...And now it's like, in one night, my whole life's changing. I feel like somebody...

...And it's all because of you.
"
Success of this magnitude, despite such humble beginnings is an exclusive club of movies with but a handful of members. Many members were disappointing for the studios at the box office -or, in this case, were never shown at all. In nearly every case, members of this club gained their legendary status through one medium: Cable TV.
You know the story... There's nothing particular on that you wanna watch or you've just got the TV on in the background. It's a cable TV station showing yet another movie you've never heard of with a some faces that are familar from TV. Then something happens.. Something that you never expected. Something that doesn't happen very often...
...You are drawn into watching. Maybe it was the soundtrack? A certain song? Or just one scene pulls you in. This is how the magic happens. Everyone would have their own story, but the point is, that like many others, this is one of those teen movies that you may never have heard of, but once viewed, you'll never forget...
The story? Basically, it's the story of one night. The senior prom night for the kids of Hoover High. -But what it's
really
about is popularity, love, the changes of adulthood and more.
The different people and their different stories. All coming together this one night. The cool kids, the nerdy kids. The popular kids and the unpopular kids. Their lives have been held rigidly apart by the conventions and cliques of high school until this one magical night where their lives will interwine and nothing will ever be the same again...
Author:
Nick
Update This Review
Verdict
Okay, so there's no such thing as a perfect movie.

Despite it's huge poplularity, "Dance 'til Dawn" is not going to be for everyone. There's no action. There's no violence. There are no car chases. There's no explosions. It's a sensitive film that will leave adrenaline junkies bored to death. It's an unashamedly cheesy and sentimental movie that will leave the cynical viewer cold.

But if you're reading this page, you either know it already, or are on the verge of a great discovery.

Let me ask you a question: Do you like "Can't Buy Me Love"? If the answer is yes, you're bound to love this too.
Great fun from an excellent and sensitive script with good characters. Moral fairytale. Good music

Harsh realists and film critics will label this cheesy teen pap
Rewind Rating
The Movie Data
Jump To: Music & Soundtrack Vibes
Or use the menu to navigate
1988 NBC
1999-2020 fast-rewind.com
V4_27 Powered by Rewind C21 CMS