REWIND
REVIEW

"
Ronald is making an investment in his senior year.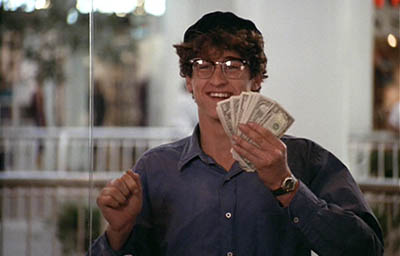 Starring
Patrick Dempsey, Amanda Peterson, Seth Green, Courtney Gains
Ami Dolenz, Tina Caspary, Devin DeVasquez, Darcy DeMoss, Sharon Farrell, Dennis Dugan, Cloyce Morrow, Cort McCown, Eric Bruskotter, Gerardo Mejía, Max Perlich, David Schermerhorn, Steve Franken, Phillip Simms, Tudor Sherrard, George Gray (IV) Update Cast
Early Appearances
See Seth Green, Todd Walsh before they were famous!
Cameos
Look for Paula Abdul making a cameo appearance!
Was it cursed? The helicopter that Ronnie and Cindy were sitting in, looking at the moon on their final date was, in real life, a Kaman HH-43F Huskie, reg# 59-1583 donated to the PIMA air museum in 1977 by the USAF.

Although we don't know anything about her career in the military, this poor old bird seems to have been cursed afterwards. Despite her starring role in the movie, she was never restored by the museum but was sold on and later converted to a civilian helicopter, with her registration number changing from 59-1583 to N100PL.

She was damaged in four incidents between 1991 and 1994 and changed owners 3 times before being finally destroyed in an accident on 25th September 1999 while owned by Pro-Lift Helicopters, a subsidiary of Moseley Aviation, near Phoenix, Arizona, tragically killing the pilot and a crewman after what the NTSB described as a "In-flight break-up for reasons yet undetermined."

YouTube even has a video of this very chopper doing some transport work shortly before the fatal accident...
More Trivia from Can't Buy Me Love
Review
At Xmas 1999 this was a new discovery for me (I know, I know what *have* I been doing with my life anyway?) but I immediately *really* liked this film.

It gets into classic 80's style when the two main characters 'get together' and is, of course, just another wildly improbable 80's urban fairy tale but it is blessed with an unusually warm and sincere heart and hey, that's what true 80's movies are all about...

Quintessential 80's actor Patrick Dempsey stars with the talented but relatively unknown actress Amanda Peterson who also starred in "Explorers" and an episode of Doogie Howser. The supporting cast includes Courtney Gains and a 12 year old Seth Green! (Starred more recently as Dr. Evil's son in "Austin Powers II")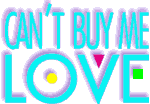 The premise is that classic geek Ronald believes that if he 'buys' a fake relationship with Cindy - the prettiest, most popular girl in school and captain of the cheerleading team, he will become popular himself.

Of course the moral message about popularity is very thinly disguised here folks...

The strength of this movie is the better than average characters (In an 80's teen kinda way) and, as I said at the beginning, the movie gets properly into gear (from a relatively unpromising start) as soon as the fake relationship gets started. There are some great comic moments and the script writers obviously milk the premise for all its worth with 'Ronnie' becoming the most popular guy in school literally in one month...

The kicker is, of course that as the one month fake relationship 'contract' is coming to an end and Cindy has revealed herself to be much more than a soul-less, brainless socialite and if Ronald wasn't such a dufus, they could have a great relationship, but instead he is oblivious and blows it off.

After it's over he starts dating her shallow friends but is having trouble escaping his geek roots... dancing is a particular problem until everyone else 'digs' his bizarre style and copies it... But will he stay a nice guy or become a shallow socialite? Will he realise Cindy is much more than just beautiful?

You'll just have to watch it and see...
Author:
Nick
Update This Review
Verdict
This is a great film with a big heart, some fine acting and at times, real movie magic. Definitely one of the top 10 'must see' 80's romantic comedies (aimed at the teenage market --but don't let that put you off!).
A 'modern' urban fairytale. Great heart. Some nice performances from the cast.

Sometimes more crude than it needs to be.
Rewind Rating
The Movie Data
Jump To: Music & Soundtrack Vibes
Or use the menu to navigate
1987 Touchstone Pictures
1999-2020 fast-rewind.com
V4_27 Powered by Rewind C21 CMS