REWIND
REVIEW
"
When the curtain goes up, the terror begins.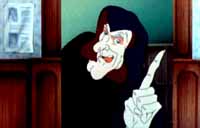 Starring
George Kennedy, Lois Chiles, Dorothy Lamour, Holt McCallany
Paige Hannah, Kaltey Napoleon, Jeremy Green, Stephen King, Domenick John, Tom Savini, Philip Dore, Maltby Napoleon, Tyrone Tonto, Frank Salsedo, David Holbrook, Don Harvey, Dan Kamin, Dean Smith, Shirley Sonderegger, Paul Satterfield (II), Daniel Beer, Page Hannah Update Cast
Cameos
Look for Stephen King making a cameo appearance!
Review
Creepshow 2, the sequel to the 1982 hit provides more of the same, but not as good as it's predecessor. It includes only 3 new stories. Apparently, when the film went over budget they cut it down to 3, although the film makers had originally planned to do 5 stories.

The first "Old Chief Wood'nhead" is centred around an wooden indian which stands outside of an old deserted store (owned by George Kennedy and Dorothy Lamour) that barely makes enough money to live on. A local indian visits the store explaining that he has no money to pay back what his people owe to Kennedy and Lamour. Therefore he offers some priceless jewels to Kennedy, who is reluctant to accept them but does so on behalf of his wife. Later, a gang headed by Holt McCallany (who is related to the indian) hears about the jewels and turns up at the store. When things turn nasty he and his gang kill both Kennedy and Lamour and make off with the jewels. Old chief woodenhead who has protected the store and it's owners comes to life and takes revenge.

This is my least favourite of the 3 stories. Too heavy handed and not really that much fun. Unlike the original Creepshow, which was played much more comically this is much more violent and unpleasant.

After this things really pick up and the film becomes more enjoyable. "The Raft" which is my personal favourite from Creepshow 2 is set in a deserted Arizona lake. A group of kids (including Paige Hannah) go swimming out to a raft, which is floating in the centre. When aboard something appears that resembles an oil slick and one by one gobbles up all four of them! This blackish mess on the water kind of resembles B-Movie "The Blob" It's very atmospheric, especially when the two final kids are left stranded together. Will they survive?

The final episode in the film is "The Hitchhiker". This is my second favourite. It starts with Lois chiles, a rich & selfish woman who has just satisfied her every need with a gigolo, but realises that it's later than she realised due to a power cut. It's then a desperate race home before detection of her infidelity, but along the way she knocks down a hitchhiker, who continues to torment her over and over and over. This is very very funny. Much more like the original Creepshow. It includes a cameo with Stephen King, who plays a truck driver.

The film is woven together with the traditional comic book interludes, with a kid named Billy who buys a venus flytrap bulb which grows up and kills Billys tormentors after he discovers it eats meat! The animation in this kind of resembles Disney, rather than the way its 50's comics style in the 1982 original looks.
Author:
Paul Trigwell
Update This Review
Verdict
Not as good as the original but well worth a look if you are a fan.

I saw it a few years ago and enjoyed it, but wish there were more stories. Where was Creepshow 3?
Two good stories "The Raft" and "The Hichhiker" enjoyable and fast paced.

One bad story. "Old Chief Woodenhead". Not like a creepshow story, too violent and not as much fun as the others.
Rewind Rating
The Movie Data
Jump To: Music & Soundtrack Vibes
Or use the menu to navigate
1987 New World Pictures
1999-2020 fast-rewind.com
V4_27 Powered by Rewind C21 CMS