This is topic Never Too Young To Die (1986) in forum « 80's Movies at iRewind Talk.


To visit this topic, use this URL:
https://www.fast-rewind.com/ubb/ultimatebb.php/topic/2/11871.html

---
Posted by Chloe (Member # 37365) on :

Has anyone seen this movie? Starring John Stamos?

I know it's a B-Movie but, is it really, honestly good or bad?

---
Posted by Jessie the Sunflower Goddess (Member # 1877) on :

Honestly, I have never even heard of it?? Let me know if you watch it.

---
Posted by Bernie_Lomax (Member # 8571) on :

I am not sure but let's try to look at this as objectively as we can given the above information.

I have come up with a very scientific formula in order to help determine the movie's appeal;

John Stamos + B-Movie = 90 minutes of pure torture
---
Posted by Chris the CandyFanMan (Member # 3197) on :

Agonybooth.com reviewed the film a while back; it decidedly falls into the so bad it's good category.

---
Posted by Chloe (Member # 37365) on :

Well, I only wanted to watch it for John Stamos if I'm completely honest.

---
Posted by Spreadking (Member # 7280) on :

I love NTYTD! The film is not directed well, the script is weak, and major plot holes. but who cares? I think it's one of the funnest films of the 80s, with great one liners to repeat over and over to your friends. Great action, great Vanity! and a great end fight scene between a man (Stamos) and a man/woman? (Simmons)

---
Posted by aTomiK (Member # 6575) on :




"A top secret agent is murdered, so his estranged son - a high school gymnast - teams up with his dad's attractive female partner
to stop the psychopathic hermaphroditic gang leader who killed him and now plans a major terrorist attack." (IMDb)

Just watched this totally bonkers but highly entertaining low-budget action feature.

Stamos is perfect for the part and has a nerd friend who creates guns and tracking devices out of nowhere

Vanity is superhot and i loved the teasing sequence before the love scene.
Gene Simmons has so tongue in cheek (also in Vanity´s cheek) character that you´re never too young to die laughing.

Superfun film for the fans of no nonsense wtf b-action. Don´t forget the april 2017 Shout Factory blu-ray release.

Gene looks so cute as the hermaphrodite Ragnar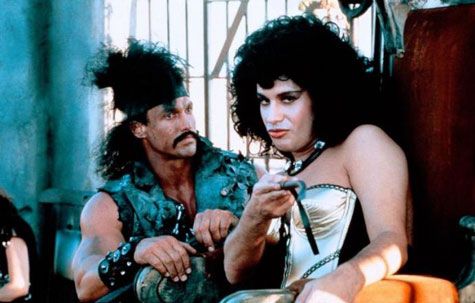 ---
Posted by Johnny Roarke is reckless (Member # 9826) on :


quote:

---

Originally posted by aTomiK: Gene looks so cute as the hermaphrodite Ragnar

---
I wouldn't want to take him home to meet my momma though.
---


UBB.classic™ 6.7.0