REWIND
REVIEW

"
Even in war... Murder is murder.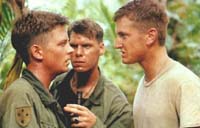 Starring
Sean Penn, Michael J. Fox, Don Harvey, John C. Reilly
John Leguizamo, Ving Rhames, Thuy Thu Le, Jack Gwaltney, Erik King, Dan Martin (II), Dale Dye, Sam Robards, Steve Larson, John Linton, Vyto Ruginis, Al Shannon, Wendell Pierce, Maris Valainis, Darren E. Burrows, Sherman Howard Update Cast
Review
As a focal point for a series of films in the 80s, the acclaimed projects of Oliver Stone and Stanley Kubrick's dark take, "Full Metal Jacket" became the standard to which the Vietnam movie could be measured.

Uncommon ground then for Brian De Palma, who's film "Casualties of War" has a strangely affecting angle on the wars everlasting effects.

Riding a brutally moralistic wave, emotionally charged and unforgettably gruesome it centres around a young soldier's true account of rape, dishonour and patriarchal breakdown in the jungles of South East Asia.

The story is told in flashback, a youthful but veteran GI Ericsson (Fox) back from his services takes his seat on a bus, noticing an Asian girl aboard he is reminded of the pain of his experiences during his brief tour.

Going back we see an infantryman who's initiation into combat sees him come into a platoon of relative veterans led by an overbearing young Sergeant (Meserve) played with adrenalised vigour by Penn. As they are about to embark on a routine patrol he remarks that they are to search for and kidnap a VC woman, to render her helpless in their company for fortuitous rape, a decision that seems to have escalated as R & R is deemed off limits the previous night, a frustrated Penn vents his anger on a remote village, their nocturnal invasion is both harrowing and powerful as a piece of (in)humane drama.

What takes place from here on in is not so much about the act of rape itself but the stifling pressurised atmosphere of the group dynamic. The individuals are invited to join in, pressured by intimidatory tactics. Leguizamos' Diaz seems unsure... but soon buckles under the motions of his officer in charge. Only Ericsson refuses, hence detaching himself as an outcast. Representing civilised human emotions, his character can be related to and so becomes the films conscience.

The tension is played out in a located remote shack. Meserve directs his troops disregard of the enemy, installing enough hate, he conquers their mindset until their actions are passable as retaliation to war itself. Ericsson is accused of sympathising with the enemy, unable to alter events he witnesses, depravation carried out as tragic overtones of horror brought to our attention via Morricone's searing soundtrack.

Stationed at this chosen locale, Ericsson is in solitude. As the rain tumbles he is joined as he takes shift in the early hours... by Meserve, who stands as opposite to Gi, a man who's tour has ignited the animal instinct that is the mirror image of the Fox character. He claims his love for the army with the valley of death speech leaving Ericsson's disillusionment seen in close up camera, a bravado touch of de Palma's auteur trademark.

When she is deemed dispensable, Penn delegates the weakest of the men to execute the girl, eventually she is killed by the group in a violent and truly distressing set piece, leaving her body crumpled at the foot of a hill.

Back at Base Camp, Fox confides in a friend, seeking advice from Ving Rhames sergeant, who realises the tragedy but indicates that it's best left alone and what happens out in the field should remain there. Captain Dale Dye similarly recognises the danger of bringing this to attention of higher officers, acknowledging the man's situation of family and children he exposes the risk of pursuing the matter.

With news spreading of the incident Ericsson becomes increasingly nervous at the base and in a scene where he narrowly escapes death at the hands of his comrades in the field we see the De Palma steadicam and point of view style, based on an alternate Hitchcock trend and a personal touch by this modern master of suspense a la Carrie, and Blow Out.

Fortifying his belief that this event must come out... The court marshalling begins. After sentencing, Penn passes Ericsson and spits in his face awakening the man from his sleep. He watches as the figure steps off the bus, a nightmarish past comes to realisation as the final scenes have summed up the actual punishment that befell the participants, the girl disappears amidst the greens of campus and the Fox character like his platoon has also become a Casualty of War, living with the pain of memory from an unfortunate time in American History.
Author:
Nik Allen
Update This Review
Verdict
A welcome change from the traditional, gung-ho Vietnam movie. Sean Penn gives statutory blistering performance as the psychotic Sergeant. Michael J. Fox proves he can act outside the realms of family / teen cinema and this film definitely sits amongst the better of the extensive genre, that is the Vietnam movie.
Brian De Palma's film is superbly shot, has a great cast and covers previously un-chartered subject matter for a Vietnam movie.

It's human rights slant, may bore those looking for a gung-ho Vietnam film.
Rewind Rating
The Movie Data
Jump To: Music & Soundtrack Vibes
Or use the menu to navigate
1989 Columbia TriSstar
1999-2020 fast-rewind.com
V4_27 Powered by Rewind C21 CMS