REWIND
REVIEW

"
Murder Has A Sound All Its Own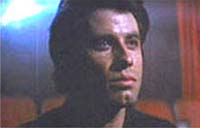 Starring
John Travolta, Nancy Allen, John Lithgow, Dennis Franz
Peter Boyden, Curt May, John Aquino, John McMartin, Deborah Everton, J. Patrick McNamara, Missy Cleveland, Roger Wilson, Lori-Nan Engler, Cindy Manion, Missy O'Shea, Marcy Bigelman, Ann Kelly (III), Dean Bennett (III), John Copolino Jr., Archie Lang Update Cast
Blow Out's reputation has increased a little over the years, due, in part, to the open admiration shown for it by Quentin Tarantino. He chose Travolta for his 'comeback' role in Pulp Fiction based on that performance.
More Trivia from Blow Out
Review
"I got to thinking, what would happen if somebody, just by accident, recorded a murder and what if someone else got a picture of it? If you sync up the two, I figured that you could actually see where the shot was coming from."(Brian De Palma)

Jack Terry (John Travolta) is a washed-up sound effects man working at a trashy B-movie studio in Philadelphia. He frequently disowns himself from the nature of the work, incredulous of the five schlocky movies they have farmed out inside two years and in need of fresh sound effects, Jack goes out to a local bridge with his equipment. Whilst documenting the pops, gurgles and hoots of the animal kingdom, Jack hears a car suffering a blowout, and swings his mic into position. The car swerves off the road and into the river. Accompanied by a terrific brass fanfare, Jack springs into action. He is able to rescue a young woman from the car, but the male passenger is dead. Later, at the hospital, Jack discovers that the dead man is Governor George McRyan (John Hoffmeister), who was just hours away from announcing his bid as a Presidential candidate and who would certainly have defeated the current President in a landslide victory at the November election.

Amidst a production tapestry of reds, whites and blues, an effect enhanced by De Palma's decision to set the film in Philadelphia during the mythical 'Liberty Day' celebrations, the political subtext of "Blow Out" plays a vital role. De Palma is drawing us into a depiction of American society, a society of the 1980's whose trust of Government and the constitution was profoundly affected by scandals like the Kennedy assassination, Chappaquiddick and Watergate. With the same dazzling accuracy Martin Scorsese displayed during the 1970's, De Palma's all-seeing eye looks at the American people at the dawn of the Reagan era, and sees an America irrevocably changed by mistrust.

Jack is under pressure from the Governor's aide Lawrence Henry (John McMartin) to keep quiet about Sally Bedina (Nancy Allen), the young woman he rescued from the car. He agrees to go along with this version of events until a sleazy private eye-photographer, Manny Karp (Dennis Franz), who recorded the Governor's death with his movie camera, sells the footage to a newspaper claiming he 'just happened' to be on the scene. Jack is suspicious that Karp's film does not support his version of events, and realises that there is a greater cover up here than the simple disgrace of McRyan.

Upon analysing the recording of the accident, Jack confirms that he heard a gunshot just before the blowout. He knows that the tyre was shot out, and the Governor was assassinated. Despite his promise to keep quiet, Jack refuses to be pushed around by the system and supress the truth.

"Nobody wants to hear about conspiracy! I don't get it!"

The police do not believe that McRyan's death was anything other than an accident. Through vivid flashbacks of Jack's former career as an internal affairs operative, we learn that despite being a communications wizard, Jack is not respected by the police force. He has had to deal with guilt of failure: An undercover cop died at the hands of mobsters when Jack's wire shorted out and gave him away. The police detective in charge of investigating McRyan's death tells him:

"I know all about you and your tapes, you put a lot of good cops away."

Meanwhile, a psychotic 'automaton' named Burke (John Lithgow) is removing all evidence of the crime on behalf of McRyan's political opponents. They hired the over-eager agent simply to get McRyan out of the race - not kill him! He erases all of Jack's tapes, and changes the tyre on McRyan's car to look like a blowout. Knowing that he needs to create an alibi for his subsequent removal of Sally, he commits a series of sex homicides on similar-looking young women, this just another offshoot of his unhinged, but ongoing 'operation.'

With no assistance, Jack has to convince Sally to help him find Karp's original film and sync it with his sound recording as unequivocal proof of the assasination. He begs Sally for the truth, and she reveals that she was hired by Karp to get the Governor in a compromising position. Karp himself was hired by Burke and knew in advance that there was going to be an accident endangering Sally. Burke intended to kill the Governor, and all ties lead back to McRyan's political oppostion.

Jack and Sally are the 'loose ends to be cut off when they close the book on this case', and they have to show the film to the world before anyone gets to them. Sally agrees to meet a reporter at the train station with the film. Jack listens in on a wire. The reporter leads Sally quickly onto a train. Jack rushes after her, listening intensely for any verbal clue as to what is happening. The 'reporter' is in fact Burke, and Jack has little time to race across Philadelphia through crowds attending the Liberty Day parades to save her before she is killed.

He tries.
Author:
Simon Barber
Update This Review
Verdict
Blow Out resides in my mind as De Palma's best work alongside 'Casualties of War', his seminal 1989 film about the Vietnam War, and 1987's 'The Untouchables' (yes, another De Palma climax at a train station). However, perhaps due to it's obvious homage to movies like 'Blow Up' or 'The Conversation,' it did not charm audiences, and soon disappeared from movie screens, with a domestic gross of only $9 million.

Travolta gave a wonderful performance in Blow Out, endowing Jack Terry with an appealing everyman honesty which spurs on the continuation of the narrative:

"The character was very cynical, over the hill, beaten down. Very dark. But John brought heart and soul to it and a warmth that didn't exist on the page. You didn't give a damn about the guy as written, he was very self-serving." (Brian De Palma)

Travolta's onscreen chemistry with Allen (a former girlfriend in life) is fueled with hints of romance, and Sally's subsequent murder is rendered all the more powerful for it. Allen is good here, although in her earlier scenes she often seems possessed by the spirit of a toddler rather than shocked by her near-fatal accident. John Lithgow also deserves special mention, turning in a superb villain and one of the most frightening characters in a political thriller for many years.

Blow Out's crowning glory is that it peels back the safer layers of contemporary American society within an entertaining suspense thriller, and in doing so, dares to subvert. In its protagonist's relentless quest for the truth, Blow Out is more often than not, a representation of an American public who have suffered their famous scandals, and would sooner not be protected from the gory details of their 'private' wars and assasinations.

This story does not need a Hollywood happy ending. By the time Blow Out reaches its climax, we should not expect the Hayes Code to stamp its feet and influence proceedings - that would not be representative of great dramatic tragedies. Instead we have Jack cradling Sally beneath a patchwork of rockets, her scream still fresh in his mind. Twice now his actions have directly resulted in the deaths of those close to him.

And in the closing scene, all this horror is simply to be reduced to a scream in a movie? And why not? Do we actually lend more reverence to the real tragedies on our screens? Or is this yet another prod by De Palma, a poke in the side of a media-obsessed society to whom a dying scream is no more than a sound bite. Make no mistake, Blow Out is a dark film. In fact, it's pitch black.... Rarely do we see an ending like this - the oft-avoided 'downer.' Although dismissed in its day, in the words of critic Roger Ebert, with hindsight Blow Out takes on the classic poise of a movie with 'real cinematic intelligence.'

De Palma himself said, "you've got to realize that when you've made a movie that may be commercially disastrous, it may also be the best work you've ever done."

Two decades later, we noticed.
Directing: De Palma uses every trick in the book! Split Screen, perspective focus, they're all there!

Dynamite score!

Great performances and nice handling of the deeper subtext of the political material.

Lacked large scale commercial appeal due to its biting subject matter.

The ending was too dark for some moviegoers.
Rewind Rating
The Movie Data
Jump To: Music & Soundtrack Vibes
Or use the menu to navigate
1981 Filmways
1999-2020 fast-rewind.com
V4_27 Powered by Rewind C21 CMS