REWIND
REVIEW

"
She's got one last day to do everything one last time!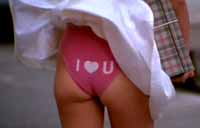 Starring
Carl Marotte, Thor Bishopric, Carolyn Dunn, Rachel Hayward
Michael Rudder, Pierre-Andre LaRoque, Papusha Demitro, Vlasta Vrana, Eve Napier, Michele Scarabelli, Jérôme Tiberghien, Bob Pierson, Tiffany Silverman, Lillian Horowitz, Daniel Nalbach Update Cast
Review
The last day of summer before school starts...

...One last magical opportunity to find an adventure to remember before another semester of imprisonment in the academic calender of teen supression...

Such is the setting of "Breaking all The Rules". In many ways an odd mixture of the neverending teen quest for love and keystone cops madcap chase movie.

Like so many 80s teen genre movies, this movie's world is populated with strange and stupid cartoonish adult characters who could never exist in real life. This surrealism being mixed with some honest attempts at sensitivity.

To say that this movie could only have existed in the '80s is like saying that the teen movies of today are inferior... A massive understatement. This film could have been utterly, dreadfully terrible. But just, by the skin of its teeth emerges as a likeable, if flawed example of lesser-known 80s moviemaking.

The story is really quite silly, but the characters and the feel of the movie manage to save the day.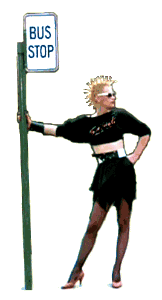 Charismatic teenager Jack (Carl Marotte) has worked the summer at the local amusement park. He finishes up his cleaning chores early in the morning and so has the rest of the day free. On his way home Jack spies a beautiful but conservative girl being whisked to a hair appointment by her mother. In a quintessential moment her skirt is blown up by a gust revealing her underwear sporting "I love U" proudly on the rear. Jack is mesmerised by the vision and it's love at first sight...

For his last day of freedom Jack is determined to rescue his parentally supressed best friend David (Thor Bishopric) for at least one day from his overbearing and disfunctional family. He insists that this last day calls for men of action to secure girls before summer ends.

Both guys are, frankly, inxeperienced with the opposite sex but choose to hide it in different ways. While David is square, meek and serious, Jack is larger than (his) life and covers his awkwardness by being brash and feigning confidence and swagger.

Meanwhile, Debbie, the girl with the underwear is rebelling against her conservative mother and has re-cut her own hair short and spiky a-la "Legend of Billie Jean" and ditched her conservative outfit in favor of new wave slashed top and short skirt. Not even her image obsessed best friend Angie recognises her when they meet at the bus stop.

Suprise, suprise folks. Yes, they too are on their way to the amusement park.

And, yes... The two groups are, of course, attracted to each other. But, saving the cliche'd day the filmmakers at least put a bit of comedy in with everyone mis-thinking that their friend wants the one they like etc etc. On Jacks advise, the two guys play it cool and leave the bus without further eye contact. The girls do the same and all seems lost...

...But hey, this is an 80s teen movie, so thats as likely as a sensible script, so, of course the foursome is destined to meet up later in the park.

At the park, we are introduced to the highly unlikely diamond heist sub-plot involving the most moronic thieves ever. And thats saying something. To be honest, the less said about this aspect of the movie, the better. At least its fun...

Meanwhile magic is occuring. After a false start with the wrong partners, the couples swap and find their soul mates while the day turns to evening and their last day of summer fades truly passes into legendary status.

And, to top it all, just imagine Jack's suprise when Debbie turns out to the same girl he fell in love with that very same morning with the underwear message..
Author:
Nick
Update This Review
Verdict
As mentioned in the review, this could have been an embarrassingly dire example of the genre.

Even Jack's character at first skates the fine line between disaster and genius and ends up just plain loveable. Like so many of these movies, the film truly finds its legs after a shaky start and the characters find ways into our heart. By the end, we've enjoyed spending their last day with them and disaster has been averted.
It's an 80s teen movie with heart. 'Nuff said.

Some aspects of the movie will be hard to swallow for many. You'll love it or hate it.
Rewind Rating
The Movie Data
Jump To: Music & Soundtrack Vibes
Or use the menu to navigate
1985 New World Pictures
1999-2020 fast-rewind.com
V4_27 Powered by Rewind C21 CMS