REWIND
REVIEW

The Legend of Billie Jean
"
The last thing she ever expected was to become a hero.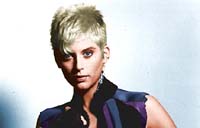 Starring
Helen Slater, Keith Gordon, Christian Slater, Richard Bradford
Martha Gehman, Yeardley Smith, Peter Coyote, Dean Stockwell, Barry Tubb, Mona Lee Fultz, Bobby Jones, John M. Jackson, Rodney Rincon, Caroline Williams, Rudy Young, Bobby Fite, Kim Valentine, Janet Smalley Update Cast
Cameos
Look for Kathryn Childers making a cameo appearance!
I was an extra for the film and my band played a warm up party for the crowd that were drawn for the shooting.

The producers of the film worked in conjunction with the local radio station "C-101". When you hear the radio commentary of the search for Billy Jean in the film, its the real name of a real radio station.

C-101 helped the producers of the film by promoting and advertising a huge beach party to be held at Port Aransas, a small resort town on Mustang Island, near Corpus Christi. There were several live bands and I was a member of one of them and also an extra in the film. I would estimate there was approx. 300 people down on the beach who were told they could be in the film if they came to this beach party.

Coincidentally, I was standing right next to Helen Slater and had no idea that she was the star. In the scene where her brother is shot by sharpshooters, she is standing in disguise in the crowd, on top of the trailer where they have her brothers new scooter. I was standing next to her and I was asked if I would help her to the ground when she got her cue. So the gunshot goes off, she screams and then I reach up and help her down off the trailer... in the finished version it is cut out. She didn't talk to any one the whole 30 or 45 mins we were standing there waiting. She had on a Walkman and a set of headphones and seemed to be just jamming and waiting.
More Making Of The Legend of Billie Jean
Review
She never wanted to be famous. She never wanted to get into trouble. She never even wanted many friends.

All of that is about to change in the classic 80's hit THE LEGEND OF BILLIE JEAN.

Fatherless teenager, Billie Jean Davy (Helen Slater) is a 17-year-old girl who lives in the town of Corpus Christi, Texas. She has a younger brother named Binx (Christian Slater), who likes to ride his treasured new scooter bike, bought with his father's paltry life insurance benefit.

One day, a gang of bullies, led by rich boy Hubie (Barry Tubb), steal and demolish the scooter.

Having got nowhere with the authorities, Billie Jean takes matters into her own hands and helps out her brother by demanding payment from Hubie's father, local businessman Mr. Pyatt (Richard Bradford). But things don't go as planned as Pyatt tries to rape her and winds up getting shot accidentally by Binx.

Billie Jean, Binx and her friends, Ophelia (Martha Gehman) and Putter (Yeardley Smith), escape and go on the run. Very soon, Billie Jean learns that she is wanted by the local authorities, along with her brother and her friends.

They all pay a visit to amateur filmmaker Lloyd (Keith Gordon), who also happens to be the son of a district attorney.

That night, Billie Jean cuts her hair, puts on one of Lloyd's costumes and makes a video "fair is fair" statement. Lloyd lends his help by pretending to be 'kidnapped' by the gang.

When the video statement reaches the authorities, Billie Jean becomes a media sensation that turns the city upside down. Her "fair is fair" battlecry finds the voice of a generation as teenagers from around the country lend their support.

While the younger members of the gang return to their families, Billie Jean remains on the run, fighting for a fair conclusion whilst dealing with her new-found fame.
Author:
Philip Martin
Update This Review
Verdict
Helen Slater's role as Billie Jean was much better than her first major film role, the title character in the sci-fi flop SUPERGIRL.

Though this film fared much better than SUPERGIRL, it is long overdue for a new release, meaning that anyone who sees the old 80's video transfer will find this movie looking a little dated.
A good movie about teenage rebellion with good performances and a rockin' theme song by Pat Benatar.

Written off as a guilty pleasure and the plot seems a little dated.
Rewind Rating
The Movie Data
Jump To: Music & Soundtrack Vibes
Or use the menu to navigate
1985 TriStar Pictures
1999-2020 fast-rewind.com
V4_27 Powered by Rewind C21 CMS