REWIND
REVIEW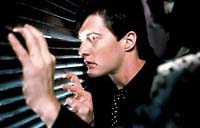 Starring
Kyle MacLachlan, Isabella Rossellini, Dennis Hopper, Laura Dern
Hope Lange, Dean Stockwell, George Dickerson, Priscilla Pointer, Frances Bay, Jack Harvey (III), Ken Stovitz, Brad Dourif, Jack Nance, J. Michael Hunter, Dick Green, Fred Pickler, Philip Markert, Leonard Watkins, Moses Gibson, Selden Smith Update Cast
Review
A modern masterpiece is the best way to describe David Lynch's film Blue Velvet. This is an antidote to all the American films where everything comes good, and siding with the baddies is as good as signing your own death warrant.

"It's a strange world."

Small town America. Kyle MacLachlan plays Jeffrey Beaumont a college kid who upon finding a severed ear, enters a world where the perverse is the norm, and the suburban backdrop of fifties America becomes increasingly surreal.

An ear with no body. Jeffrey consults with his girlfriend Sandy (Laura Dern) who happens to hear her father (the detective handling the case) mention the name of a nightclub singer as a suspect. Intrigued, Jeffrey goes first to her nightclub, then to her apartment to find out more. Then follows a scene where she (Isabella Rossellini) is attacked by Frank Booth (played by Dennis Hopper). But David Lynch cuts across expectations by providing the lead characters with morbid personalities, which takes this film away from the normal, damsal in distress territory, to a place where the audience has to decide what is right and wrong.

The idea of fifties America is reinforced by the soundtrack which includes the haunting classic "Blue Velvet" by Bobby Vinton as sung by Isabella Rossellini, along with other greats such as "Love Letters". Placed alongside scenes of sado-masochism it forces a re-evaluation of the way we romantisise the past.

There are great performances from all the lead characters, special mention goes to Dennis Hopper who is a tour-de-force as the menacing Frank Booth.
Author:
James Pothecary
Update This Review
Verdict
This is a beautifully shot film which lives in the dark, a metaphor for life, or for life as David Lynch sees it: Seeing man at his best doesn't mean doing away with the worst.

This is an amoral film which constantly unnerves with it's morbid tone, and will keep you thinking long after the credits have rolled.
Beautifully shot, brillant soundtrack, stand out perfomances from a stella cast. A film evoking the lost world of a past that never existed.

Could be considered as advocating violence by refusing to condemn it.
Rewind Rating
The Movie Data
Jump To: Music & Soundtrack Vibes
Or use the menu to navigate
1986 DiLaurentiis Ent Group
1999-2020 fast-rewind.com
V4_27 Powered by Rewind C21 CMS