REWIND
REVIEW

"
Fasten your seatbelts and get ready for a totally NEW WAVE experience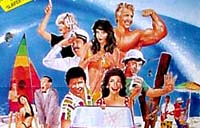 Starring
Frankie Avalon, Annette Funicello, Lori Loughlin, Tommy Hinkley
Demian Slade, Connie Stevens, David Bowe, Linda Carol, Joe Holland (II), John Calvin, Laura Urstein, Marjorie Gross, Hartley Silver, Alan Barry, Thomas David Parker, Todd Bryant, Floyd Foster Jr., Emil McKown, Jon Paul Jones, Eddie Vail Update Cast
Cameos
Look for Rick Avery, O.J Simpson, Fishbone, Don Adams, Paul Reubens, Bob Denver, Jerry Mathers, Barbara Billingsley, Alan Hale Jr., Tony Dow, Edd Byrnes, Rodney Bingenheimer, Dick Dale, Stevie Ray Vaughan making a cameo appearance!
Review
The "Beach Party" movies of the 1960s get a totally 80s re-do in "Back To The Beach". The movie proves that no matter how far you've strayed, you can always go home again... And it has some fun musical numbers to boot!

It's 1987, and Frankie (Avalon) and Annette (Funicello) are happily married, with a punk-rocker son named Bobby (Slade) and a grown-up daughter named Sandi (Loughlin). Frankie, known amongst surfers in the 60s as "The Big Kahuna", has since hung up his swim trunks and traded in his surfboard for the clothing and accesories of an Ohio-based car dealer. One day, Annette decides that they need a vacation, so Frankie, Annette and Bobby take a flight to California. Bobby wonders where the celebrities are, and Annette tells him not to expect any... This being said before a cameo by O.J Simpson (in his "Hertz Rent-A-Car" days). There are going to be quite a few cameos in this piece.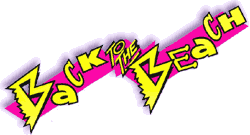 Onward to Sandi's Californian home, where she's in the middle of a meltdown with her fiancee' Michael (Hinkley). She wants a stable life... He wants to surf 'til he dies. Of course, this leads to a split. Of course, another split is about to happen...

Frankie and Annette take a trip to one of the major party spots in town, complete with another cameo, this time by Edd "Kookie" Byrnes of the 50s series "77 Sunset Strip" as a valet. Annette wants Frankie to sing a duet like they would in the 60s, but Frankie doesn't want to be in the bar...he doesn't want to be on the island, period. He feels he's moved past it, but then who should appear but Annette's old rival Connie (Stevens). When told by her of how much he's still revered, he duets with her on "California Sun". This breaks Annette's heart, and they go their separate ways, each taking up with one half of the Sandi/Michael combination.

Annette teaches Sandi and her friends Robin and Bridgette (Laura Urstein and Carol) how to trick the one you really love into coming back, which she pulls off by flirting with a beach boy... You know the kind, they drag their whole house to the beach, mini-bar, stereo system, the works. Frankie drowns his sorrows in liquor and then wakes up in a weather center operated by some surfers, chief among them Mountain (Bowe), who sends out word about the waves all over the world. While trying to teach the guys how he would get Annette back, he's stranded when the entire beach joins in a dance number with Annette and (Cameo Alert!) 80s group Fishbone, duetting on "Jamaica Ska".

In the meantime, young Bobby has gone from mid-Western teen to something out of "The Road Warrior", thanks to his association with a gang of bikers. With a stolen credit card, they go crazy all over the island. The gang will figure prominently in the climax...


"
This movie absolutely blind-sided me. I don't know what I was expecting from "Back to the Beach," but it certainly wasn't the funniest, quirkiest musical comedy since "Little Shop of Horrors." -Roger Ebert
"
Back to the bar for Frankie, being served drink after drink by a bartender with a look like his 3-hour-tour lasted for 3 years (yep, Bob Denver). Commiserating with Michael, the two decide to throw a bonfire... Of course, 20-plus years changes things, so the two have to scam the Harbor Master (would you believe Don Adams?) into allowing the shindig.
In the old "Beach Party" movies, these bonfires were designed to unite the young lovers. Unfortunately, Frankie is caught by Annette in an embrace with Connie, and she thinks it's all over for them. Confronting Connie, Annette finds out that despite all the time Frankie's been away, he's only talked about her. A happy reunion is made for all couples, Michael having decided to sell self-designed surfboards for a living. To celebrate, Pee-Wee Herman (Paul Reubens) appears out of nowhere to sing "Surfing Bird" (you think this is random? It's no more random than James Brown or Stevie Wonder's appearances in these types of movies in the 1960s).
Frankie and Annette gather all the beach bunnies and boys around to tell them the story of a killer wave, legendary among all surfers...the Humunga Kowabunga from Down Unda. Frankie rode this wave once, and that's how he ended up as the Big Kahuna, for very few people can ride such a massive wave. When the biker gang shows up, a challenge is issued...one of the gang's best surfers versus one of the beach people's best surfers. The prize? Control of the beach itself.
When it turns out that Michael is injured, someone needs to step up to the board for him. That man? Yep, it's Frankie. With the help of his old board (wood, as was the wont for these types of boards in the 60s), he goes out to sea, cheered on by Annette, Connie and the Bartender.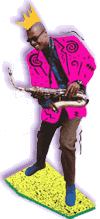 The best surfer from the biker gang does okay for himself by the judges (Tony Dow and Jerry Mathers from "Leave It To Beaver"...Barbara Billingsley from the same show as the announcer). Frankie's gone far out in the ocean, and the waves aren't that good. All of a sudden, the sky darkens, the winds blow furiously, and the wave that he rode once comes into view again. It's the Humunga Kowabunga from Down Unda, and it carries Frankie to victory (no spoilers here...these movies always have happy endings).
With re-assurance in what he once was and what he is again, Frankie goes to the bar once more, and the entire cast performs the delightfully upbeat "Some Things Live Forever". Happy endings all around...well, except for the bartender. Just when he's found love, his buddy comes back and tells him that the boat's about to leave (if you guessed Alan Hale Jr., then have a cookie).
Famous last words come from Annette: "Are we the cheesiest couple you've ever met, or what?"
Author:
John Edward Kilduff
Update This Review
Verdict
I caught this movie a few days ago, and I thought "This is interesting... Fluffy, cute, ease-your-brain-into-a-hot-tub" kind of stuff".

The 80s had these kinds of movies in spades, and this was one of the best. A mixture of musical, parody-based comedy and great surfing footage, this movie is excellent viewing for an afternoon when you have nothing to do.
Fun musical numbers, a light spirit, and a cameo lover's paradise...

Not particularly brainy fare.
Rewind Rating
The Movie Data
Jump To: Music & Soundtrack Vibes
Or use the menu to navigate
1987 Paramount Pictures
1999-2020 fast-rewind.com
V4_27 Powered by Rewind C21 CMS