REWIND
REVIEW
"
The power behind the throne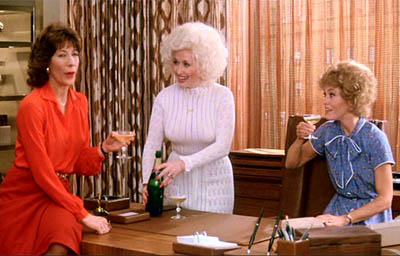 Starring
Dolly Parton, Lily Tomlin, Jane Fonda, Dabney Coleman
Sterling Hayden, Elizabeth Wilson, Henry Jones, Marian Mercer, Lawrence Pressman Update Cast
Thanks to
Barnaby Marriott
Dolly Parton received THREE Golden Globe Award nominations for "Nine to Five". Best Actress in a Musical or Comedy, Best New Star of the Year in a Motion Picture, and Best Song for the film's title tune.
More Trivia from Nine to Five
Review
Judy Bernly (Jane Fonda) is a recently divorced woman whose husband has left for a younger woman, she now finds herself in a small apartment and working as a secretary at the huge Consolodated Corporation.

The problem is, Judy has never worked a day in her life - therefore, simple tasks such as filing, answering telephones and especially using the Xerox machine scare her witless!

Also at Consolodated is the efficient Violet Newstead (Lily Tomlin), a widow with four kids, who has been with the company for 12 years. Violet works harder and better than anyone there, but never gets promoted higher because of Franklin Hart (Dabney Coleman), the company's chauvanist boss, who is despised by all his female employees.

Hart's personal secretary, Doralee Rhodes (Dolly Parton), has to suffer constant unwanted sexual harrassment from her boss, who has managed to convince everyone at Consolodated that Doralee is his mistress, which probably explains why all the other women will barely even speak to Doralee.

The trio of Judy, Violet and Doralee become firm friends and the three of them even jokingly fantasize together about how they'd like to bump off Hart!

However, when a simple mistake leads to Hart temporarily ending up in hospital and he threatens to have them all thrown in jail, events spiral way out of control... and Hart finds himself a prisoner in his own home, as the three women keep him tied up while they plan to get themselves out of this mess and get back at Hart... for good!
Author:
Barnaby Marriott
Update This Review
Verdict
"Nine To Five" was released right at the end of 1980, but still managed to become one of the year's highest grossing films. Part of the reason it was so popular was undoubtedly due to the fact that the film focuses on women being treated appallingly in the workplace by a man and audiences who could identify with that just loved seeing them get even!

The three leading ladies of "Nine To Five" are all absolutely perfect in their roles, with Lily Tomlin particularly terrific as the trio's ringleader, Violet. Country-and-western superstar Dolly Parton made an unforgettable debut as Doralee and it was great to see Jane Fonda take a break from serious, dramatic work to have a bit of comedy fun, as timid Judy!

Dabney Coleman also gives a great performance as Franklin Hart, the boss from hell, referred to by the main characters as a "sexist, egotistical, lying, hypocritical bigot"! Special mention must go to Elizabeth Wilson as Roz Keith, the office gossip always trying to get into Hart's good books.

There are far too many classic comedy moments to mention, but some of the most memorable include Judy's unenviable experience with the Xerox machine; a panicked Violet pretending to be a doctor at the hospital and many moments of Hart's humiliation at being tied up in his own home.

"Nine To Five" also features one of the best title songs ever from a movie, which happened to be written and performed by the film's star, Dolly Parton. Altogether now - "working nine to five, what a way to make a living!"
Great comedy!

None.
Rewind Rating
The Movie Data
Jump To: Music & Soundtrack Vibes
Or use the menu to navigate
1980 20th Century Fox
1999-2020 fast-rewind.com
V4_27 Powered by Rewind C21 CMS