REWIND
REVIEW

"
Death comes to all except those who deserve it most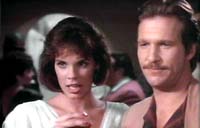 Starring
Jeff Bridges, Rosanna Arquette, Alexandra Paul, Randy Brooks
Cameos
Look for James Avery making a cameo appearance!
'8 Million Ways To Die' is based on one of a series of Matt Scudder books written by crime author Lawrence Block. The books are actually set in New York, not Los Angeles where the movie was filmed and the title refers to the (then) population of the Big Apple -8 million people, 8 million ways to die!
More Trivia from 8 Million Ways To Die
Review
8 Million Ways To Die is an intense drug drama about what most everybody wants in their lives... One more shot at redemption.

Before the summary, let it be noted that this movie serves as a "last" for two people. It was the last movie Oliver Stone wrote before turning from an F-bomb-dropping popcorn flick writer to an F-bomb-dropping political raconteur. It was also the last movie directed by legendary '70s filmmaker Ashby, well-known for movies like "Harold And Maude", "Shampoo" and "Being There".

The movie stars Bridges as Matt Scudder, a career cop who lives in a nice home but might as well be living inside a bottle. He's a BIG-TIME alcoholic and he ends up losing his job when he accidentally shoots a drug dealer he was merely trying to arrest. Stripped of his badge, he becomes a wreck, scaring off his wife and young daughter. He spirals into alcoholism and eventually winds up joining Alcoholics Anonymous, an organization he'll have difficulty staying with throughout the movie.

Desperate for some companionship, he's offered a visit to a divinely excessive Californian mansion. It is here that he meets Sunny (Paul), a perky-voiced and seemingly bubbleheaded lady of the evening. Scudder also meets 3 other important figures:

-Sarah (Arquette), a lovely blonde woman who, like Matt, has a major drinking problem. A streetwalker as well, she is the mistress of...

-Chance (Brooks), a man who has his fingers in a lot of pies around old Cali. He owns everything from a grocery store to a club where Sunny and Sarah work. The club is gaining interest from a lot of people, but most notably, a man named...

-Angel Moldonado (Garcia), a sno-cone eating crime kingpin who is into smuggling cocaine (This would be the second movie written by Stone to feature a Latin drug dealer, the first being, of course, 1983's classic "Scarface").

After ditching the party, Scudder and Sunny head to a watering hole to get some drinks (Matt drinking Coca-Cola, due to his rehab process) and then back to his house. Sunny shows off her bare physique and her sweetly foul mouth, disturbing Scudder no end. Sunny then hastily puts on a robe and in a weeping voice confesses her fear of Chance and her desperate need to escape his confines. Begging Matt for assistance, he agrees, although they do have problems including Chance turns down Brooks' $2,500 offer to free Sunny and her playing with Scudder's gun.

Accompanying him on some errands, Sunny gets her plane ticket and passport, plus a bag filled with...something. As Matt gets a birthday present for his young daughter, Sunny is kidnapped. Chasing them down, Scudder finds Sunny tossed over a bridge, her clothes ripped and a gaping bullet hole in her back. This sends Matt back to the land of booze and honey, where he ends up in a hospital, quivering and slurring his words. After getting his nervous shakes out, he heads back to the police station where he finds he's not a welcome presence and that his name is on a suspect list.

Heading back to his house to figure things out, Scudder looks at Sunny's wallet, finding the usual papers and addresses, as well as a necklace with a missing charm on it. Examining Sunny's bag, Matt finds money. Not just a few dollars...Try thousands of big bucks. He pays a visit to Chance's grocery, to find a money-laundering process going on in the back. He then gives Chance a visit and although he isn't particularly pleased, he agrees to arrange a meeting between Scudder and Sarah.

Sarah is naturally repulsed at the attack and in loathing of Matt, who really needs her help. Scudder also is reintroduced to Angel, whose ring has what appears to be the missing charm from Sunny's necklace. The two are separated, but they'll meet again later. For now, Scudder and Sarah are working together, albeit with not that many good feelings on either side. The relationship is borderline abusive, but it'll all work out. Sarah speaks well of Sunny and how everyone like her. Her innocence and naivety belied some of the bizarre and horrific things she had to endure. Sarah is also thinking that all Matt wanted Sunny for was a good time, but Scudder disputes this point, although he can't cogently put a point on what it was that he liked about Sunny.

Once again, Matt and Angel meet to discuss various matters and Scudder finds out that, indeed, Angel killed Sunny. The reason why is because Sunny wanted out of Angel's gang, because she was being used as bait to get Chance to use his club as a front for drug dealing activities. Matt communicates this fact to Chance and this leads, after a brief interlude at Angel's home, to two climaxes.

First, with the assistance of several cops, Scudder and Chance confront Angel in a warehouse. Matt is armed with Molotov cocktails, ready to set Angel's supply of cocaine on fire unless he frees Sarah, who has gone from being an ersatz girlfriend of Moldonado's into a slave of his. Once the trade-off is made, everybody opens on fire on each other. On the hero(?) side, Chance is wounded. On the villain side, Angel's henchmen are shot dead.

The second climax occurs on the elevator-stair tracks of the decadent mansion from the beginning of the movie, where Scudder and Angel have their final shoot-out.

Having dismantled a cocaine operation, Matt is now working on AA and having a relationship with Sarah. Who would've thought that in a movie directed by Hal Ashby and written by Oliver Stone, you would get a happy ending?

That's the 80s for you...
Author:
John Edward Kilduff
Update This Review
Verdict
This movie is definitely edgy. It has the grime and the sleaze of the Californian crime element at its worst. The language and situations are definitely not for kids, but they add an air of authenticity to the proceedings.

James Newton Howard's score is pulsating, and the cinematography is breathtaking in scenes (Most especially the opening credits, where cars on freeways appear to be ascending straight to the sky).

I give this movie a 9.5 and recommend it to anybody who wants to see the last work of a great director and the last work of a screenwriter who would soon become a message-flick moron.
Great characters, cinematography, score and plot...

Very vulgar and intensely violent in spots.
Rewind Rating
The Movie Data
Jump To: Music & Soundtrack Vibes
Or use the menu to navigate
1986 Producers Sales Organization
1999-2020 fast-rewind.com
V4_27 Powered by Rewind C21 CMS