FILMFACTS
TRIVIA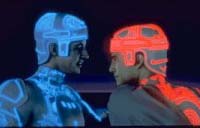 Totally Trivia
Film facts for the 1982 Sci-Fi movie starring Jeff Bridges, Bruce Boxleitner, David Warner More Cast
We believe the following trivia is all legit. If it's bogus or you have additional info, please update us.
I noticed that it was stated below that John Lassiter formed Pixar after leaving Disney. This is not completly true. John Lassiter joined Industrial Light and Magic (ILM), George Lucas' special effects company. At the time ILM was starting up a computer division to push digital filmmaking and this is what Lassiter became involved with. Pixar didn't become a company until 1986 when Lucas/ILM sold the company to Steve Jobs of Apple Computer fame.
One of the rides at Epcot Center in Florida used to use the computer simulated landscape used in the film.

Unfortunately, that ride was General Motors's "World Of Motion", which closed in the early 2000's and was replaced with the thrill ride "Test Track", also sponsored by GM.

Only the GM car showroom remains of the original attraction, but Disney never throws anything away, so the TRON landscape may have found its way into another ride, perhaps even at Disneyland Tokyo or Paris.
Flynn's program is named "Clu". CLU is an old programming language.
One of the Walt Disney Studio's "Imagineers" (as they call them) working on "Tron" was an aspiring filmmaker named John Lassiter.

Seeing the potential of Computer Generated Image animation for the movies, John dreamed of doing a completely CGI animated film, but Disney couldn't afford it due to a hostile takeover bid in 1984 (which the company survived).

So, John left Disney and in 1987 founded Pixar Animations, producing short CGI films, until returning to Disney in 1992. Since then, Disney and Pixar have merged and have so far had ten successful feature length, fully CGI-animated movies including: "Toy Story 1 & 2" (1995 & 1999), "Monsters Inc." (2001), "Finding Nemo" (2003) "Cars" (2006) "WALL*E"(2008), and the 3-D adventure "UP" (2009).
TV commercial director Joseph Kosinski is in final negotiations to develop and direct 'Tron 2'. Described as "the next chapter" of Disney's 1982 cult sci-fi classic, the new movie is being produced by Sean Bailey via the Live Planet banner and Steven Lisberger, who co-wrote and directed the original film. Director Kosinski, who last month signed on to helm the remake of 'Logan's Run' for Warner Brothers, will oversee the visual development of the project and have input on the script, which is being penned by 'Lost' writers Eddie Kitsis and Adam Horowitz. Story details are being kept secret. Tron 2 will hopefully hit theaters sometime in 2010.
In the solar sailer sequence, there is a scene where the solar sailer passes over a giant landscape in the shape of Mickey Mouse's head.
The sequel to Tron we hoped was going to be a movie around 2004 has turned out to be a videogame entitled Tron 2.

A sequel is finally coming in the summer of 2010, entitled "TRON Legacy", in which Kevin Flynn has once again disappeared into the electronic dimension, and his son Sam joins Alan to go in and rescue him.
Actor Bruce Boxleitner who portrayed 'TRON' went on to star as Captain John Sheridan in the cult sci-fi series 'Babylon 5'.
Actor Dan Shor who portrayed computer program/hero 'RAM' can also be seen in the fantasy/comedy 'Bill and Ted's Excellent Adventure' as Billy the Kid.
Actress Cindy Morgan's first starring role was in the hit comedy 'Caddyshack' in which the first thing she had to do was take her clothes off!
Actor Peter Jurasik who portrayed 'CROM' also made the move to 'Babylon 5' but way before Bruce Boxleitner did. Peter has been with the show since it started in the early nineties.
In the scene where Flynn is marching single file with the other programs and sees TRON for the first time, he pauses and says, "Hey! Who's that guy?" A program replies, "That's TRON he fights for the users!" Immediately after this Flynn receives a nudge from the program behind him, urging him to move on. The 'nudging' program is none other than 'American Ninja' star Michael Dudikoff.
Bogus Trivia
There's often fake stuff floating round, y'know? -Like the 'ghost boy' that can allegedly be seen in "Three Men And A Baby".
But, nothing bogus that we know yet for "Tron".
Next: Behind The Scenes
Or use the menu to select another option
1982 Walt Disney Studios
1999-2018 fast-rewind.com
V4.0b Powered by Rewind C21 CMS