FILMFACTS
TRIVIA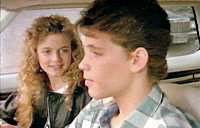 Totally Trivia
Film facts for the 1988 Comedy movie starring Corey Haim, Corey Feldman, Heather Graham More Cast
We believe the following trivia is all legit. If it's bogus or you have additional info, please update us.
Corey Haim and Corey Feldman were interviewed on Larry King Live on 20th July, 2007. Both Corey's admitted to being high on drugs whilst filming "License To Drive", Feldman said " If you would like to watch some drug abuse in action, you can, let's see, "License to Drive."..... "I was a mess during that movie, for sure". Corey Haim also commented that the movie was the breaking point for him.
The movie was originally to be called (and was even publicised under the name) "To Live And Drive In LA"
I purchased the VW bug used in the movie while living in Sacramento, CA in 1994. The front was damaged just before I bought it. I turned it into a Baja Bug and sold it in Hampton, Virginia in 1995.
The film won Feldman the "Youth in Film" Award in '87.
Grant Heslov, who later went on to star as "Faisil" in the 90's Schwarzenegger action flick "True Lies" makes a 'cameo' appearance as Corey's sisters 'political activist' boyfriend.
License to drive was Greg Beeman's directorial debut.
Bizarrely, Heather Graham no longer includes 'License to Drive' on her CV. Heather was seen soon after 'License to Drive' in 'Twin Peaks' as 'Annie', Agent Dale Cooper's strange girlfriend.
The tow-truck driver is played by R.A. Mihailoff, who essayed the role of "Leatherface" in LEATHERFACE: TEXAS CHAINSAW MASSACRE 3.
Heather Graham grew up as a good, Catholic girl whose parents were so strict, she wasn't even allowed to watch "The Love Boat." She was also forced to turn down a starring role in "Heathers" because Mom and Dad considered the language too risque.

The commentary on the most recent DVD cites that Heather Graham's father was an FBI agent in real life--and constantly on the set making everyone nervous.
"License to Drive" was released in Germany as "Daddy's Cadillac".
Following "License To Drive," Heather Graham played a small-role as a young Mary Ann Benedict in Ivan Reitman's "Twins" [1988]. Then she played lead co-starring of Nadine opposite Matt Dillon, in Gus Van Sant's "Drugstore Cowboy" [1989], followed by a part in the dark-comedy "I Love You To Death" [1990] playing the part of Bridget. Then she starred as Kimberly in forgetable "Guilty As Charged"[1991]. Then came a co-starring role opposite 90210's Jamie Walters & John Travolta in the film "Shout"[1991]. Finally she played the part of Angie Blackburn on both the TV series and the movie of "Twin Peaks"[1990/91].
James Avery who plays Les's driving examiner is none other than "Phillip 'uncle Phil' Banks" from the cult TC shoe The Fresh Prince of Bel Air.
When the two Corey's are riding down the hill on a bike, you can see the bike is really a 3 wheeler, to assist the balancing!
Bogus Trivia
There's often fake stuff floating round, y'know? -Like the 'ghost boy' that can allegedly be seen in "Three Men And A Baby".
But, nothing bogus that we know yet for "License To Drive".
Next: Behind The Scenes
Or use the menu to select another option
1988 20th Century Fox
1999-2018 fast-rewind.com
V4.0b Powered by Rewind C21 CMS