FILMFACTS
TRIVIA

Dead Poets Society Trivia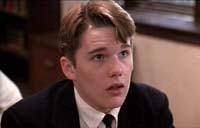 Totally Trivia
Film facts for the 1989 Drama movie starring Robin Williams, Ethan Hawke, Robert Sean Leonard More Cast
We believe the following trivia is all legit. If it's bogus or you have additional info, please update us.
Robert Sean Leonard currently stars in the Fox tv show "House", alongside Hugh Laurie, whom he met during the filming of the Kenneth Branagh film adaption of "Much Ado About Nothing". Laurie did not appear in the film, but is a close friend of Branagh's, and met Leonard while visiting the set.
Lara Flynn Boyle played Ginny Danbury, the sister of Chet Danbury (who Knox Overstreet has the brawl with over his girlfriend, Chris Noel) in the full version of the film, her scene was cut. Later in the film, Mr. Perry angrily explains to his son, Neil, that he found out he was in a play at Henley Hall when he ran into Ginny's aunt at the grocery store. Also, when Knox Overstreet arrives at the party Chris invited him to, she quickly pawns him off on Ginny Danbury so she can spend time with Chet. The irony of her character being cut is that she is integral to the story in three separate places. Neil is caught by his father due to Ginny's aunt leaking the info which later leads to his suicide. We never have a clue what this girl looks like since Chris is ready to pawn him off on her, she could be a fat girl with adolescent acne but in fact she was the cute freckle-faced Lara Flynn Boyle. Also, Ginny is in the school play and those scenes are cut also. Weird....Wonder if Lara Flynn Boyle was upset about this decision?
The name "John Keating" is from the english romantic poet John Keats.
Robbin Wiliams' character is guilty of two pedagogical crimes:

- the teacher trying to be a social engineer and deconstuct the social context in which his students live.

- the teacher suffering from The Pygmalion Complex - trying to create his own ideal of the human being in his students.

The result? The boys pay dearly for his ministrations, one of them with his life.
My brother was an extra in "Dead Poets Society" and said it was an amazing experience. The movie was filmed at a boy's prep school in Delaware. He also said that Robin Williams was a nice and extremely funny guy.
The scene between Neil and Todd on the school roof where they fling the deskset over the side because "it wants to fly" was completely improvised.
Bogus Trivia
There's often fake stuff floating round, y'know? -Like the 'ghost boy' that can allegedly be seen in "Three Men And A Baby".
But, nothing bogus that we know yet for "Dead Poets Society".
Next: Behind The Scenes
Or use the menu to select another option
1989 Touchstone Pictures
1999-2018 fast-rewind.com
V4.0b Powered by Rewind C21 CMS