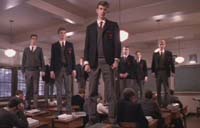 1989

Featured Movie Location:
'Welton' Prep School
Wanna see the real life filming location used for
'Welton' Prep School
in the movie? These scenes were actually shot at
St. Andrew's School
, located in Middletown,
Delaware
. [
Google Map
]
Locations Manager(s):
Michael John Meehan
On Location
Dead Poet's Society was filmed on location in Middletown, New Castle and Rockland, Delaware, USA.
Banning Park, Wilmington, DE 19804 [Thanks to Beth Cox]
Berry College in Rome, GA, my undergrad alma mater. The filming was done in late summer of 1988. I have no idea why this fact has completely disappeared; it isn't in the Wikipedia article about Berry, either. They hadn't cast Robin Williams yet when they started filming, and filmed all the scenes that he wasn't in. Then it ground to a halt when they were done and they still hadn't cast him. They claimed to have reshot the whole thing after he was cast, but we didn't buy it. Some of the scenes were clearly from the other school, but others were instantly recognizable. [Thanks to Lynda]
Can you help? Do you know any of the Delaware (or any other) filming locations used for Dead Poets Society? [Please send them in]
Locations Links
Following is a recommended link:
St. Andrews School