Songs
With almost all of the songs featured on the soundtrack composed by Charles Fox, who also did the score, the movie boasts a wide range of artists including David Pomeranz's 'Got To Believe In Magic' and 'King and Queen of Hearts', it's pretty decent.
Other artist appearing are Plain Jane, The Twisters (who perform at the prom) and Joe 'You're The Best Around' Esposito. Which means that there's a catchy song for everyone – particularly 'Trying To Kill A Saturday Night' – which is played as the opening credits roll.
The following song tracks were featured in
Zapped!
:
Track names in Bold are linked to a Soundtrack release.
Got to Believe in Magic - David Pomeranz
Shoot the Moon - Plain Jane
King and Queen of Hearts - David Pomeranz
Ready or Not - Plain Jane
Just for Fun - Rick Derringer
Tryin' to Kill a Saturday Night - The Keane Brothers
Updike's Theme - Joe Esposito
Star Spangled Baby - The Twisters
Bomp Me - Greg Mathieson Project
This Power Of Ours - Devinstated
Are We Missing Any?
Song Trivia
Do you know any interesting trivia about the songs used in Zapped!? Please send it in by clicking Here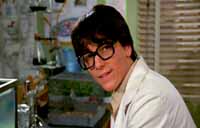 1982