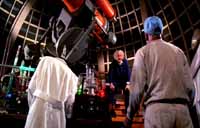 1982
Locations Manager(s):
Ronald L. Carr
On Location
They high school is the often seen John Marshall High School at 3939 Tracy Street, Los Feliz in LA.
I believe El Rancho High School, 9501 S. Passons Blvd; Pico Rivera, CA 90660 was also used for some of the High School Scenes. [Thanks to Dave]
Huntington Park High School was another location used. [Thanks to Daniel]
They double date at Six Flags Magic Mountain (26101 Magic Mountain Parkway, Valencia, CA)
Can you help? Do you know any of the S. California (or any other) filming locations used for Zapped!? [Please send them in]
Locations Links
If you know of a good link for Zapped! locations, please let us know.