Songs
This movie departed from John Hughes' previous scores, by having a mixture of 'more regular' tracks, rather than the eclectic mix of 80's britpop bands he favoured in his earlier movies, such as "Pretty In Pink" and "Some Kind Of Wonderful".
Tracks like "Mr Sandman", "Lipstick Powder and Paint", and "Tweedlee Dee" set a rather different tone than Simple Minds' "Dont You (Forget About Me)"
The following song tracks were featured in
Uncle Buck
:
Track names in Bold are linked to a Soundtrack release.
Rhythm of Life - Hugh Harris
Mr. Sandman - Cordettes
Are We Missing Any?
Song Trivia

The touching music that can be heard at various points in the movie is called 'Rhythm Of Life' and is by Hugh Harris and is widely available on his 'Words For Our Years' album.
-Thanks to pearwater
About the Soundtrack, how can anyone forget the hip hop music in it. Two classics are used with instrumental loops, Tone Loc's "Wild Things" and Young MC's "Bust A Move" (which was used in a hilarious scene in Dude, Where's My Car).
-Thanks to Arjun Medhi
The song played in the bar where Buck & Shanice having dessert is a sample from the song "Got More Rhymes" by Young MC.
Add some more trivia about the songs used in Uncle Buck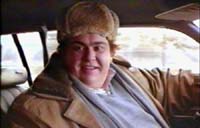 1989
Score Music
Composer(s):
Ira Newborn
Can you help with any information or a review of the instrumental score music heard in Uncle Buck? Please Send it in by clicking Here
The following instrumental Score pieces were featured in
Uncle Buck
:
Track names in Bold are linked to a Soundtrack release.
Coming Home
Are We Missing Any?
Score Trivia

One of the instrumental songs is the Ray Anthony tune titled "Thunderbird". You can find it on the album "The Ray Anthony Orchestra - 1953 Chesterfield Shows".
-Thanks to dewey20031
The instrumental played at night time when Buck is searching for Tia is called "Small Time Hustler" By The Dismasters.
Add some more trivia about the instrumental music used in Uncle Buck