Songs
The pumping high octane soundtrack contained all the main tracks from the movie including such smash hits as "Take My Breath Away" It has always been readily available on CD.
The best just gets better: Like several classic 80's soundtracks, it was remastered and re-released in the late 90's with bonus tracks, better sound and extensive liner notes giving an insight into the choosing and making of the music used in the movie. Low price too, buy without hesitation!
The following song tracks were featured in
Top Gun
:
Track names in Bold are linked to a Soundtrack release.
Danger Zone - Kenny Loggins
Mighty Wings - Cheap Trick
Playing With The Boys - Kenny Loggins
Lead Me On - Teena Marie
Take My Breath Away (Love Theme) - Berlin
Hot Summer Nights - Miami Sound Machine
Heaven In Your Eyes - Loverboy
Through The Fire - Larry Greene
Destination Unknown - Marietta
(Sittin' On) The Dock Of The Bay - Otis Redding
Great Balls Of Fire - Jerry Lee Lewis
You've Lost That Lovin' Feeling - The Righteous Brothers
Playing With The Boys (Dance Mix) - Kenny Loggins
Are We Missing Any?
Song Trivia

The Top Gun soundtrack had a big hit in the single "Take My Breath Away", performed by Berlin. However, it was originally planned to be assigned to LA new wave band The Motels. A demo was recorded by The Motels, only for the song to be given to Berlin. The Motels' rendition finally resurfaced on their 2000 rarities compilation "Anthologyland". Although singer Martha Davis does not possess the contemporary-friendly slick produced vocals of Berlin's Terri Nunn, The Motels' version of "Take My Breath Away" is equally beautiful in it's own right.
-Thanks to Michael Manzano
The Cars song "Stranger Eyes" was featured in an early trailer for the film.
The classic song "You've lost that loving feeling" was never on the orginal soundtrack album but was heard twice in the film.
-Thanks to blotch
Tom Whitlock, who with Moroder co-wrote five songs for Top Gun including "Take My Breath Away" and "Danger Zone" had originally been Giorgio Moroder 's Ferrari mechanic! He mentioned one day that he was also a lyricist and they eventually started working together.
-Thanks to Nick
Add some more trivia about the songs used in Top Gun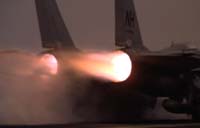 1986
Score Music
Composer(s):
Harold Faltermeyer
Can you help with any information or a review of the instrumental score music heard in Top Gun? Please Send it in by clicking Here
The following instrumental Score pieces were featured in
Top Gun
:
Track names in Bold are linked to a Soundtrack release.
Top Gun Anthem -Additional Contibutor: Steve Stevens
Memories
Opening Theme
Mig-28s
Negative G Pushover
Cougar's Landing
Still Awake / Can't Sleep
Whose Side Are You On
Never Again
Flat Spin
Goose's Death
Goodbye Goose
New Mission
Viper's Dogfight
Mighty Wings Instrumental -Additional Contibutor: Steve Stevens
Are We Missing Any?
Score Trivia

Harold Faltermeyer's music score was the first to be performed and recorded on the polyphonic 16 bit stereo Synclavier Digital Music System.
Harold Faltermeyer's score to the movie is still unreleased officially. However, a bootleg promo of the score was leaked recently which contains most of the background score for the movie, apart from a few score tracks which are missing.
However, the promo contains the complete Top Gun Anthem as played in the movie opening, without Steve Stevens on guitar, and also several other score tracks, including a few more variations on the top gun anthem. This is a must have for fans of Top Gun who want to hear that great instrumental music.
Add some more trivia about the instrumental music used in Top Gun