Songs
John carpenter seems to put high emphasis on the relation between images and sound, all his films are testaments to the use of soundtrack to enhance mood and atmosphere, here he uses synth to lend an air of impending doom for the Bay's locale.
Particularly when the young boy glimpses a gold coin on rocks on the beach only to see it change into driftwood bearing the ghost ships name.
Also the pounding almost progressive rock that sounds off as the onslaught begins on the church. Title track to Housemans deadpan voice is immense also, the old man tells the story of the legend of the Fog to a mesmerising atmosphere created by the use of keyboard.
As noted above, Carpenter completely re-created the soundtrack score after he noted that his first effort was "heavy-handed and obvious".
The soundtrack score was released by Silva America. A track listing follows:
1. Prologue - John Carpenter/John Houseman
2. Theme From 'The Fog'
3. Matthew Ghost Story
4. Walk To The Lighthouse
5. Rocks At Drake's Bay
6. The Fog
7. Antonio Bay
8. Tommy Tells Of Ghost Ships
9. Reel 9
10. Main Theme - Reprise
11. The Fog Rolls In
12. Blake In The Sanctuary
13. Finale
14. Radio Interview With Jamie Lee Curtis About The Fog - Jamie Lee Curtis
Can you help with song track list for The Fog?
Song Trivia
Do you know any interesting trivia about the songs used in The Fog? Please send it in by clicking Here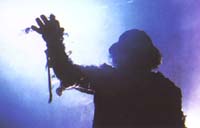 1980